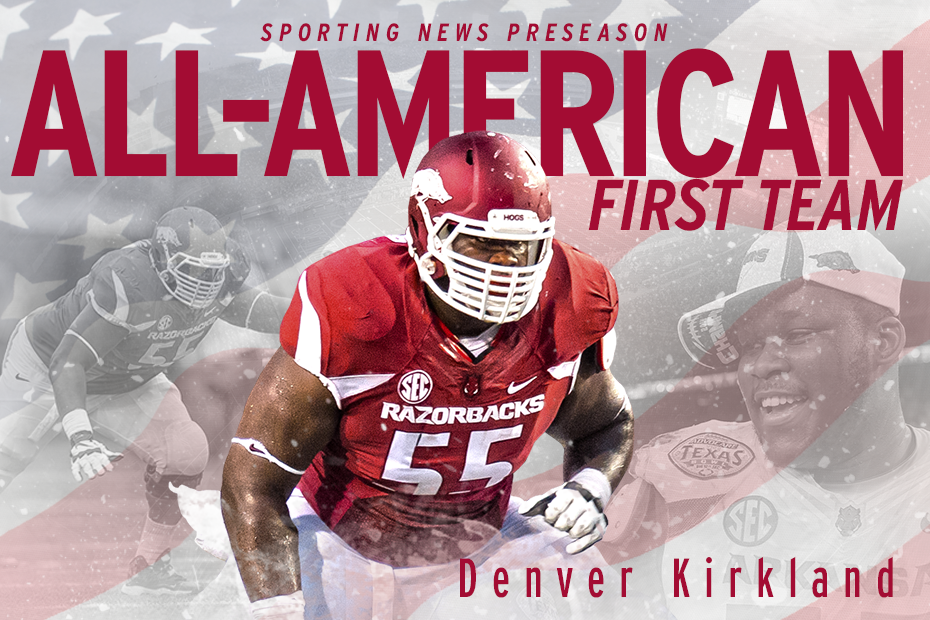 Kirkland Named Preseason First Team All-American
FAYETTEVILLE, Ark. – Arkansas junior offensive lineman Denver Kirkland has been named a preseason first team All-American by Sporting News, the outlet announced Monday.
Kirkland enters his junior season with 21 consecutive starts and has played in all 25 games of his two-year career. Standing 6-foot-5 and weighing 343 pounds, Kirkland began his career at right guard before moving to left tackle this offseason where he will be tasked with protecting the quarterback's blind side.
Arkansas has led the SEC in fewest sacks allowed in each of Kirkland's two seasons. The Miami, Fla. native participated in more than 750 snaps in 2014 and allowed just one sack. He was only penalized three times. Kirkland graded out at 79 percent for the season, including a season-high grade of 91 percent in the season opener at No. 6 Auburn.
Kirkland was a key contributor for an offensive line that was among the nation's best in 2014. The Razorback offensive line not only protected the quarterback effectively, they were also devastating in the run game. Arkansas was the only school in the nation to produce a pair of 1,000-yard rushers last season.
The Razorbacks return 15 starters in 2015 and are a near-consensus preseason top 25 selection by the national media. The Arkansas home schedule is highlighted by 2013 national runner-up Auburn and Orange Bowl-participant Mississippi State. The home schedule concludes with two-time defending SEC East champion Missouri.
Season ticket packages start at $300 in Fayetteville. Fans can also catch the Razorbacks take on Toledo on Sept. 12 in Little Rock for $55, which $10 less than last year's game at War Memorial Stadium.
For more information on Arkansas Football, follow @RazorbackFB on Twitter.