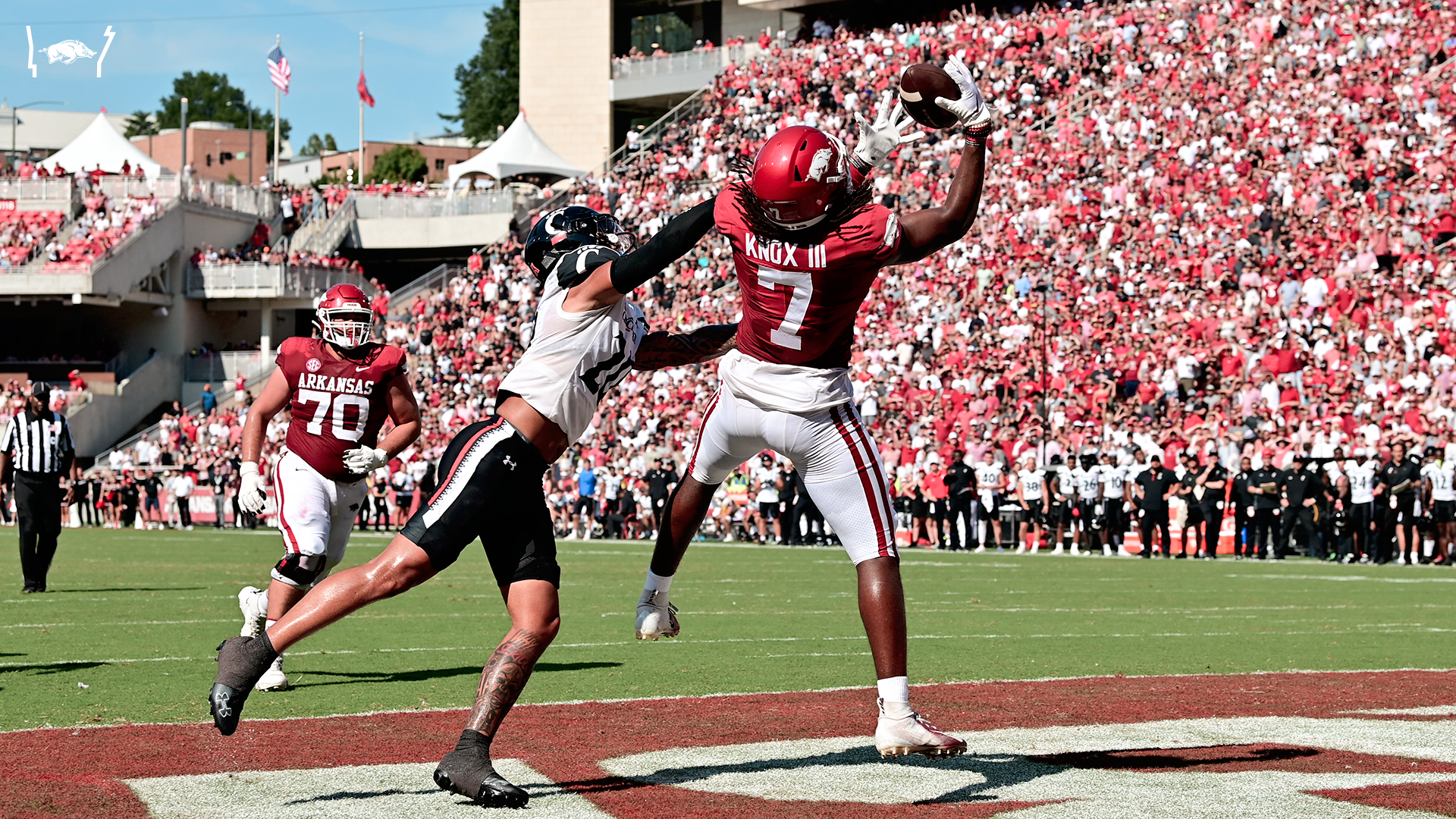 Knox Named Semifinalist for Campbell Trophy
FAYETTEVILLE, Ark. – Senior tight end Trey Knox has been named one of 156 semifinalists for the 2022 William V. Campbell Trophy, better known as college football's Academic Heisman.
The award recognizes an individual as the absolute best football scholar-athlete in the nation for his combined academic success, football performance and exemplary leadership.
.@Fbu1Tk is a semifinalist for this year's Campbell Trophy, also known as the Academic Heisman! pic.twitter.com/iUe9mYEL55

— Arkansas Razorback Football (@RazorbackFB) September 29, 2022
Knox, who has 66 receptions for 714 yards and six touchdowns in 37 career games, shifted to tight end last season after beginning his collegiate career at wide receiver. Through four games in 2022, he has hauled in 11 passes for 118 yards and a pair of touchdowns.
He shined in the 2022 season opener against No. 23 Cincinnati with six catches for 75 yards and a career-best two touchdowns, becoming the first Razorback tight end with two 0r more receiving scores in a game since Cheyenne O'Grady's two-touchdown game against LSU in 2018.
Off the field, Knox is a two-time SEC Academic Honor Roll member. He earned his bachelor's degree in communications and is currently pursuing his master's degree in operations management.
Knox has worked with Arvest Bank via social media to promote financial education focusing on budgeting, establishing credit and more. The Murfreesboro, Tenn., native also works with and supports Fayetteville Animal Services to help provide shelters, rescues, and fosters in Arkansas with the resources they need.
Nominated by their schools, which are limited to one nominee each, candidates for the awards must be a senior or graduate student in their final year of playing eligibility, have a GPA of at least 3.2 on a 4.0 scale, have outstanding football ability as a first-team player or significant contributor and have demonstrated strong leadership and citizenship.
The NFF will announce 12-14 finalists on Oct. 26, and each of them will receive an $18,000 postgraduate scholarship as a member of the 2022 NFF National Scholar-Athlete Class. The finalists will travel to Bellagio Resort & Casino in Las Vegas for the 64th NFF Annual Awards Dinner Presented by Las Vegas on Dec. 6, where their accomplishments will be highlighted in front of one of the most powerful audiences in all of sports.
Live during the event, one member of the class will be declared as the winner of the 33rd Campbell Trophy and have his postgraduate scholarship increased to $25,000.
Former Arkansas linebacker Grant Morgan was one of 13 finalists for last year's Campbell Trophy.