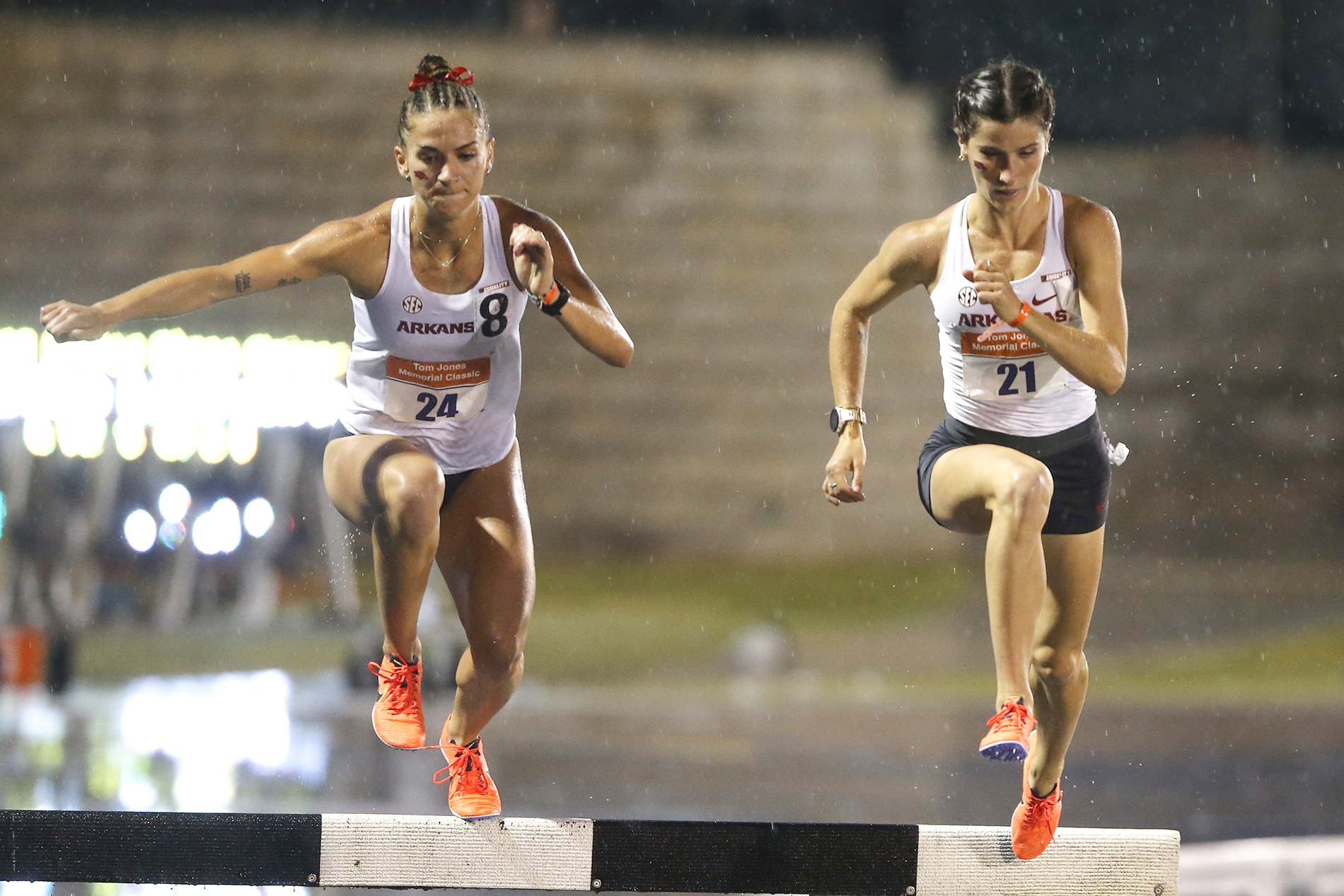 Krissy Gear breaks steeplechase facility record at Florida
GAINESVILLE, Fla. – Winning the 3,000m steeplechase in her native Florida, Razorback Krissy Gear broke the Percy Beard track record with a career best of 9 minutes, 45.10 seconds and produced a collegiate leading time for this season. The previous facility record was 9:52.34 set in 2007 by Liz Wort of Duke.
"My family was here to watch me race, so it meant more, and I was excited to have everyone here," stated Gear. "I just wanted to see what the first race would be like. We were thinking of going out in 80s to see what that feels like after 1k or so."
Arkansas teammate Gracie Hyde finished runner-up in a career best of 9:57.88, improving her previous best of 10:19.85 when she competed at UCA.
"In the latter part of the race I felt myself fading, then Gracie came up besides me and helped encourage me," noted Gear. "I tried to take the lead back from her with a lap or two to go. I think it worked out pretty well since I ran a PR as did Gracie, by 23 seconds!"
Gear moves to No. 2 on the UA all-time list, trailing only the school record of 9:41.28 held by Jessica Kamilos from 2016. Hyde moves to No. 5 ahead of Lilli Kleinmann. On the 2021 world list Gear currently ranks third.
"It was phenomenal, I couldn't have asked for better pacing," said Hyde. "I absolutely love running with Krissy, every workout and race. Taking the lead from her I knew she had a kick and knew it was going to come with 400 or 500m to go. I figured I'd give her a little help since she paced me for 2k."
Katie Izzo won the 5,000m in a comfortable 16:05.61 while Corie Smith placed fourth in her second collegiate 5k with a 16:52.95. Adoette Vaughan set a career best of 17:10.08 to finish seventh.
Another distance victory followed with Devin Clark claiming the 10,000m in 33:48.90 as she bettered the small field by over three minutes. It marked the first race for Clark in a Razorback uniform since the 2020 SEC Indoor Championships.
Kennedy Thomson started off the evening running session in the rain with a career best in the 1,500m as she clocked 4:12.38 to take over the SEC leading time behind a collegiate-leading victory by Florida State's Maudie Skyring.
Carina Viljoen finished third in 4:14.36 while the Razorback pair of Abby Gray (4:15.80) and Logan Morris (4:17.73) each established career best times in place fourth and fifth.
Thomson moves to No. 6 on the UA all-time list while Gray is No. 11.
Behind the 2nd through 5th place finish for Arkansas, three more Razorbacks finished among the top 15 in the race with Isabel Van Camp (4:20.08 PR), Quinn Owen (4:22.42 PR) and Meghan Underwood (4:25.15) placing 8-9-13.
Sprint races in a heavier rain had Jada Baylark placing fourth in the 200m with a 23.56 (0.4 wind) with Tiana Wilson posting a 24.02.
The women's pole vault, scheduled for Friday, was postponed until Saturday morning at 10 a.m. (ET).