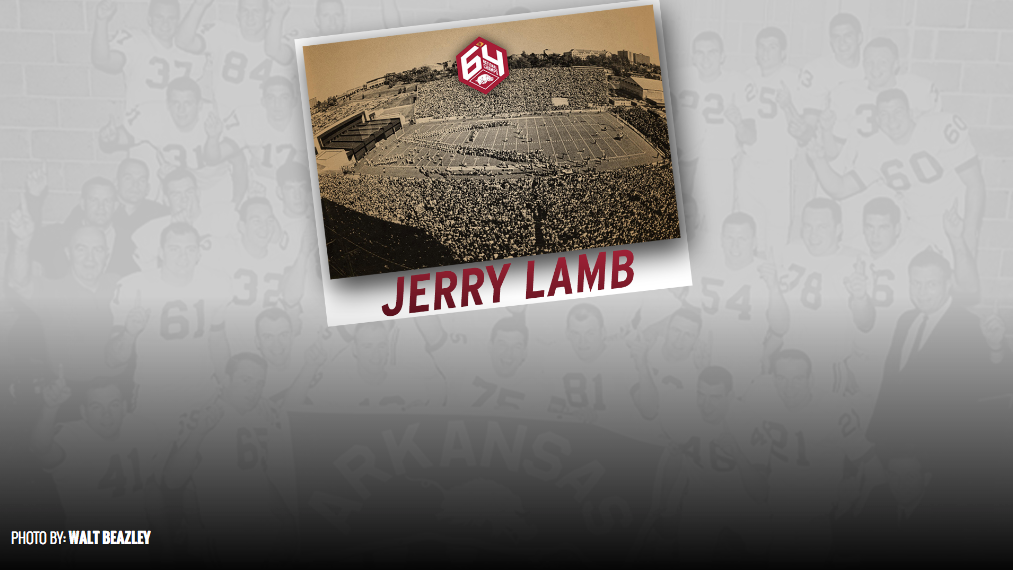 Lamb Honored With 2014 Football Legends
FAYETTEVILLE, Ark. – Arkansas' Jerry Lamb was honored on Friday night as one of 14 former Southeastern Conference players to be named to the 2014 SEC Football Legends Class. The honor recognizes former SEC student-athletes who excelled on the gridiron and helped write the rich history of the sport at their respective institutions.
This year's class includes All-Americans, All-SEC selections and Academic All-Americans as well as NCAA and SEC record holders. The group represents teams that won National and SEC Championships and are represented in state, school and college football halls of fame.
Lamb was a team captain on Arkansas' 1964 national championship team and a sure-handed receiver in the golden era of Razorback football.
A three-year letterman from 1962-64, he earned All-Southwest Conference honors as both a junior and senior. He was named SWC Offensive Newcomer of the Year in 1962 when he led the Razorbacks with 23 receptions, 278 yards and four touchdowns as a sophomore.
He paced the Razorbacks again as a junior, racking up 16 receptions for 240 yards and two touchdowns. As a senior, he caught 13 passes for 180 yards and again tied for the team lead with two scores. In his three seasons, Arkansas won 25 games including the program's only perfect season, an 11-0 mark in 1964. He also represented Arkansas in the 1965 Hula Bowl.
Following his Razorback career, Lamb was drafted by St. Louis in the 1964 NFL Draft and by Kansas City in the 1964 AFL Draft. He played professionally with the Chiefs. Lamb is a member of the Razorbacks' all-decade team for the 1960s and was inducted into the Arkansas Sports Hall of Fame in 2001.
Lamb was recognized at the Georgia game on Saturday, Oct. 18 at War Memorial Stadium in Little Rock, Arkansas.
The class was honored at the 2014 SEC Football "Weekend of Champions" Dec. 5-6 in Atlanta, Ga.  The annual SEC Legends Dinner presented by AT&T was held Dec. 5 at the Hyatt Regency in Atlanta and the group will also be recognized prior to the SEC Football Championship Game, which will be held at the Georgia Dome on Sat., Dec. 6.
For more information on Arkansas football, follow @RazorbackFB on Twitter.