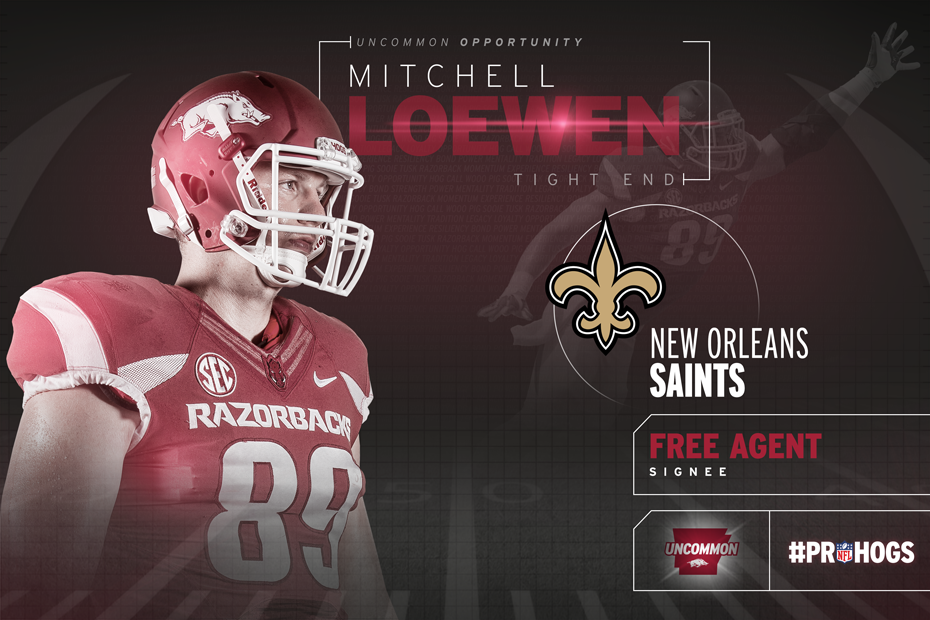 Loewen Signs With New Orleans
NEW ORLEANS – Arkansas defensive lineman Mitchell Loewen has signed an undrafted free agent contract with the New Orleans Saints, it was announced Monday evening.
A four-year letter winner and native of Lahaina, Hawai'i, Loewen has played six different positions during his football career and five during his collegiate career including linebacker, tight end, fullback, offensive tackle, defensive tackle and defensive end.
Loewen participated in 36 contests and made nine starts during his collegiate career.
Over the past two seasons as a defender, he totaled 31 tackles, including 3.5 for loss and 2.0 sacks. He also defended two passes and recorded six quarterback hurries.
One of only two Lahainans on Football Bowl Subdivision (FBS) rosters in 2015, Loewen made 15 stops, including 1.5 sacks, and registered four quarterback hurries over 10 games before a broken foot sidelined him for the final three games of the season.
Prior to playing defense, Loewen saw action in 17 games and made eight starts at tight end where he caught two passes for 29 yards and one touchdown during his redshirt freshman and sophomore campaigns.