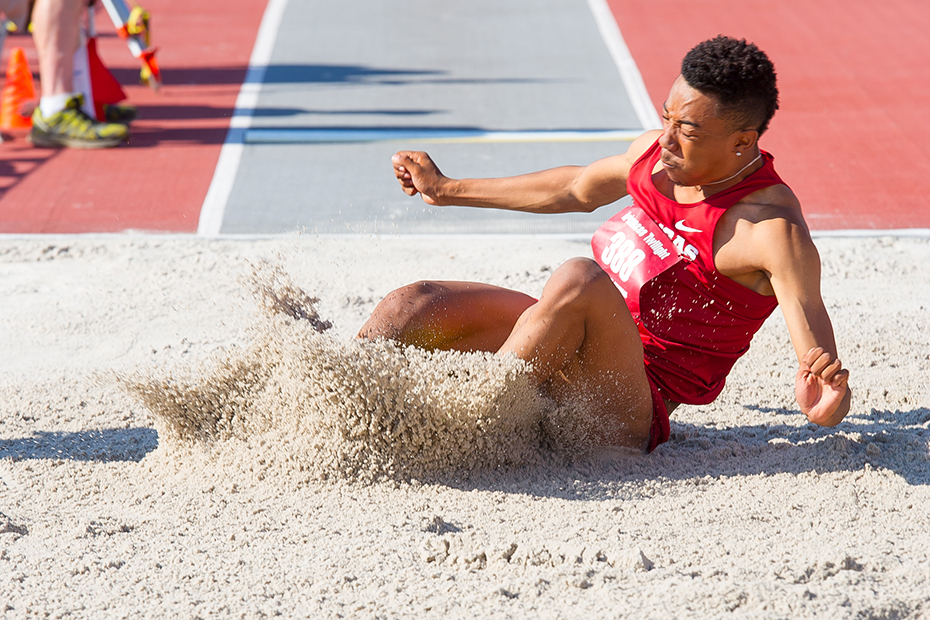 Long Jump Steals The Show On Day One
Day One Results | Day Two Heat Sheets | Meet Schedule
FAYETTEVILLE, Ark. — One of the seven best teams in the country, the Arkansas men's track and field team kicked off its action-packed weekend at the John McDonnell Invitational with exceptional performances in three field events: High jump, long jump and discus throw.
Out of the three events contested on day one, Arkansas captured titles in two with SEC indoor champions Jarrion Lawson and Ken LeGassey placing first in the long jump and high jump, respectively.
Arkansas' overall performance in the long jump was the highlight of the day as four Razorbacks surpassed the 25-foot mark.
Long Jump: Razorbacks Over 25 Feet
Jarrion Lawson (26-2 1/4), Rubin Owens (25-4 3/4), Andreas Trajkovski (25-0 3/4) and Kurt Jenner (25-0 1/2)
Only NCAA program with four long jumpers over 25 feet.
All four Razorbacks are ranked among the 30 best long jumpers in the NCAA.
Four out of the six best performances in the Southeastern Conference belong to Arkansas.
2014 SEC Outdoor Championships: Last time Arkansas had three jumpers over 25 feet (see table below)
New personal bests were set on the runway by Jenner and Owens with the latter eclipsing his previous best by almost two feet.
Multiple Razorback Long Jumpers Over 25 feet
2016 - John McDonnell Invitational
2014 - SEC Outdoor Championships
2013 - NCAA West Preliminary Round
Jarrion Lawson: 26-2 1/4
Raymond Higgs: 26-0 3/4
Jarrion Lawson: 26-0 1/4
Rubin Owens: 25-4 3/4
Jarrion Lawson: 26-0
Tarik Batchelor: 25-8
Andreas Trajkovski: 25-0 3/4
Anthony May: 25-8 1/4
Raymond Higgs: 25-6 1/4
Kurt Jenner: 25-0 1/2
Arkansas placed four Razorbacks in the top six of the discus throw led by senior captain Devin Randall who finished second with a throw of 49.15/161-3.
LeGassey, the last competitor of the day, jumped to a season's best performance in the high jump of 2.17/7-1 1/2. The All-American was the only jumper in the field to clear 7 feet. University of California, Irvine transfer Alex Campbell also finished among the best of the day in the event placing third with a clearance of 2.05/6-8 3/4.
Day One Results
High Jump – K. LeGassey (1) 2.17/7-1 1/2, A. Campbell (3) 2.05/6-8 3/4
Long Jump – J. Lawson (1) 7.98/26-2 1/4, R. Owens (3) 7.74/25-4 3/4, A. Trajkovski (4) 7.64/25-0 3/4, K. Jenner (5) 7.63/25-0 1/2, B. Workman (7) 7.16/23-6, Trae Carey (10) 6.78/22-3
Discus Throw – D. Randall (2) 49.15/6-8 3/4, S. Kempka (3) 47.03/154-3, E. Sullins (5) 44.55/146-2, J. Rogers (6) 43.64/143-2
Live results for the meet will be available at flashresults.com.
Tickets are just $5 for adults and youth 17 and under get in free. Visit arkansasrazorbacks.com or call 800-982-HOGS and get your tickets today.
For more information on Arkansas track and field including in-meet updates, follow @RazorbackTF on Twitter.