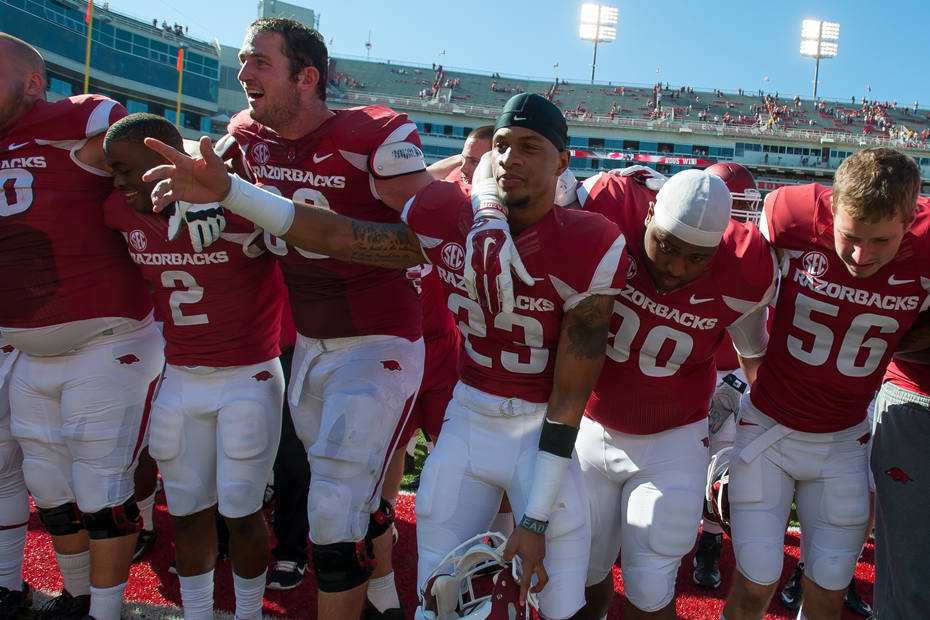 LSU Game Day Information
FAYETTEVILLE, Ark. – Exciting events surround Razorback football's Battle for the Boot match-up against the LSU Tigers inside Donald W. Reynolds Razorback Stadium. Kickoff is slated for 7 p.m. and will be broadcasted on ESPN2.
Thursday, Nov. 13
7 p.m.              Men's basketball host the Pittsburg State Gorillas in its second exhibition of the season at Bud Walton Arena.
Friday, Nov. 14
ALL DAY          Razorback Friday: Wear Cardinal and White!
11 a.m.             Women's basketball hosts Nicholls in Bud Walton Arena. The game will feature celebrations for 'Elementary Day'.
Noon                Arkansas will host the NCAA Cross Country Central Regionals at Agri Park, starting with the women's competition at noon and the men's at 1 p.m.
7 p.m.              Volleyball will take on the South Carolina Gamecocks in Barnhill Arena. Fans can redeem their ticket from the 11 a.m. Women's basketball game or Arkansas vs. LSU Football ticket for complimentary admission.
A football pep rally will be held in Barnhill Arena after the volleyball match.
Saturday, Nov. 15
2 p.m.              Hog Heaven Trailers open. Locations include the Bud Walton Arena lawn and the Northeast corner of DWRRS.
4 p.m.              The AT&T Fan Zone, which is free to the public and located in The Gardens just south of Bud Walton Arena, opens. The AT&T Fan Zone offers inflatable games for kids, televisions and food and drink vendors. As part of the AT&T Fan Zone, fans have access to the large "Holding Pen" pavilion in the Gardens on game day. The pavilion will provide seating and several large televisions for fans to watch other college games before the Razorbacks take the field.
4:45 p.m.          A pep rally featuring the Razorback Marching Band and Spirit Squads will take place in the AT&T Fan Zone, and a DJ will be on site to provide music following the pep rally.
Arkansas Football Buses will be moving down Razorback Road in preparation for the Hog Walk
4:50 p.m.          Hog Walk in Lot 44 / Gates to Donald W. Reynolds Razorback Stadium open. Please note specific bag and conduct policies below.
6:30 p.m.          Tusk IV enter Donald W. Reynolds Razorback Stadium.
7 p.m.              Kickoff vs. LSU
The Razorback Ticket Office is located next to Baum Stadium at 1295 S. Razorback Road, Suite B. The Ticket Office is open Monday-Friday 8:30 a.m.-6 p.m. The Donald W. Reynolds Razorback Stadium Ticket Office opens three hours prior to kickoff. Guests can also order tickets by calling 479-575-5151 (local calls), 1-800-982-HOGS (4647) or by ordering on-line at ArkansasRazorbacks.com. On game day, tickets may be ordered online at ArkansasRazorbacks.com and printed at home before arriving at the game.
The Arkansas Alumni Association has 32 watch parties scheduled in 20 different states plus Washington D.C. for this weekend's game. For a complete list, click here.
Football Fan Guide
The 2014 Football Fan Guide is available for fans at ArkansasRazorbacks.com. The guide provides helpful information on parking, shuttle service, prohibited items (including but not limited to bags, except those necessary for childcare or medical conditions or purses no larger than 14 x 10 x 10, umbrellas, backpacks, video cameras, camera bags and still cameras with lens length exceeding 6 inches), a stadium diagram as well as stadium information and amenities. Services available again this year for fans include Child Locator ID Bracelets and a Stadium Texting Service. More information about these services and many others can be found in the guide. Additionally, all Hog Heaven locations will be open and equipped with Razorback cold weather gear.
Bag Policy
This policy reflects the university's ongoing commitment to recommendations from the Department of Homeland Security. "Except for bags required for child care or medical conditions, all bags, back packs, fanny packs, camera and binocular cases or other similar items and purses larger than 14″ long (side-to-side) x 10″ wide (front to back) x 10″ deep (top to bottom)  are prohibited.  All purses allowed into the stadium will be searched.  Containers measuring 14″ long x 10″ wide x 10″ deep will be placed at each entry to Donald W.  Reynolds Razorback Stadium, shuttle pick up locations and selected parking lots. Purses that do not fit into the container will not be permitted inside the stadium."
Tailgating Policies
Your cooperation and consideration of all tailgating policies, which can be found in the 2014 Arkansas Football Fan Guide, will be especially helpful as it pertains to one parking space/one car, no tents permitted in a parking space and adherence to the policies about the installation and size of tents. Setting up tents, awnings and similar equipment for tailgates may commence at 5 p.m. on Friday. Reminder to tailgaters, that tailgating setup and activities in parking lots and on university property is not permitted prior to 5 p.m. on Friday. The items must be taken down and removed by noon on Sunday. If a tent is placed before 5 p.m. on Friday, it will be removed and can be picked up from lost and found through Facilities Management, which can be contacted at 575-5050.
Corporate/Commercial tailgates, for which the sponsors display commercial or business-related signage, banners or marketing items or charge participants, are prohibited unless prior approval is granted by the University of Arkansas. Political signage and advertising is alsolimited on gameday. For specific rules on political advertising, please call 479-575-3517.
Victory Village
The University of Arkansas Athletic Department features Victory Village, a reserved tailgating area near Donald W. Reynolds Razorback Stadium, for all Fayetteville home football games. The Athletic Department established the program, which is coordinated by Intents Party Rentals, to provide fans a convenient, worry-free tailgate experience close to the stadium. There are several basic packages offered that include set up and tear down, along with multiple add-on options, lending to an individually tailored, carefree gameday tailgate. Fans needing to drop off larger items for their reserved space can begin to do so six hours before kickoff and continue until four hours prior to kick.
Victory Village is comprised of two areas, a Victory Village North located above Lot 44 by the John W. Tyson Poultry Science building, and Victory Village East located across Stadium Drive from Lot 44 on the Administration Hill. Spots in Victory Village can be reserved on a single-game or season-long basis. Tailgating in Victory Village will only be permitted with a reservation. For more information, contact Intents Party Rentals at 479-251-8368.
Counterfeit Tickets and Parking Passes
The University of Arkansas is reminding fans about the risks of purchasing and using either counterfeit tickets or parking passes. Both game tickets and parking passes are distributed by the UA Athletic Department and the Razorback Foundation. If fans have any doubt about the validity of their game ticket or parking pass, they can visit the UA Athletic Ticket Office on Razorback Road to verify either during regular business hours, between 8:30 and 4:30 p.m., Monday through Friday. On game day, they can visit the Ticket Office at Donald W. Reynolds Razorback Stadium's Gate 1 starting three hours prior to kickoff. Further, those suspecting they have a counterfeit ticket or parking pass in their possession should contact UAPD to report this as soon as possible. The UA Athletic Ticket Office would also like to remind fans that any persons attempting to enter the stadium with a counterfeit ticket could be denied admission and subject to an investigation. Also, any person discovered inside the stadium with a stolen or counterfeit ticket will be escorted out. Additionally, to protect the integrity of valid parking passes and parking space on game day, parking attendants will be stationed at lot entrances and will be stopping vehicles to mark each parking pass as the vehicle passes through. Any persons attempting to enter a lot with a counterfeit parking pass could be denied admission and subject to an investigation. Also, any vehicle discovered inside a lot with a counterfeit parking pass will be removed from the lot.
Travel to the Stadium
Fans are reminded that if you are parking in lots South of Donald W. Reynolds Razorback Stadium, it may be best to enter campus off of I-540 at Martin Luther King (Exit #62). If you are parking in lots North of Donald W. Reynolds Razorback Stadium, it may be best to enter campus off of 1-540 at Wedington Drive (Exit #64). As a reminder, traffic control begins four hours prior to kick. The pre-game and post-game traffic routes can be found in the 2014 Football Fan Guide at ArkansasRazorbacks.com.
Fan Code of Conduct
Razorback fans are the best of the best. They model this by loudly supporting the Razorbacks and displaying respect and good sportsmanship toward the visiting team and visiting fans. The NCAA, SEC and UA have assigned a high priority to assuring athletic events are conducted in a safe and enjoyable atmosphere which promotes good sportsmanship by spectators, student-athletes and coaches. We request your cooperation by supporting the participants, officials, those around you, and event management in a positive manner and treating others with courtesy and respect. Refrain from throwing objects onto the field for any reason. Do not enter the playing areas at any time, unless directed to do so in an emergency situation, including after-game celebrations.
General Public Parking
Public parking is limited on campus on game days. Pay parking is available at the Harmon Avenue Parking Garage located north of Center Street on Harmon Avenue. There is a $10 charge per vehicle for parking and spaces are available on a first come, first serve basis. Free off-campus parking is available off of Razorback Road near Baum Stadium. A shuttle service is provided beginning four hours prior to kickoff.
Reserved Parking
A majority of the parking lots around Donald W. Reynolds Razorback Stadium are reserved for Razorback Foundation members. For more information about reserved parking, please contact the Razorback Foundation at (479) 443-9000 or visit razorbackfoundation.com
Bus and RV Parking
Bus parking is available at Baum Stadium behind the Tyson Indoor Track and Field Complex. There is no charge for bus parking and spaces cannot be reserved. A shuttle service is available. RV parking is not allowed in any campus lot. RV parking is available on a first come, first serve basis at Road Hog Park by calling (479) 409-8178.
ADA Parking
ADA parking is available on a first come, first serve basis in a designated area in Lot 56, located on the corner of Martin Luther King Blvd. (6th Street) and Razorback Road. Overflow ADA parking is available at Baum East. A state-issued license plate or hang tag will be required to enter the designated ADA parking areas in each lot. A shuttle is available from both lots and drops off/picks up at Gates 1 and 8 (both on the west side of the stadium) and Gates 14 and 16 (both on the east side of the stadium). Because of the high demand for the shuttle service from Lot 56 and Baum East, ridership is prioritized by those patrons who have a disability and one caretaker for riders needing additional assistance. There is no fee to ride the shuttle.
*Please note that it is against the law to use an ADA parking permit unless the person to whom the permit is issued is in the vehicle. State laws will be enforced and the disabled person issued a license plate or certificate, shall, upon request of any police officer or any other person authorized to enforce parking laws, ordinances, or regulations, present to that officer or authorized person the photo identification card, drivers' license with disability endorsement, or other authorized documentation establishing the person's disability (Arkansas Rule 2007-7).