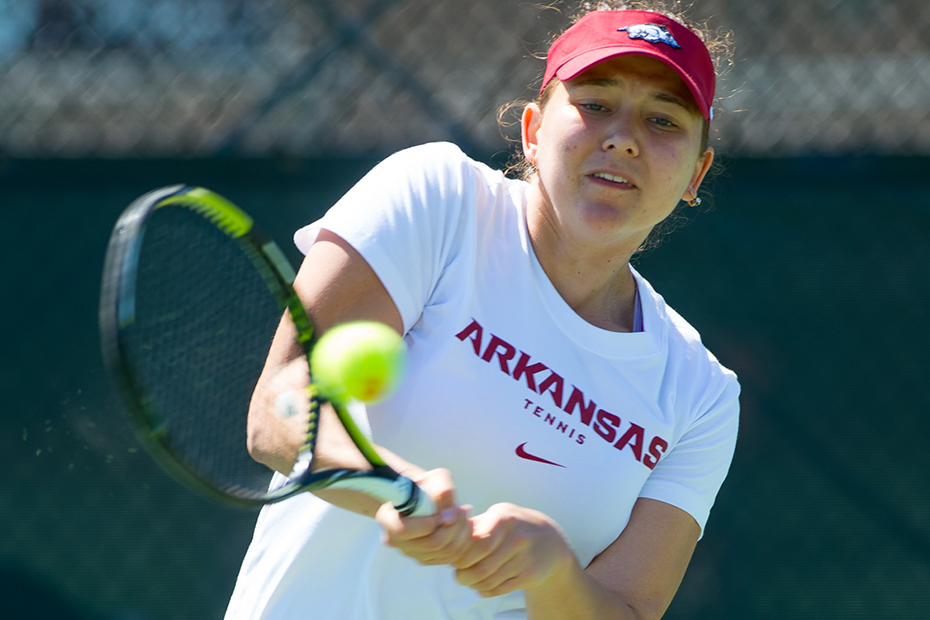 Lysa Named ITA Women's Tennis Central Region Player To Watch
FAYETTEVILLE, Ark. – Arkansas junior Yuliya Lysa has been named one of 12 women's tennis players to watch by the Intercollegiate Tennis Association (ITA) announced this morning (May 12) in a list of post-season awards released by the governing body of collegiate tennis.
Of the 12 regions that make up collegiate tennis, Lysa was the Central Region selection. The other 11 regions are the Atlantic, Carolina, Midwest, Mountain, Northeast, Northwest, Ohio Valley, Southeast, Southern, Southwest, and Texas.
Lysa won a team-high 20 spring singles matches for the Razorbacks this season. She's also ranked No. 49 individually and is a part of the No. 32 doubles duo with Shannon Hudson.
The Kiev, Ukraine native earned All-SEC honors in her first year on the U of A campus. She is currently owns a 20-9 overall record and 13-8 record in the top singles slot. Playing in the highly-competitive No. 1 slot for the majority of her junior year, Lysa provided some valuable support for the Razorbacks and defeated six nationally-ranked players on the season.
On April 29, Lysa secured an at-large singles bid to the to the 2015 NCAA Division I Women's Tennis championships. Her selection to the singles competition is the 12th time in program history a singles player has competed in the postseason. The No. 35 doubles tandem of Lysa and sophomore Shannon Hudson was also selected as an alternate team (second alternates) for the 2015 NCAA doubles competition.
For more information on Arkansas women's tennis, follow @RazorbackWTEN on Twitter.

ITA PLAYERS TO WATCH – ITA Individual Award Winners
Northwest | Carol Zhao, Stanford University
Southwest | Cindy Nguyen, University of Hawaii
Mountain | Julia O'Loughlin, University of Denver
Texas | Rachel Pierson, Texas A&M University
Central | Yuliya Lysa, University of Arkansas
Midwest | Gabby DeSantis, Ohio State University
Northeast | Taylor Ng, Dartmouth College
Ohio Valley | Frances Altick, Vanderbilt University
Atlantic | Ilinca Stoica, Virginia Tech
Carolina | Joana Eidukonyte, Clemson University
Southern | Jasmine Lee, Mississippi State University
Southeast | Stephanie Wagner, University of Miami