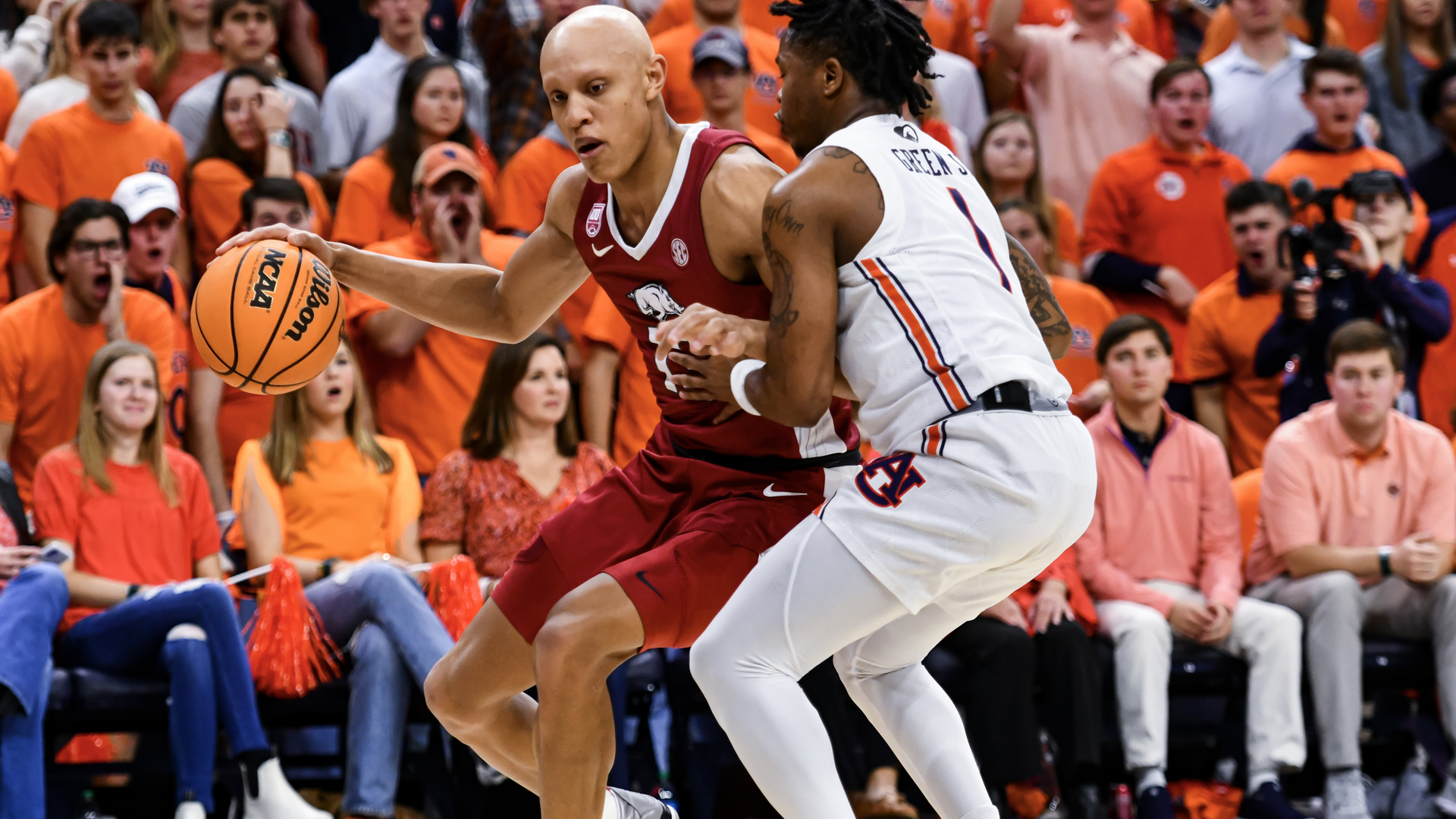 MBB Preview: #15/16 Arkansas vs #4 Alabama
Who: #15/16 Arkansas Razorbacks (12-3, 1-2 SEC) vs #4 Alabama Crimson Tide (13-2, 3-0 SEC)
What: The Razorbacks' third-straight ranked opponent. Stripe-Out Game at Bud Walton Arena.
When: Wednesday – Jan. 11 – 6:00 pm (CT)
Where: Fayetteville, Ark. – Bud Walton Arena / Nolan Richardson Court
 How (to follow):
– Television: ESPN2 (Karl Ravech and Jay Bilas)
– Stream/Online: Watch ESPN
– Radio: Learfield Razorback Sports Network (Chuck Barrett and Matt Zimmerman)
– Gameday Info and How to Listen Online/Mobile: Razorback Gameday App
– Sirius/XM: 84 (Sirius) / 84 (XM) || SXM App: Channel 84
– Live Stats: Arkansas Live Stats
 – Arkansas Game Notes: CLICK HERE
– Alabama Game Notes: CLICK HERE
– SEC Notes/Stats: CLICK HERE
FAYETTEVILLE – The #15/16 Arkansas Razorbacks will face its third-straight ranked opponent when the #4 Alabama Crimson Tide comes to Bud Walton Arena Wednesday night (Jan. 11). Tipoff is set for 6 pm (CT) and the game will be televised on ESPN2.
The is a "Stripe-Out" Game and Razorback fans are encouraged to wear Cardinal and White in the appropriate sections in the Arena. For a "Stripe-Out" map, CLICK HERE.
Also, with students still on winter break, a limited amount of upper deck, general admission tickets will be available to purchase. For more information, CLICK HERE.
This will be the 67th meeting between Arkansas and Alabama. All but 10 have come since Arkansas joined the SEC.
The Razorbacks own a 36-30 advantage in the series, including a slight 28-27 margin in SEC meetings.
The home team has dominated the series. Arkansas is 20-6 versus Alabama in Fayetteville but the Crimson Tide is 22-8 in games played in Tuscaloosa.
Alabama has won two of the last three (both in Tuscaloosa) but Arkansas has won 8 of the last 11, winning all five home games in the stretch.
Alabama will be the third-straight ranked opponent Arkansas has faced. The last time Arkansas played three consecutive ranked opponents was 2003-04 when unranked Arkansas faced #6 Mississippi State, #9 Kentucky and #25 South Carolina. Arkansas went 1-2, falling at home to the Bulldogs on the road to the Wildcats and winning at home versus Gamecocks.
While this game is at home, Arkansas opens SEC play with four of its first six on the road.
Arkansas' first four SEC opponents (LSU, Missouri, Auburn and Alabama) have each won at least 12 games and have a combined record of 50-10. That represents the best four-team aggregate record any team has faced to date.
To end January and open February, Arkansas will play four-of-six games on the road, including the SEC-Big 12 Challenge at Baylor.
The Hogs also wrap the 2022-23 regular season by playing two of the last three on the road (at Alabama and at Tennessee before hosting Kentucky in the finale).
This will be the 99th time in Razorback history — and third straight game — that a ranked Arkansas team will play a ranked opponent. Arkansas is 48-50 in such games and 18-4 in such games in Fayetteville.
This will be the first time since the 1980-91 season a ranked Arkansas team played a ranked opponent in three straight regular-season games. Then #20 went 2-1 in the Great Alaska Shootout — beating #11 Missouri, beating #12 LSU and falling to #13 North Carolina in the championship.
This is the first AP top 15 match-up in Bud Walton Arena since #9 Arkansas defeated #5 Kentucky, 94-92, on Jan. 29, 1995.
Arkansas is 16-4 overall (4-1 at home) when ranked #15 in the country. Arkansas is 5-12 overall (2-2 at home) when playing the #4 team in the land.
For more information on Arkansas Men's Basketball, follow @RazorbackMBB on Twitter.