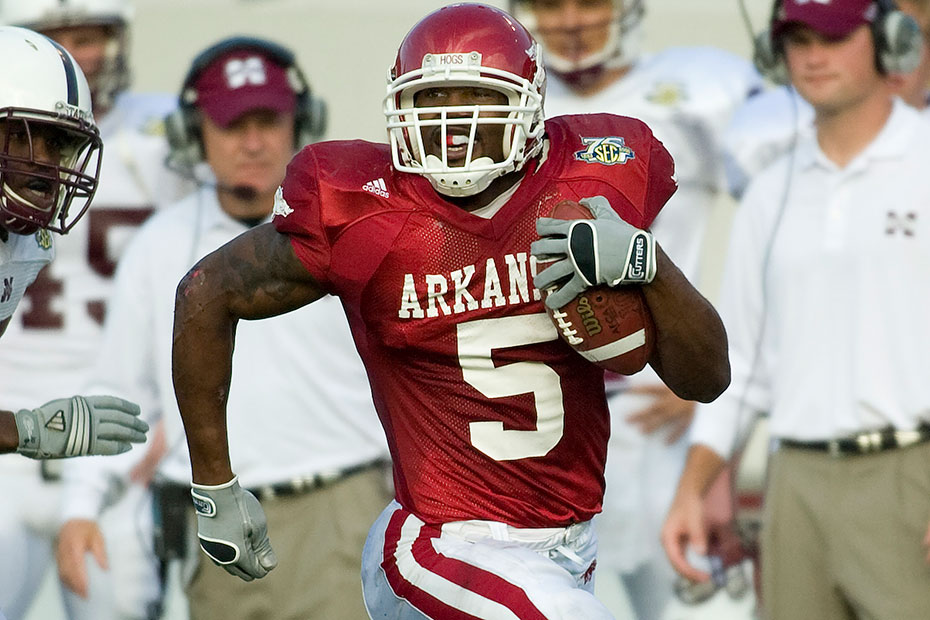 McFadden Tabbed SEC Legend
FAYETTEVILLE, Ark. – Former Arkansas Razorback Darren McFadden has been named as Arkansas' member of the AT&T SEC Legends class.
One of the most decorated players in Arkansas history and a two-time runner up for the Heisman Trophy, McFadden was the 2007 Player of the Year by the Walter Camp Foundation and The Sporting News. A two-time first-team All-American, he twice won the Doak Walker Award and was twice named SEC Offensive Player of the Year. McFadden ranks second on the SEC career rushing list with 4,590 yards and averaged 120.8 yards per game during his three-year career, third best in league history. He rushed for 100 yards or more 22 times and is one of only three players in SEC history to rush for 1,000 yards in each of his freshman, sophomore and junior seasons. His 321 yards vs. South Carolina in 2007 remains tied for the SEC record for rushing yards in a game. The fourth pick overall in the 2008 NFL draft by the Oakland Raiders, he played 10 years in the NFL for the Raiders and Dallas Cowboys.
The class will be honored at the 2018 SEC Football "Weekend of Champions" Nov. 30-Dec. 1 in Atlanta, Ga, highlighted by the annual SEC Legends Dinner presented by AT&T on Fri., Nov. 30 in Atlanta. The group will also be recognized prior to the SEC Football Championship Game.