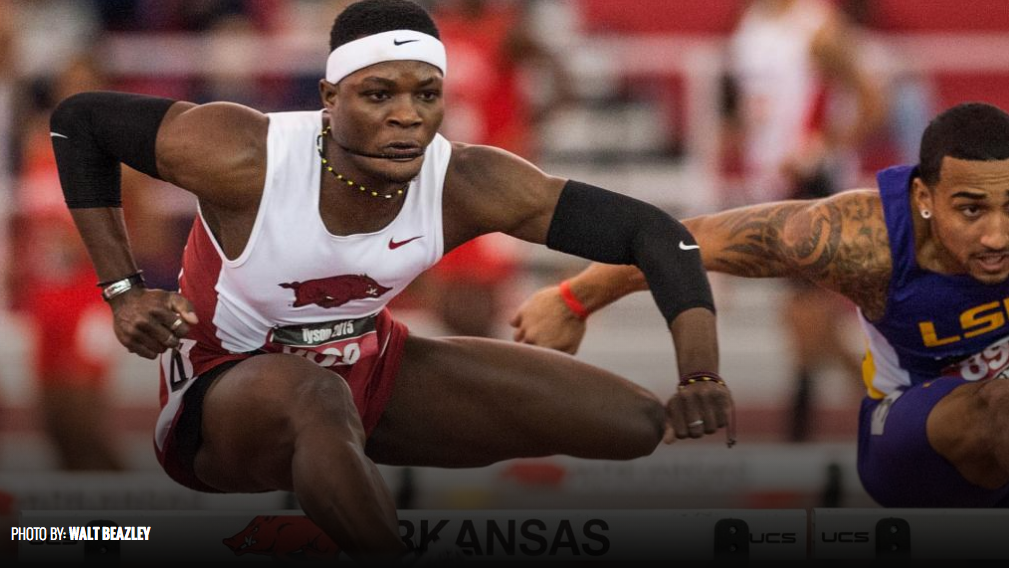 Men's @RazorbackTF Closes Out Day One Of The Tyson Invite
FAYETTEVILLE, Ark. – Some of the nation's top-25 teams gathered at Randal Tyson Track Center on Friday as the No. 3 Razorbacks wrapped up the first day of action at the Tyson Invitational.
Day one of competition was complete with stellar performances by Jarrion Lawson and Omar McLeod, accompanied by several new personal records.
Sophomore Omar McLeod ran 7.65 in the 60 meter hurdle prelims, followed up that performance with a 7.60 in the semifinals and decided to sit out the finals. McLeod's time of 7.60 is the fastest time in the NCAA so far this season.
Junior Jarrion Lawson took first in the long jump invitational with a mark of 26-4.25, which is the best in the SEC so far this season.
In the 800 meter, junior Ryan Thomas took third place (1:49.85), while senior Patrick Rono (1:49.88) and junior Andrew Pisechko (1:50.09) finished fourth and seventh, respectively. Pisechko's time also gave him a new personal-best.
Action at the 2015 Tyson Invitational resumes on Saturday (Feb. 14) beginning at noon. Day two of the Tyson Invite will be broadcast live on SEC Network+.
For the latest information on Arkansas men's track and field, follow @RazorbackTF on Twitter.
DAY 1 RESULTS
60m Hurdles (Prelims)
1. Omar McLeod – 7.65q
33. Lane Austell – 8.60
60m Hurdles (Semis)
1. Omar McLeod – 7.60q (Fastest time in NCAA so far this season)
60m
28. Kenzo Cotton – 6.82
29. Anthony Blakely – 6.83 (PR)
31. Eric Hawkins – 6.85 (PR)
56. Ryan Green – 6.98
63. Zach Riley – 7.06
64. Alex Greene – 7.13
400M (Seeded)
8. Marqueze Washington – 46.63 (PR)
400m
17. Jamarco Stephen – 47.82 (PR)
39. Stephen Payne – 50.93 (PR)
800m
32. Tomas Squella – 1:54.63
800m
3. Ryan Thomas – 1:49.85
4. Patrick Rono – 1:49.88
7. Andrew Pisechko – 1:50.09 (PR)
5,000m (In Seattle, Washington)
48. Frankline Tonui – 14:27.01 (PR)
62. Gabe Gonzalez – 14:39.68
78. Aidan Swain – 15:13.20 (PR)
Long Jump
16. Kurt Jenner – 23-6
21. Rubin Owens – 22-11.75 (PR)
30. Lane Austell – 20-2.25
Long Jump (Invite)
1. Jarrion Lawson – 26-4.25
Weight Throw
26. Devin Randall – 58-8.75 (PR)
Pole Vault
14. Noah Gilfillan – 16-2.75 (PR)
PR – personal best | q – qualifier
Fayetteville, the "Track Capital of the World", will be at the center of the track and field universe on the weekend of March 13-14 as the Razorbacks will host the 2015 NCAA Indoor Track and Field Championships at the Randal Tyson Track Center, the home of the "Fastest Indoor Track in the World". Since the facility's opening in 2000, Arkansas and the Randal Tyson Track Center have hosted the event 11 times, including nine straight seasons and 11 of the last 13 championships.
A two-day, all-session ticket to the NCAA Indoor Championships is $40 for reserved seating and $30 for general admission adult ticket.
Season tickets and NCAA all-session passes are available online at HERE, by contacting the Razorback Athletics Ticket Center via phone at (800) 982-HOGS or in person at the Razorback Athletics Ticket Center, located just east of Baum Stadium at 1295 S. Razorback Rd. in Fayetteville.