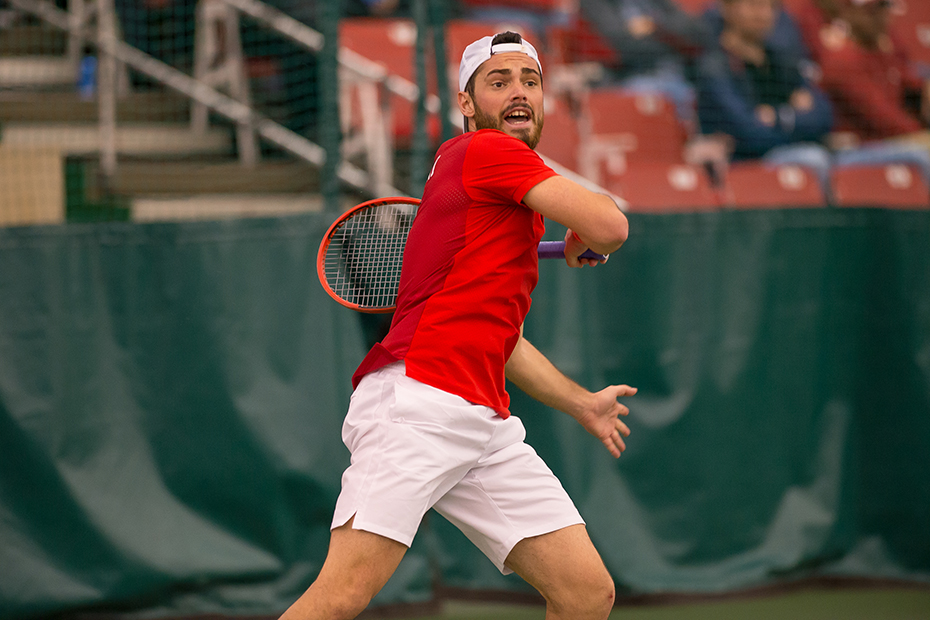 Men's Tennis Returns Home for Two
FAYETTEVILLE, Ark. — Fresh off its first SEC win of the season, the Arkansas men's tennis team will host its first two conference matches at Billingsley Tennis Center.
On Friday, March 11 at 3 p.m., the Razorbacks host No. 7 Texas A&M, who was one of three SEC teams to go 2-0 in the opening weekend of conference action. Meanwhile, Arkansas bounced back with a 5-2 victory over Tennessee on Sunday following a 5-2 loss at No. 22 Kentucky on Friday to stand at 1-1.
"Texas A&M is a top-10 team and one of the favorites in the SEC," head coach Andy Jackson said. "We're eager for the match and excited for our first conference competition at home."
The Aggies come to town riding a four-match winning streak, including a 4-2 win over No. 12 Illinois in Champaign on Feb. 21. In all, Texas A&M has gone 3-3 against opponents ranked in the top 15 this season. Three ranked singles players dress for the Maroon and White, including No. 14 Arthur Rinderknech at the top singles position.
Rinderknech will have his hands full with the Razorbacks' No. 43 Mike Redlicki, who is riding a five-match win streak and stands at 8-1 on the season in singles play. Also ranked for the Aggies are No. 34 Shane Vinsant and No. 67 Jordi Arconada.
Matching up with them at the No. 2 and 3 singles spots are Jose Salazar and Santiago Munoz. Salazar has won six of his last seven matches and Munoz is fresh off claiming the winning point against the Volunteers.
In doubles, No. 31 Giammarco Micolani and Redlicki will go up against No. 25 Rinderknech and Jackson Withrow in the premier matchup of the afternoon.
Following an off day on Saturday, Arkansas hosts LSU on Sunday, March 6 at 1 p.m. The Tigers are also 1-1 in SEC play, while holding an 8-4 overall record, but with a 1-3 mark away from Baton Rouge.
The Tigers boast the No. 8 doubles pair of Boris Arias and Jordan Daigle to pencil into the top spot. In addition, Daigle ranks No. 102 in singles while Gabor Csonka comes in at No. 106.
There will be free Keurig products, popcorn and Pepsi soft drinks available for all Arkansas fans to come to support the team at Billingsley Tennis Center. On Friday the first 100 fans will receive free Razorback tennis balls, and on Sunday the first 50 fans will receive free Arkansas koozies.
For more information on Razorback men's tennis, please follow @RazorbackMTEN on Twitter.