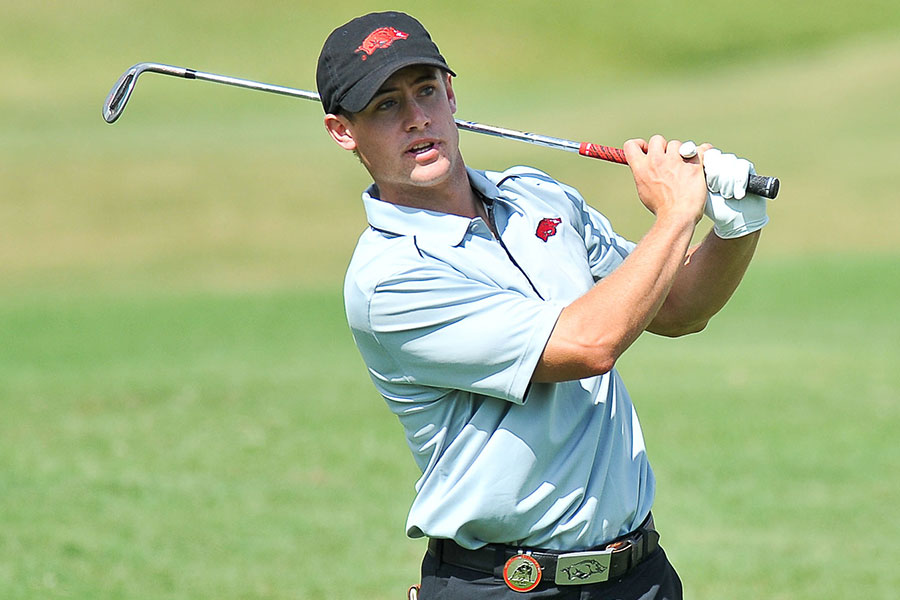 Moore Ties For Third At Saguaro Amateur
MARICOPA, Arizona – The 2014 winner of the Saguaro Amateur, Arkansas senior Taylor Moore did his best to try and capture the title for the second time in three years on Sunday, carding the low-round of the day with a three-under 69 to finish in sole possession of third place at Southern Dunes Golf Club.
One of three players in the field of 109 to finish under-par all three rounds (71-71-69), Moore's three-day score of five-under was just four strokes back of the winner.
The Saguaro Amateur is in its third year and has established itself as one of the top individual men's amateur events in the US over the winter months. Moore won the inaugural Saguaro Amateur in 2014 and tied for fourth in 2015. In nine career rounds at the Saguaro Amateur, Moore has been under-par eight times with one even-par round. His three-day 11-under 201 in 2014 is tied for the lowest 54-hole score in the tournament's history.
Moore – Arkansas' stroke leader in the fall at 72.2 – was at his best on the back nine during Wednesday's final round, playing bogey-free at three-under. The Edmond, Okla. home native was consistent all week, carding 14 birdies without back-to-to-back bogeys over the 54 holes. He birdied nine of the course's 18 holes and played the back nine at a combined four-under for the week.
Moore At The Saguaro Amateur
2014
1. 66-65-70/201
2015
T4. 72-68-67/207
2016
3. 71-71-69/211