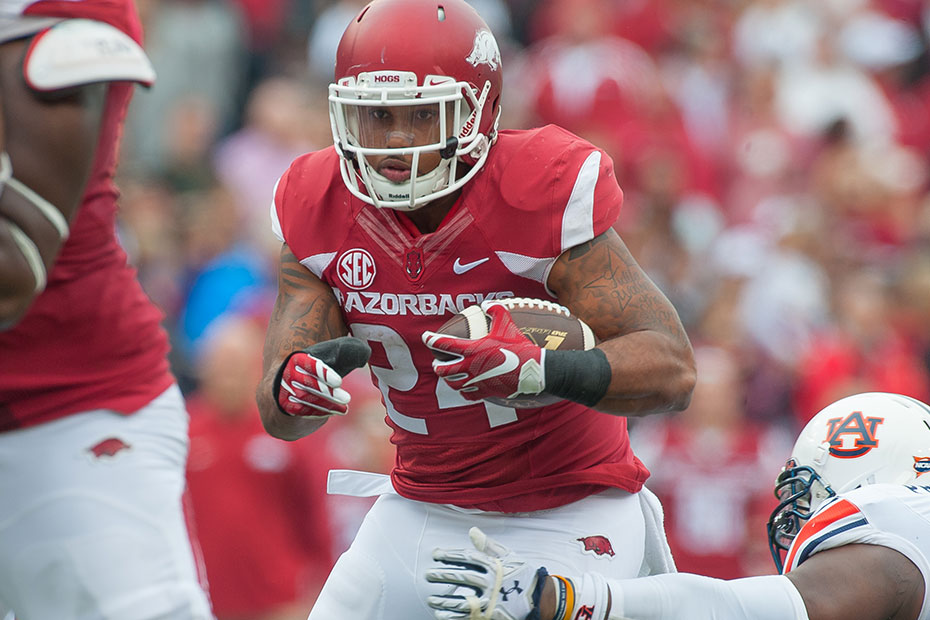 Morgan, Walker Join On The Air With Bret Bielema
FAYETTEVILLE, Ark. – "On the Air with Bret Bielema," Coach Bielema's weekly radio show presented by AT&T and Lindsey, returns on Thursday night at 7 p.m. at the Catfish Hole in Fayetteville. The junior combo of wide receiver Drew Morgan and running back Kody Walker will be the guests on the show as the Razorbacks take a three-game win streak into this Saturday's game at No. 9 LSU on ESPN.
Chuck Barrett, the voice of the Razorbacks, will host head coach Bret Bielema and fans can make reservations to attend the show by calling the Catfish Hole at 479-521-7008. Tickets are $25 and include all you can eat dinner buffet with catfish, shrimp and chicken.
Morgan and Walker have had a huge role in Arkansas' current three-game win streak, combining for eight touchdowns, including all five scored in the overtime victories against Auburn and Ole Miss. After having 10 catches through his first two seasons, Morgan leads the SEC with nine touchdown receptions, good for the fourth-most in program history. Morgan also leads Arkansas with 44 catches and 620 yards, which rank eighth and fifth in the SEC, respectively. All three of Morgan's 100-yard receiving games have come in SEC play away from home.
Walker missed four games due to a thumb injury, but returned in a big way in the quadruple-overtime win against Auburn. Four of Walker's eight carries against Auburn came in overtime with two going for touchdowns and another resulting in a first down. Walker gave Arkansas the eventual final score of 54-46 with a two-point conversion after Morgan's 25-yard touchdown catch.
The show will be carried throughout the state of Arkansas on the Razorback Sports Network and in Fayetteville on 92.1 FM and 93.3 FM.
2015 "On The Air With Bret Bielema" Schedule
Thursday, November 12
Thursday, November 19
Wednesday, November 25