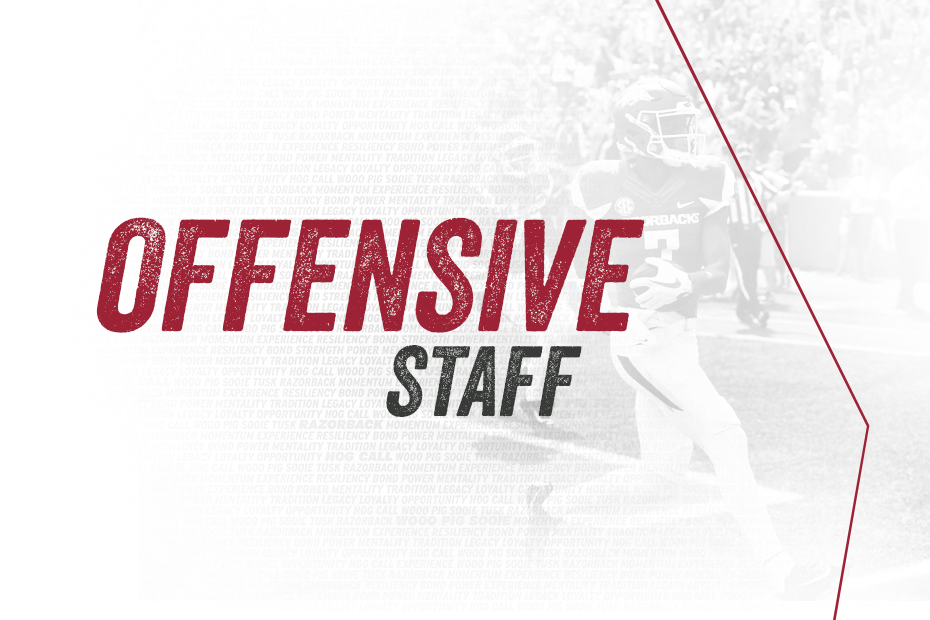 Morris Announces Offensive Coaching Staff
FAYETTEVILLE, Ark. – After announcing Joe Craddock as offensive coordinator, Arkansas head football coach Chad Morris announced Tuesday the hiring of four members to the Razorback offensive coaching staff.
Jeff Traylor – Associate Head Coach/Running Backs
A high school coaching legend in Texas who comes to Fayetteville after recent stints at SMU (2017) as associate head coach/running backs and Texas (2015-16) as an assistant coach.
Dustin Fry – Offensive Line/Run-Game Coordinator
A former NFL center who played at Clemson and coached the offensive line at SMU the past three seasons.
Barry Lunney Jr. – Tight Ends
Played quarterback for the Razorbacks from 1992-95 and has served as tight ends coach at Arkansas since 2013.
Justin Stepp – Wide Receivers
Mentored projected first-round 2018 NFL Draft pick Courtland Sutton as wide receivers coach at SMU from 2015-17 and was selected last December to participate in the 2018 AFCA 35 Under 35 Coaches Leadership Institute.
---
The Jeff Traylor File
Position: Associate Head Coach/Running Backs
Hometown: Gilmer, Texas
Education: Stephen F. Austin, 1990 (B.S. & M.S. Education)
Coach Morris on Traylor
"Jeff was a phenomenal high school football coach who had a great career in the state of Texas. He has great knowledge of the game, and his development of his players has been special. He's a phenomenal recruiter and great at creating relationships. His ability to recruit the state of Texas and Arkansas is exciting to us. I'm looking forward to seeing his players develop."
Traylor on joining Coach Morris' staff at Arkansas
"I'm honored and couldn't be more excited to work for Coach Morris and be a part of his staff. I've known about the Razorbacks program and its history and tradition for a long time. With my mom having attended Arkansas High and my high school coach Joe Black at Gilmer having played on the 1964 national championship team, I've been Calling the Hogs in my house for forever. Coming to the University of Arkansas is a big deal to me."
Bio
Traylor spent the 2017 season at SMU as associate head coach/running backs. He served as the Mustangs' interim coach following the Razorbacks' hiring of Morris in December.
Before SMU, Traylor spent two seasons at the University of Texas (2015-16). In his first season in Austin, he coached tight ends and was named Scout.com's Big 12 Recruiter of the Year. In 2016, Traylor coached tight ends and wide receivers for the Longhorns, who boasted the nation's No. 16 ranked offense that averaged 491.3 yards per game.
During his time in Austin, Traylor recruited punter Michael Dickson, who went on to earn multiple All-America honors, win Big 12 Conference Special Teams Player of the Year in 2016 and 2017 as well as the 2017 Ray Guy Award.
Prior to Texas, Traylor spent 15 seasons (2000-14) as head coach at Gilmer High School in east Texas, where he had a 175-26 record with three state championships and two state runner-up finishes.
Traylor's unit totaled 2,223 yards rushing in 2017, highlighted by three players who rushed for 500-plus yards with sophomore Xavier Jones leading the group at 1,075. The Mustangs topped the 200-yard mark on the ground six times with a season-best 311 in a win against Arkansas State.
At Texas, Traylor recruited punter Michael Dickson, who earned All-Big 12 honorable mention honors in , while the tight ends unit caught 22 passes for over 300 yards and two touchdowns. Dickson averaged 41.3 yards per punt on 77 attempts.
Under Traylor, Gilmer High School reached the 10-win mark 11 times, while also recording seven 13-win campaigns. The Buckeyes posted 15 wins three times, all of which resulted in undefeated state championship years, including two 16-0 seasons in 2004 and 2014.
In 2014, the Gilmer offense put up the second-most points in the history of Texas high school football with 950 in 16 games for an average of 59.4 points per game and won the 4A Division 2 state title. The Buckeyes scored 60-plus points nine times, including two 80-point performances. Gilmer also averaged 536.1 total yards per game (8,577) behind a balanced 293.9 passing yards and 242.1 rushing yards per contest. The defense was equally dominant, allowing only 276 points (17.3) with five single-digit efforts and two shutouts, while recording 23 interceptions and forcing 17 fumbles. Gilmer closed out the season with a win over West Orange-Stark at AT&T Stadium in Arlington, Texas, and had eight different players earn 4A All-State honors from either the Associated Press or Texas Sports Writers Association.
Gilmer's two other state titles under Traylor both came in 3A in 2004 (Division 2) and 2009 (Division 1), before the change in class structure in Texas high school football moved the school into 4A last season. After 15 years on its sidelines, Gilmer renamed Buckeye stadium to Jeff Traylor Stadium in Traylor's honor.
Prior to Gilmer, Traylor was an assistant coach at Jacksonville High School (1993-99) in Texas, where he served as passing coordinator, defensive backs coach, receivers coach and special teams coordinator.
Traylor began his coaching career at Big Sandy High School in Texas, where he spent four years as an assistant coach from 1990-1993. After graduating from Gilmer High School in 1986, Traylor played football at Stephen F. Austin as a walk-on.
---
The Dustin Fry File
Position: Offensive Line/Run-Game Coordinator
Hometown: Summerville, S.C.
Education: Clemson, 2006 (B.S. Sport Management)
Coach Morris on Fry
"Dustin is a guy who had a very successful playing career and was instrumental in our success at Clemson. He brings a lot to the table with his offensive line knowledge and his ability to teach the techniques and intricate details of what it takes to be a great offensive lineman. The success our offense has had over the last three years was a reflection of the growth and development of our offensive line."
Fry on joining Coach Morris' staff at Arkansas
"I am grateful for this opportunity to join Coach Morris' staff and be a part of Razorback nation. The opportunity to coach in the SEC is exciting, and I look forward to re-establishing the Razorback offensive line as one of the top units in the country. I'm excited to get to work with our players and staff."
Bio
Fry joins the Razorback staff after spending three seasons at SMU (2015-17) as offensive line coach. Prior to his stint in Dallas, he served as an offensive graduate assistant at Clemson from 2012-14.
At SMU, Fry's offensive line cleared paths for a 1,000-yard rusher in both 2016 and 2017. His 2017 unit blocked for the Mustangs' offense to produce 3,000-plus passing yards and 2,000-plus rushing yards. The Mustangs averaged 5.0 yards per carry and were one of 18 FBS programs, including one of three in the American Athletic Conference, to accomplish that feat during the regular season. SMU's 2,230 rushing yards were its most in a regular season in 10 years.
According to Sport Source Analytics, Fry's offensive line in 2017 ranked No. 14 nationally in efficiency (79.6), based on tackle for loss percentage, sack percentage and third and fourth down run percentage.
In his three years at Clemson, he helped the Tigers to a 31-7 record with two top-10 finishes. He was a player development coach with the offensive line and helped center Dalton Freeman earn first-team All-America honors in 2012.
Fry lettered four years with Clemson and was a first-team All-ACC center and a National Strength and Conditioning Association (NSCA) All-American on the 2006 offense that averaged a school-record 6.5 yards per play. He played in the Senior Bowl and was a fifth-round draft pick of the Rams, playing for St. Louis in 2007 and 2008. He also spent time with the Cleveland Browns, Denver Broncos and Carolina Panthers.
---
The Barry Lunney Jr. File
Position: Tight Ends
Hometown: Fort Smith, Ark.
Education: Arkansas, 1996 (B.S. Kinesiology)
Coach Morris on Lunney Jr.
"Barry has had a great career here and has a valuable reputation around the state of Arkansas. He's built and maintained exceptional relationships with Razorbacks of the past, present and future. I'm excited to have his knowledge of the game, his recruiting ability, and his familiarity with our program."
Lunney Jr. on joining Coach Morris' staff at Arkansas
"I'm grateful and excited for the opportunity Coach Morris has given me to continue to be a part of Razorback football. This is an exciting time for the program and I'm looking forward to being able to continue to coach and develop our tight ends."
Bio
Lunney Jr., has strengthened the program's reputation as #TEU during his five seasons in Fayetteville.
Lunney's work has not only resulted success as Razorbacks, but also caught the interest of NFL personnel. Highlighted by Hunter Henry being the first tight end taken off the board in the 2016 NFL Draft, Arkansas is the only program in the country to have a tight end taken in each of the last three drafts dating back to 2015.
From 2014 to 2016, Lunney helped develop Henry into the best tight end in the nation. On Dec. 9, 2015, that became official when Henry was named the John Mackey Award winner following his junior season. Henry joined 2010 recipient D.J. Williams to make Arkansas the only school to produce multiple winners in the award's history.
After earning All-SEC second team honors in 2013 and 2014, Henry won the John Mackey Award and was a consensus first-team All-American as a junior in 2015. He led all Football Bowl Subdivision tight ends with 739 receiving yards on 51 receptions — each career highs — and hauled in three touchdown passes. In addition, Henry and tight end mate Jeremy Sprinkle combined for a league-best 1,128 receiving yards and eight touchdowns. The 1,128 receiving yards are the most by an Arkansas tight end corps in program history.
A fellow Arkansas native, Henry was selected with the 35th overall pick by the San Diego Chargers in the second round of the 2016 NFL Draft. A year later, Sprinkle followed Henry's footsteps and was taken by the Washington Redskins in the fifth round of the 2017 NFL Draft. During his senior season, Sprinkle set the Arkansas record for career TDs by a tight end with 11 and was also invited to play in the Reese's Senior Bowl.
Lunney also oversaw the transition of A.J. Derby from quarterback to tight end. Derby finished fifth in the SEC with 303 receiving yards during the 2014 season and was a sixth-round draft choice of the New England Patriots despite playing the position for less than a year.
Before returning to the Razorbacks, Lunney served as the offensive coordinator and quarterbacks coach at Bentonville High School from 2005-13.
Lunney spent two seasons as the co-offensive coordinator and quarterbacks coach at San Jose State. During his tenure, the offense produced six all-conference performers, and tight end Courtney Anderson was selected by the Oakland Raiders in the 2004 NFL Draft.
Prior to that, Lunney spent three seasons at Tulsa, first working with quarterbacks in 2000 and 2001 and then moving to wide receivers in 2002. In 2000, quarterback Josh Blankenship ranked fifth in the WAC in total offense and receiver Don Shoals led the conference and ranked 11th in the NCAA in receptions per game.
His coaching career began with two seasons as a graduate assistant at Arkansas. In 1998, Arkansas won its first eight games and rose to No. 9 in the national rankings on the way to sharing the SEC Western Division title and earning a berth in the Citrus Bowl. Lunney served as the Razorbacks' running backs coach for the bowl game and throughout the spring of 1999. Arkansas spent the majority of the 1999 season in the top 25 of the national rankings and finished the year with a 27-6 win over No. 14 Texas in the Cotton Bowl.
---
The Justin Stepp File
Position: Wide Receivers
Hometown: Pelion, S.C.
Education: Furman, 2007 (B.S. Health and Exercise Science)
Coach Morris on Stepp
"Justin is a very engaging person and I'm excited to have him and what he brings to our receiving group. He has a great knack for recruiting and developing his players. Justin has had the honor and privilege of developing many players in his career, most notably All-Americans Courtland Sutton and Trey Quinn."
Stepp on joining Coach Morris' staff at Arkansas
"I am very excited about being at the University of Arkansas with Coach Morris," Stepp said. "I look forward to working in the best conference in the country and developing the Razorback wide receivers group into the best unit in the country."
Bio
Stepp joins the Razorbacks after spending six seasons as a wide receivers coach at SMU (2015-17) and Appalachian State (2012-14). Prior to Appalachian State, he spent three seasons at Clemson as an offensive graduate assistant coach (2011) and an offensive video graduate assistant (2009-10).
Last December, he was selected to participate in the 2018 AFCA 35 Under 35 Coaches Leadership Institute, a prestigious program aimed at identifying and developing premier, future leaders in the football coaching profession that will take place on Jan. 7, during the 2018 AFCA Convention in Charlotte, North Carolina. He was also named a finalist for the 2017 FootballScoop Wide Receivers Coach of the Year award.
During Stepp's six seasons as a wide receivers coach, he's tutored three different players who have combined for four 1,000-yard receiving seasons.
Stepp's protégés Courtland Sutton and Trey Quinn at SMU were two of the most dynamic wide receivers in college football in 2017. The Mustangs boasted one of the most prolific passing attacks in the nation on the strength of All-Americans Sutton and Quinn each posting 1,000-yard receiving seasons. SMU was one of only two schools with multiple 1,000-yard receivers in 2017. In addition, Sutton and Quinn were the only pair of teammates to rank in the top 10 in touchdown receptions and combined for 12 100-yard receiving games with six apiece. Quinn finished the year with 13 TD catches, while Sutton had 12.
A Biletnikoff Award and Earl Campbell Tyler Rose semifinalist, Quinn led the nation in receptions with 114 and ranked inside the top 15 nationally in receiving touchdowns (No. 4, 13), receiving yards per game (No. 10, 95.1) and receiving yards (No. 11, 1,236). He turned in two of the three top reception performances in the FBS during the regular season with 17 catches twice and became the only player this century to register 15-plus catches in three straight games.
Sutton, a projected first-round pick in the 2018 NFL Draft, posted career receiving totals of 3,152 yards and 31 touchdowns on 189 receptions in four seasons at SMU. He averaged 16.4 yards per catch in each of his last two seasons, and finished third on the Mustangs' all-time receiving chart behind Emmanuel Sanders and Aldrick Robinson.
In 2016, Sutton led the SMU offense for the second straight season, hauling in 76 passes for 1,246 yards and 10 TDs to become SMU's first 1,000-yard receiver since 2013. Sutton was not the Mustangs' only threat through the air, though, as James Proche, caught 57 passes for 709 yards and six scores on his way to Freshman All-America honors.
Stepp's first season at SMU saw him develop Sutton into one of the country's top freshman. Sutton was named a Freshman All-American in 2015 after leading all FBS freshmen with nine receiving touchdowns. He set an SMU freshman record for receiving yards with 862 and tied Sanders for most touchdowns by a freshman.
Over Stepp's first two seasons at Appalachian State, he coached three players who combined to earn five All-Southern Conference honors, including All-American Sean Price who set NCAA Division I FCS freshman records with 81 receptions and 1,196 receiving yards in 2012.
In 2011, Stepp played a key role in Clemson's offense, alongside Morris who was offensive coordinator. Stepp worked directly with the Tigers' running backs, quarterbacks, wide receivers and tight ends, while assisting in game-planning and in-game play-calling adjustments. With Stepp on the sideline, Clemson ranked second in the ACC and in the top 30 nationally in scoring (33.6) and total offense (440.8) and boasted a pair of all-Americans on the offensive side of the ball.
Stepp got his coaching start as the wide receivers coach and recruiting coordinator at NCAA Division II North Greenville in 2008. He also served as wide receivers and strength coach at Fort Mill (S.C.) High School in 2007.
Stepp was a standout wide receiver and punt returner at Furman from 2003-06. He earned All-SoCon recognition as a junior and senior and finished his playing career with 1,568 yards, 10 touchdown catches and 118 receptions, good for No. 4 on the school's career list at the time.