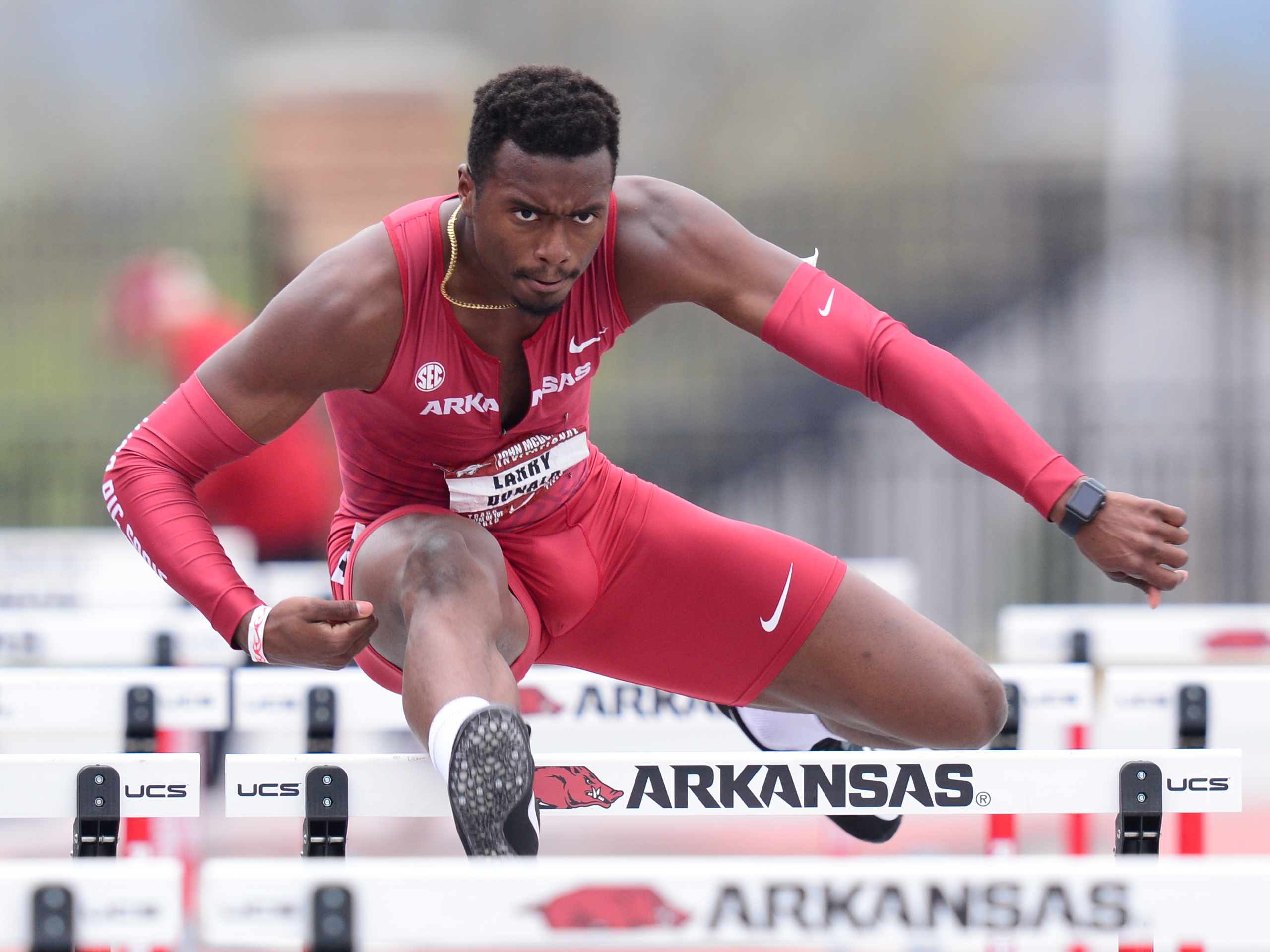 Multiple PR's Pace No. 11 Arkansas On Day Two Of John McDonnell Invitational
FAYETTEVILLE, Ark. – Under isolated rain and steady winds, the No. 11 men's track & field team pieced together a productive afternoon at the John McDonnell Invitational.
"We need competitive reps, conditions aren't always going to be perfect," said head coach Chris Bucknam.
"We're not expecting world-leading times under these conditions, but we do expect you to continue to have good habits and create better ones while we continue to prepare for the championship season in May and June. The only way to do that is to get reps in, I thought our kids did a great job under the conditions. There were many wind-aided times, but they were still fast, whether its Roy [Ejiakuekwu] in the 100-meters or Kenzo [Cotton] and Kristoffer [Hari] in the 200-meters they got their reps in and that's how you become a better competitor and a better athlete. I'm proud of the way our guys came out today and competed and got the work in," Bucknam continued.
Erich Sullins got the meet started with a bang, taking the discus title with his throw of 54.05m (177'-4") – a new personal best mark.
Roy Ejiakuekwu and Kristoffer Hari posted a 2-3 finish in the 100-meters running wind-aided times of 10.14 and 10.24, respectively, trailing only former Razorback All-American Marqueze Washington's time of 10.03 (+6.9).
Larry Donald recorded a season-best time in the 110-meter hurdles with his time of 13.92 (+6.5) that was good for fifth-place.
The final running event on the track Friday afternoon featured a slew of Razorbacks between the lanes led by All-American Kenzo Cotton. Cotton led a group of four for Arkansas in the event recording a time of 20.67 that was just off being legal as the wind checked in at 4.1 meters-second. Kristoffer Hari was in the same heat as Cotton, and close behind, as the freshman crossed the tape less than a tenth of a second later at 20.75. Rounding out competition for Arkansas in the event were John Winn (21.58) and Travius Chambers (22.07).
In the men's long jump, Rubin Owens emerged as the event winner after his jump of 7.71m (25'-3.50") on his final attempt of the competition. Teammates Laquan Nairn and Trae Carey also competed in the men's long jump finished second and sixth, respectively, with marks of 7.61m (24'-11.75") and 6.57m (21'-6.75").
The men's high jump featured Brendon Rivera who set a new personal best in the high jump with his clearance of 2.14m (7'-0.25"). Rivera added one and one-quarter inch to his PR from his previous mark of 2.11m (6′-11″) set last season at the SEC Relays in Baton Rouge, LA.
Friday Results
John McDonnell Invitational
100-meters
2. R. Ejiakuekwu- 10.14
3. K. Hari- 10.24
200-meters
2. K. Cotton- 20.67
3. K. Hari- 20.75
15. J. Winn- 21.58
18. T. Chambers- 22.07
110-meter hurdles
5. L. Donald – 13.92
Long Jump
1. R. Owens- 7.71m (25'-3.50")
2. L. Nairn- 7.61m (24'-11.75")
6. T. Carey- 6.57m (21'-6.75")
Discus
1. E. Sullins – 54.05m (177'-4")
High Jump
2. B. Rivera – 2.14m (7'-0.50")
For more information on Arkansas track and field including in-meet updates, follow @RazorbackTF on Twitter.