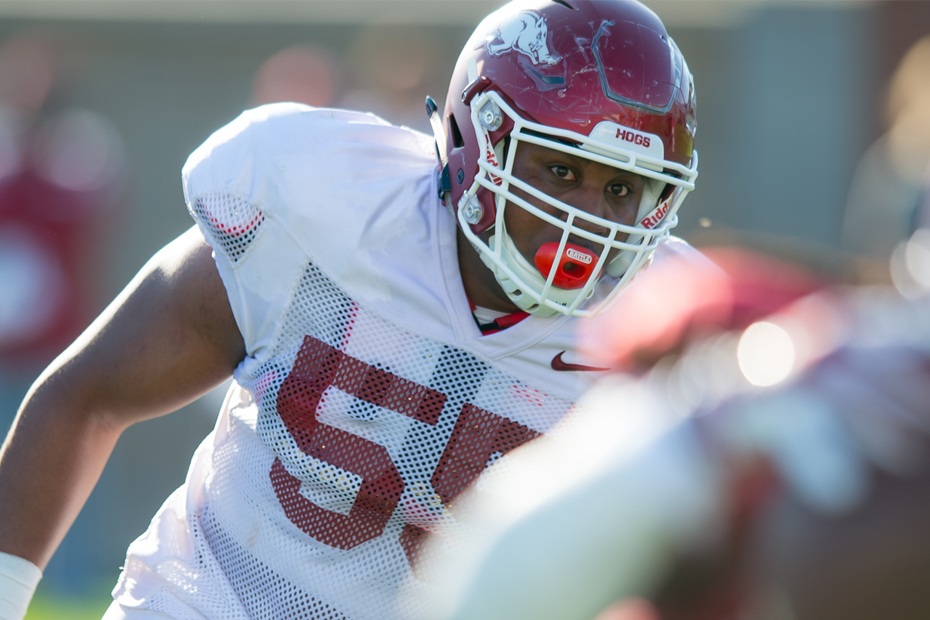 Newcomer Focus: DL Jeremiah Ledbetter
For years, junior transfer Jeremiah Ledbetter has chased a feeling.
A specific feeling he got as a child watching highlight tapes of his father tearing up the fields as a young collegiate football star; a feeling of excitement.
"I remember on one tape," said Ledbetter, "it was versus Texas where he broke out for a 59-yard touchdown and the crowd was just so excited and ecstatic that he scored. Seeing that, I knew I wanted to do that."
Ledbetter's father, Weldon Ledbetter, was a standout fullback for the Oklahoma Sooners from 1979-1982 and was taken in the seventh round of the 1983 National Football League draft by Tampa Bay.
After watching one highlight of his father, Ledbetter was hooked. He couldn't help but feel envious and determined after watching his dad excite the Sooner fans.
"I was happy for him," said Ledbetter. "I was excited that he did those things, but I want to be better than him. I want that feeling to happen to me. I want the crowd to be ecstatic and loving me."
Inspired by what he watched of his father on film, Ledbetter began his football career at the age of eight. In Ledbetter's first year of football, he was pegged as a running back just like his father, but unlike his dad, Ledbetter preferred tackling over sprinting.
"They stuck me at running back first because they liked how I ran, but I didn't like it!" said Ledbetter. "They thought because my dad played it, that meant I had to play it, but I didn't like it. I didn't really know what to do, I was just running. I was good at it but over time they put me at offensive line and I liked it. I like pushing people around and slamming people to the ground, so that's what I stuck with."
While Ledbetter didn't fit the running back mold like his father, he did share the same dream his dad had as a young player: a chance to play the sport he loves professionally.
"I felt like that was my path," said Ledbetter. "I used to have dreams when I was little about being in the NFL. I knew nothing about it, I just knew that I wanted to be there."
In order for Ledbetter to make it to the NFL, he first had to prove himself on the field at Gainesville High School in Georgia where he was a defensive lineman. But after years of going unnoticed by NCAA Division I football programs, Ledbetter ended his senior year with offers from multiple junior colleges and Division II schools.
"I sat down with the recruiting coach at my high school and he asked if I thought I could play Division I football," said Ledbetter. "After sitting down and thinking about it, I knew the answer was yes. He then said Hutchinson Community College in Kansas would be the best choice for me to transfer and maybe play Division I football. So I took that opportunity and ran with it."
And run with it he did. With a determination to punch a ticket to a Division I program, Ledbetter redshirted his first year in order to bulk-up and improve his size.
"It was the biggest point of my collegiate career," said Ledbetter. "I was undersized coming in, I was about 240 at the time. Over time with experience, I gained weight and learned from the players. I just watched and learned."
After spending a year watching and learning from his fellow Blue Dragons, Ledbetter entered his first season a much larger and experienced player.
In his first season, Ledbetter earned a starting spot on the defensive line, where he was a force in his two campaigns at Hutchinson CC. Ledbetter finished his junior college career with 144 total tackles and 22.5 career sacks, which ranks second in Blue Dragons history. To close out his career at Hutchinson in 2014, Ledbetter posted 15.5 sacks, the second-highest single-season total in school history while earning second-team NJCAA All-American honors and first-team all-conference recognition
"That's when the recruiting really started coming in," said Ledbetter. "Major SEC schools, Big 12 schools, ACC programs… But I just felt like I wanted to play in the SEC."
So Ledbetter traveled from the Sunflower to the Natural State where the trio met with head coach Bret Bielema and his Razorback staff. Right away, Ledbetter was awed by what he saw in Fayetteville and the potential the Razorbacks offered.
"Coach Bielema and his coaching staff are unbelievable," said Ledbetter. "When me and my parents came here and took a visit, my parents loved everything about what Coach Bielema had to offer and his integrity and how things are done here. The city of Fayetteville is a nice place. All the mountains are something new, something different. I like that."
With only two years of eligibility remaining for Ledbetter, he remains determined to make the best of his time that is left.
"Two years is a short time," said Ledbetter. "Every day and every practice I need to come out and work hard because I only have two years so I have to make the best of it and everything that I do."
For years Ledbetter had been searching for a place where he too could experience the feeling he got watching his father's tapes. Countless hours in the weight room and years of waiting for the right opportunity paid off for him.
It may have taken him two years to get here, but in less than four months, Ledbetter will run through the 'A' onto the field in Donald W. Reynolds Razorback Stadium as a Razorback while thousands of fans scream in excitement.
"These fans really care about this program and seeing everybody in red and the number of fans in the crowd," said Ledbetter of watching his first Arkansas game. "My heart was beating and I was like, 'Wow'. This is big time. I'm finally here."
Written by Allie Raymond, Razorbacks Communications