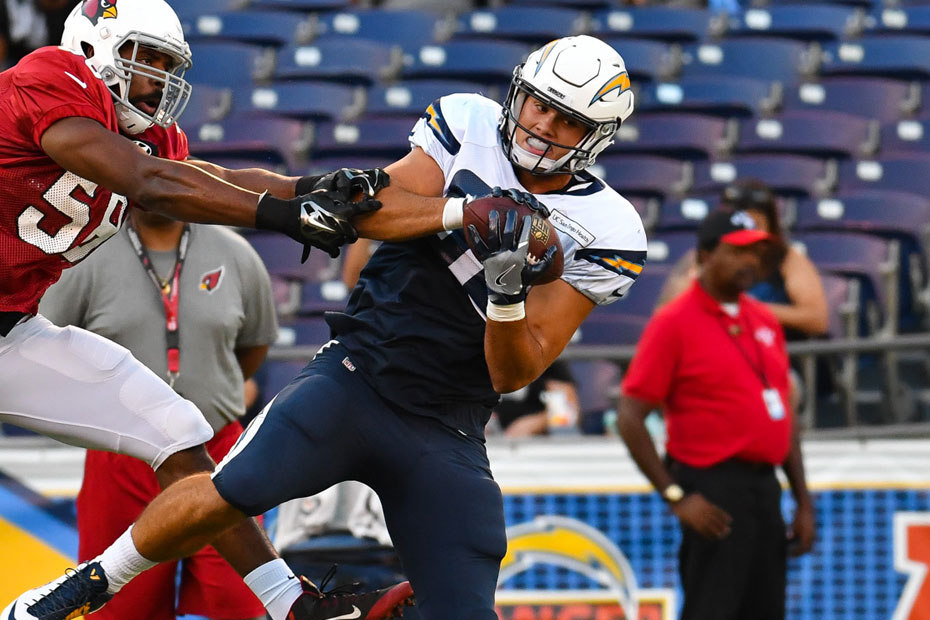 #ProHogs In The NFL: Preseason Week 3
FAYETTEVILLE, Ark. – Week 3 of the NFL preseason begins tonight with two games on national television, one game each on NBC and the NFL Network. As the preseason schedule hits the halfway point, former Hogs have been showcasing their talents across the board and look to be locking up roster spots before the opening weekend.
Twenty-seven former Razorbacks  are currently on active NFL rosters, including eight rookies. Each team has just two preseason games remaining before Week 1 of the regular season which begins on Sept. 8.
Tight end AJ Derby (New England) and linebacker Martrell Spaight (Washington) have continued their stellar play in the preseason.
Derby scored a touchdown this past week, and through two preseason games, he ranks first among all tight ends and fourth among all receivers with 59.0 yards receiving per game. Spaight tied for the team lead in tackles and forced a fumble this past week against the Jets. He now has 10 tackles during the preseason.
This week, 12 of the 16 games will feature at least one former Razorback, with two games each on CBS and NFL Network and one game each on FOX and NBC. Running back Alex Collins and the Seattle Seahawks kick off the action as they host the Dallas Cowboys on tonight at 9 p.m. CT on the NFL Network.
Below is a week three #ProHogs schedule:
Date
Time (CT)/TV Network
Matchup
Thurs., Aug. 25
9 p.m./NFL Network
Dallas at Seattle (Alex Collins)
Fri. Aug. 26
6:30 p.m.
New England (Trey Flowers, AJ Derby) at Carolina (Robert Thomas)
Fri., Aug. 26
6:30 p.m.
Buffalo (Chris Gragg, Jonathan Williams) at Washington (Martrell Spaight)
Fri., Aug. 26
7 p.m.
Pittsburgh (Cobi Hamilton) at New Orleans)
Fri., Aug. 26
7 p.m./CBS
Cleveland (Alvin Bailey) at Tampa Bay
Sat., Aug. 27
12 p.m./NFL Network
Kansas City (Knile Davis) at Chicago
Sat., Aug. 27
6 p.m.
Philadelphia (Jason Peters) at Indianapolis (Tevin Mitchel)
Sat., Aug. 27
6 p.m.
Detroit (Travis Swanson) at Baltimore (Ryan Mallett)
Sat., Aug. 27
7 p.m./CBS
Tennessee (Sebastian Tretola) at Oakland (Denver Kirkland)
Sat., Aug. 27
8 p.m.
Los Angeles Rams (Rohan Gaines) at Denver (Cameron Jefferson)
Sun., Aug. 28
12 p.m./FOX
San Diego (Hunter Henry, Javontee Herndon, Darius Philon) at Minnesota (Jarius Wright)
Sun., Aug. 28
7 p.m./NBC
Cincinnati (Zach Hocker) at Jacksonville (Brandon Allen, Chris Smith)