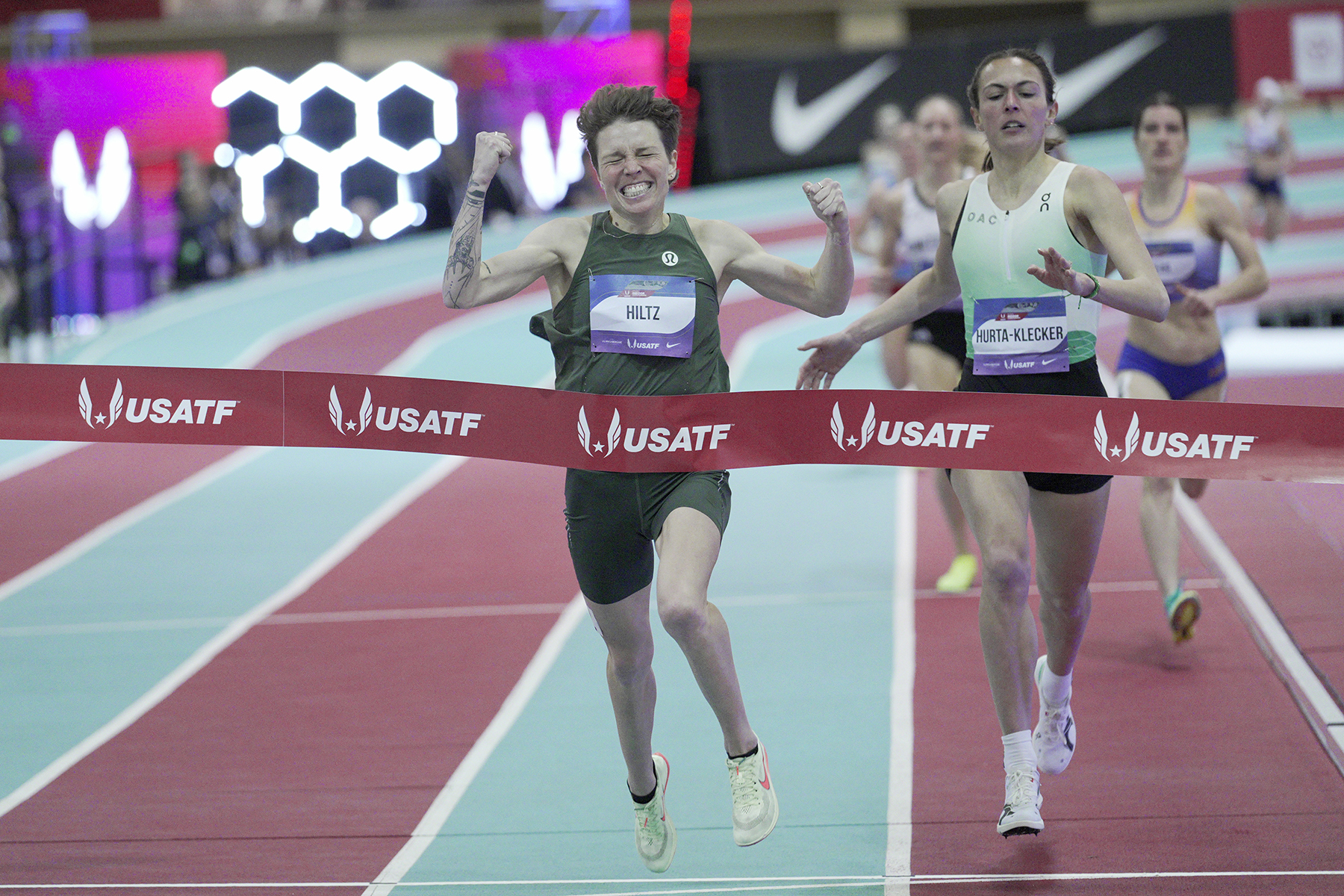 Nikki Hiltz wins USTAF Indoor 1,500m title
ALBUQUERQUE, New Mexico – Arkansas alum Nikki Hiltz claimed the 1,500m title on Saturday at the USATF Indoor Championships, winning with a time of 4:17.10 with another Razorback alum Krissy Gear finishing third in 4:18.21.
It was a weekend of big marks as Ryan Crouser improved his world record in the shot put at the Simplot Games in Pocatello, Idaho, and Tara Davis-Woodhall set a world-leading long jump mark to win a USATF title on Friday. Crouser and Davis-Woodhall both train in Fayetteville.
At the UK Athletics Indoor Championships held in Birmingham, England, Cindy Sember won the final of the 60m hurdles in a season best of 8.10 after an 8.25 leading time in the prelims. Runner-up to Sember, who trains in Fayetteville, was Marli Jessop in 8.26. The victory qualifies Sember for the European Indoor Championships.
On the final lap of the 1,500m, Hiltz passed Sage Hurta-Klecker in the final strides of the race, completing a 28.47 split over the last 200m and a 58.85 split over the final 400m. Hurta-Klecker covered the last two laps with a 28.86 and 59.16.
"It's so special to come here at altitude, and do it the hard way, it means a lot," stated Hiltz on winning her first national title. "It's fun and it's why I do this sport. The tactics, I love the 1,500 because of that. Sage is a 1:57 amazing runner with an incredible kick, so I'm really pleased with that last lap."
Gear, in sixth place at 1,100m of the race, utilized a close of 29.27 and 59.71 to finish third to finish ahead of Huntington's Addison Wiley (4:18.84).
Incorporating a new technique this season, Crouser's first throw measured 76-8.5 (23.38), which is a quarter inch better than his outdoor world record (76-8.25) he achieved at the 2022 World Championships in Eugene.
"It really surprised me with that first round throw," stated Crouser. "I wasn't expecting it. I opened really well at Millrose last week and since then training was a little bit down. So, I took an extra rest day coming into this meet. Expectations were a little bit down, even though they were hyping a world record and I wanted to throw it. I'm super happy with today's performance."
With his soft shell shot put impounded to be certified after the world record toss, Crouser used a hard shell shot put for the remainder of his series, which included marks of 73-9 (22.48), foul, 72-3.75 (22.04), 74-1.75 (22.60), and 73-0.5 (22.26).
The previous indoor world record set by Crouser at the Randal Tyson Track Center in 2021 measured 74-10.5 (22.82). The 74-1.75 in his series is equal No. 7 performance on the world all-time list.
A career best leap of 22-11.25 (6.99) in the fifth round improved the lead Davis-Woodhall established with a 22-9.25 (6.94) in the second round. The previous world leading mark for 2023 was a (6.87) by Nigerian Ruth Usoro in Lubbock.
On the all-time U.S. list, Davis-Woodhall is equal No. 4 performer with an equal No. 9 performance.
Arkansas alum Austen Dalquist raced in a pair of distance events. In Saturday's 1,500m he finished fourth in 3:44.80 with Sam Prakel winning with a 3:42.62. On Friday Dalquist placed eighth in the 3,000m with a time of 8:18.45.
Jada Baylark finished sixth in the 60m final with a season best of 7.20 in a race that produced an American record of 6.94 by winner Aleia Hobbs. Baylark ran 7.23 in the prelims to reach the final.
In the 400m prelims, Hunter Woodhall produced a season best time of 48.00 to place 10th overall with the top six advancing to the final. Darryl Sullivan, Jr., who also trains in Fayetteville, tied for fourth place in the high jump with a season best of 7-3 (2.21).
Taliyah Brooks set a career best of 8.02 in the prelims of the 60m hurdles but fell in the final and did not finish.
World Athletics Cross Country Championships
Racing in Bathurst, Australia, during a summer month with temperatures at 95 degrees, Arkansas alum Katie Izzo finished 31st overall in the women's 10k race with a time of 36:25 on a course filled with obstacles.
Lap splits among the 2k loop for Izzo included 7:11, 14:09, 21:24, 28:38, and 36:25. She finished third among the American crew of five runners as the United States placed fifth in team scoring among 11 countries who produced a team finish. The women's field size numbered 90 athletes representing 28 countries.