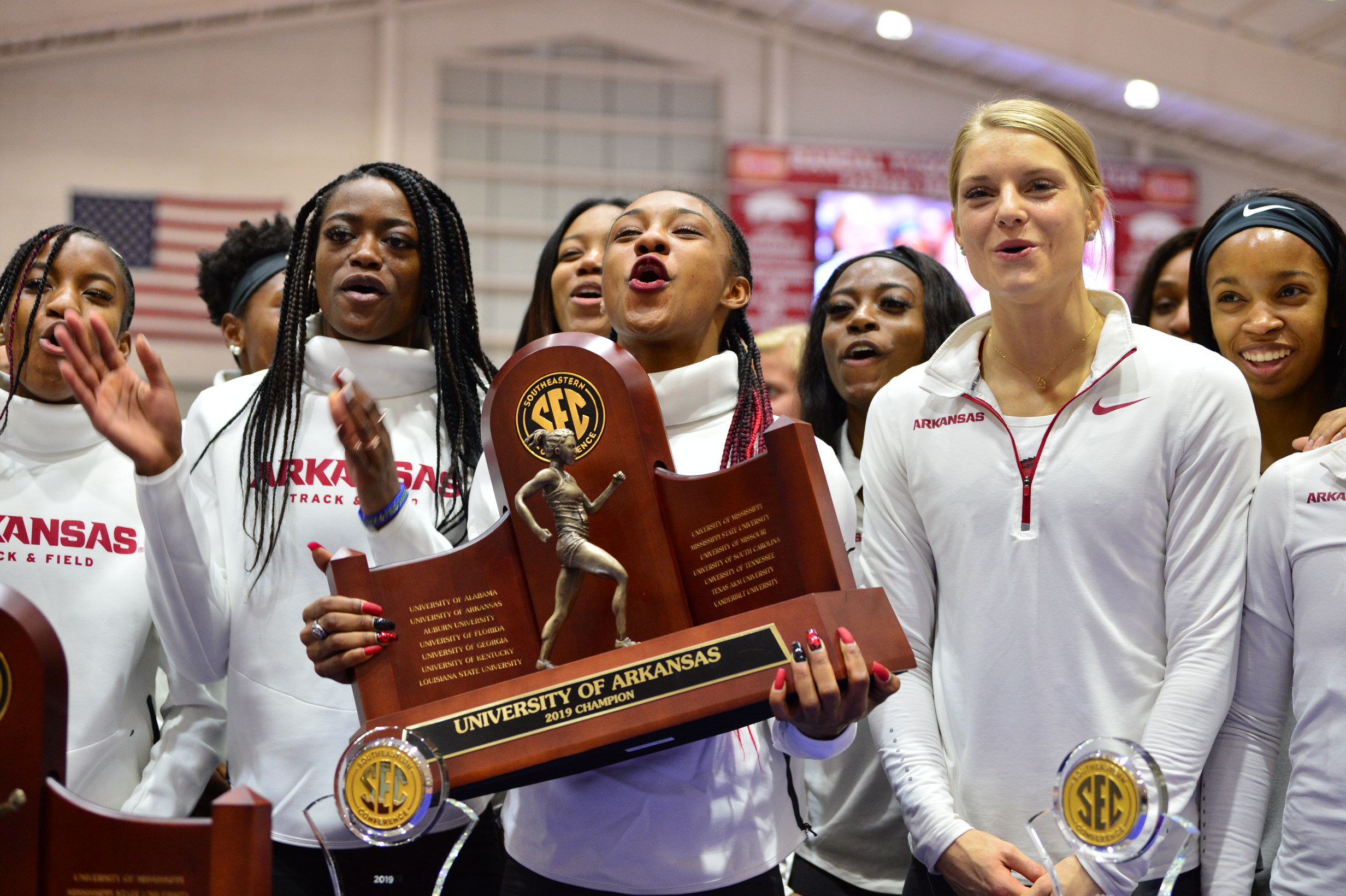 No. 1 Arkansas Captures Fifth-Straight SEC Indoor Title
FAYETTEVILLE, Ark. – No. 1 Arkansas absolutely ran away from the competition as the Razorbacks built up an 81-point buffer between them and second-place Florida scoring 151-points over the 17-event competition to capture its fifth-straight SEC Indoor Track & Field Championship Saturday night at Randal Tyson.
Arkansas has now captured 14 out of the last 15 SEC Team Championship titles between cross country, indoor track, and outdoor track. Tonight's title is the ninth all-time SEC Indoor Championship for the Arkansas women's program having also won titles in 2000, 2001, 2003, 2013, 2015, 2016, 2017, and 2018.
Lexi Jacobus captured her second SEC Indoor pole vault title, fifth-overall SEC title, in spectacular fashion clearing an SEC Championships meet record, a program record, and personal-best 4.68m (15-4.25). Jacobus attempted 12-bars before clearing the winning height and sending the crowd into a roar of cheers for the Cabot, Arkansas native. Her clearance stands as the second-best performance in NCAA indoor history behind Stephen F. Austin Demi Payne who cleared 4.75m (15-7) in 2015.
Taylor Werner had quite a day, completing the sweep of the 3K/5K as well as earning finishing in a tie for the Cliff Harper Trophy (awarded to the high-point scorer at the SEC Indoor Championship) as Werner and Florida's Yanis David each scored 20 points.
Werner made quick work of the 3,000-meter final, crossing the finish line in 9:15.57 to become the first Razorback since Penny Splichal to complete the feat. Devin Clark finished third in the 3K running 9:26.33, while Reed returned to score again crossing the line in seventh-place (9:40.63)
Jacobus was joined in scoring by Tori Hoggard who cleared 4.60m (15-1) for second-place and Desiree Freier in fifth-place with a best clearance of 4.24m (13-11).
Lauren Gregory picked up the momentum on the track right where it left off Friday night as she cruised to a title in the Mile, running 4:39.50 leading the Hogs in an SEC sweep of the event. Carina Viljoen finished runner-up in 4:41.40 while Maddy Reed made it official with a third-place finish in 4:43.03.
Next on the track for Arkansas were three more scoring opportunities as Kiara Parker, Janeek Brown, and Jada Baylark stepped to the track for the final of the 60-meters. Parker who led the nation for most of the indoor season finished fourth followed by Brown and Baylark in fifth and sixth-place, adding to the Razorback total. Parker returned to score in the 200-meters finishing seventh.
Kethlin Campbell and Morgan Burks-Magee scored in the 400-meter final finishing fifth and sixth, respectively with times of 52.60 and 53.05. Campbell's time finished tied for the seventh-best time in program history with Jessica Cousin's effort from 2007. Sydney Hammit also scored for Arkansas with an eighth-place finish running 54.09 seconds.
Payton Chadwick and Brown added to the Razorback total with their 1-2 finish in the 60-meter hurdles. Chadwick captured her first SEC 60-hurdle title running 8.02 while Brown followed close behind in 8.09 for silver. Chadwick would return in the 200-meters posting a second-place finish in 23.01.
Alex Byrnes grabbed a fifth-place finish in the 800-meters running a personal-best 2:06.70 in the four-lap race.
Arkansas closed out the meet with a season-best time in the women's 4×400-meter relay that also stands at the No. 3 all-time performance in Razorback history with their time of 3:29.69 for fourth-place.
With the SEC Championships in the books, Arkansas looks to the NCAA Indoor Championships in Birmingham, Ala. where the men and women who finished in the top-16 of individual events, as well as the top-12 relays from each gender on the final descending order list, will advance.
For more information on Arkansas track and field including in-meet updates, follow @RazorbackTF on Twitter.