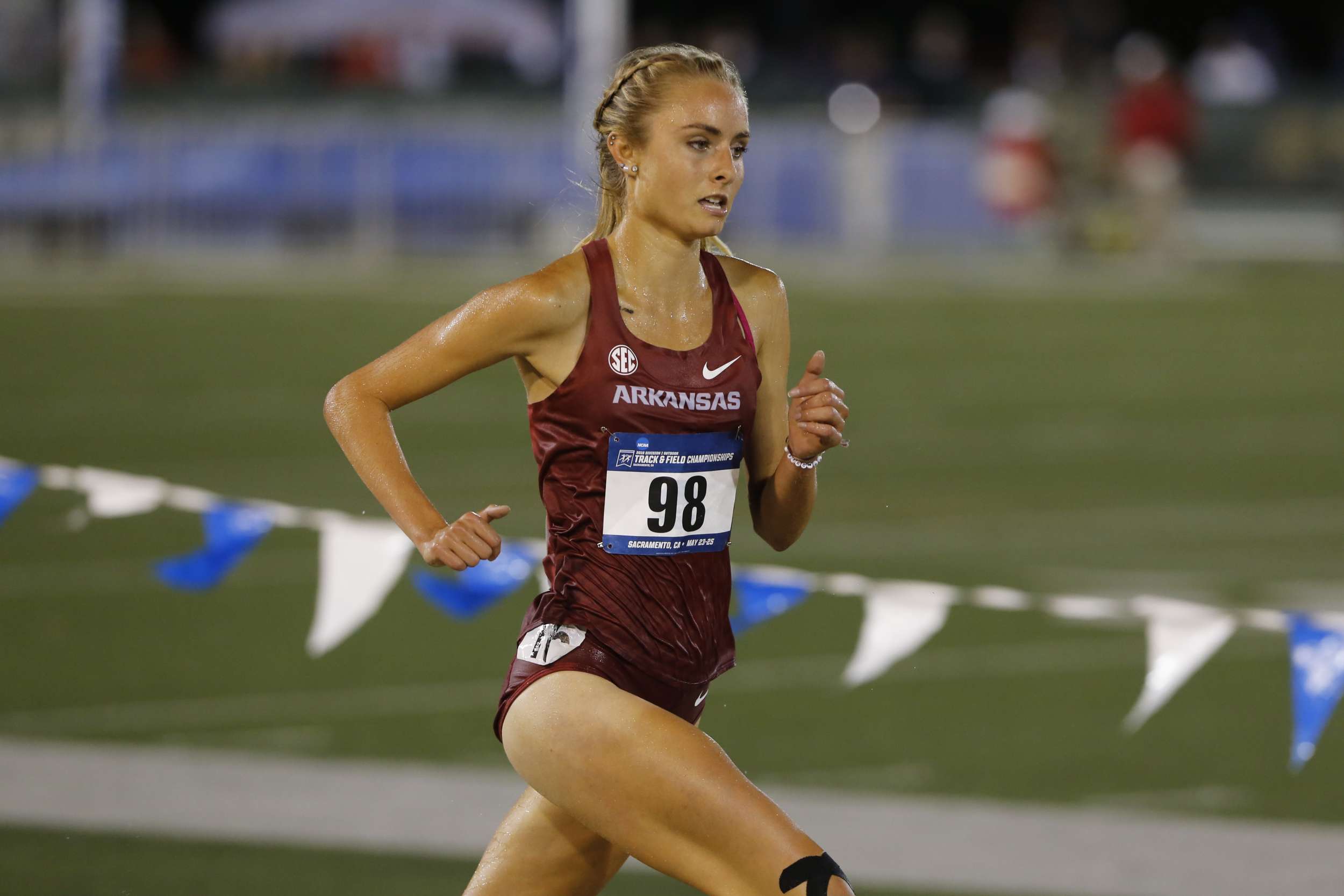 No. 1 Arkansas Set for NCAAs in Austin


Mike A. Myers Stadium
Austin, Texas
Thursday, June 6
7:02 p.m. CT
Saturday, June 8
5:32 p.m. CT
FAYETTEVILLE, Ark. – The No. 1 Arkansas women's track & field team will embark on its final challenge of the season, matching their talents against the best programs and individuals in the country at the 2019 NCAA Outdoor Championships at Mike A. Myers Stadium on the campus of the University of Texas.
The ESPN family of networks will again broadcast all parts of the competition and ceremonies for all four days of competition. All field events will have online broadcasts via ESPN3. The full schedule and direct links to the event are available here.
Arkansas enters the meet as the reigning indoor champions having captured the third NCAA Championship in program history as well as Lexi Jacobus earning her fourth-career individual title in the pole vault.
Triple-Crown Champions of the Southeastern Conference, the Razorbacks qualified an NCAA-leading 17 entries to the meet fielding at least one athlete in 12 of the 21 events that are slated to be scored.
Arkansas Qualifiers
4×100-meters – Parker, Chadwick, Brown, Campbell
1,500-meters – Carina Viljoen
3k-steeple – Devin Clark
100-meter hurdles – Janeek Brown, Payton Chadwick
100-meters – Kiara Parker
400-meters – Kethlin Campbell
200-meters – Janeek Brown, Payton Chadwick
5,000-meters – Devin Clark, Taylor Werner
10,000-meters – Taylor Werner
4×400-meters – Peoples, Parker, Burks-Magee, Campbell
Pole Vault – Lexi Jacobus, Tori Hoggard, Desiree Freier
Long Jump – G'Auna Edwards
Throughout the 2019 outdoor season, 18 all-time top-10 marks have been set with two of those performances coming in as new school records (100mH, 4×100-meter relay). Arkansas enters the NCAA meet with 10 top-10 athletes across eight events with Janeek Brown's 100-meter hurdle time leading the way as the top time in the country this season in a blistering 12.55 seconds.
Social Media
Join the championship conversation by using #ncaaTF
and following along on Facebook (NCAA Track & Field) & Twitter
(@NCAATrackField) for results and important meet updates.
For more information on Arkansas track and field including in-meet updates, follow @RazorbackTF on Twitter.
2019 SCHEDULE OF EVENTS [All times Central]
Wednesday, June 5
Wednesday Track Events

| Time | Event | Round | Division |
| --- | --- | --- | --- |
| 6:32 p.m. | 4×100-Meter Relay | Semifinal | Men |
| 6:46 p.m. | 1,500 Meters | Semifinal | Men |
| 7:02 p.m. | 3,000-Meter Steeplechase | Semifinal | Men |
| 7:32 p.m. | 110-Meter Hurdles | Semifinal | Men |
| 7:46 p.m. | 100 Meters | Semifinal | Men |
| 8 p.m. | 400 Meters | Semifinal | Men |
| 8:14 p.m. | 800 Meters | Semifinal | Men |
| 8:30 p.m. | 400-Meter Hurdles | Semifinal | Men |
| 8:44 p.m. | 200 Meters | Semifinal | Men |
| 8:56 p.m. | 400 Meters | Decathlon | Men |
| 9:08 p.m. | 10,000 Meters | Final | Men |
| 9:48 p.m. | 4×400-Meter Relay | Semifinal | Men |
Wednesday Field Events

| Time | Event | Round | Division |
| --- | --- | --- | --- |
| 4 p.m. | Hammer Throw | Final | Men |
| 6:30 p.m. | Pole Vault | Final | Men |
| 6:45 p.m. | Javelin Throw | Final | Men |
| 8 p.m. | Long Jump | Final | Men |
| 8:40 p.m. | Shot Put | Final | Men |
Wednesday Combined Events

| Time | Event | Round | Division |
| --- | --- | --- | --- |
| 2:30 p.m. | 100 Meters | Decathlon | Men |
| 3:10 p.m. | Long Jump | Decathlon | Men |
| 4:25 p.m. | Shot Put | Decathlon | Men |
| 5:40 p.m. | High Jump | Decathlon | Men |
| 8:56 p.m. | 400 Meters | Decathlon | Men |
---
Thursday, June 6
Thursday Track Events

| Time | Event | Round | Division |
| --- | --- | --- | --- |
| 7:02 p.m. | 4×100-Meter Relay | Semifinal | Women |
| 7:16 p.m. | 1,500 Meters | Semifinal | Women |
| 7:32 p.m. | 3,000-Meter Steeplechase | Semifinal | Women |
| 8:02 p.m. | 100-Meter Hurdles | Semifinal | Women |
| 8:16 p.m. | 100 Meters | Semifinal | Women |
| 8:30 p.m. | 400 Meters | Semifinal | Women |
| 8:44 p.m. | 800 Meters | Semifinal | Women |
| 9 p.m. | 400-Meter Hurdles | Semifinal | Women |
| 9:14 p.m. | 200 Meters | Semifinal | Women |
| 9:26 p.m. | 1,500 Meters | Decathlon | Men |
| 9:38 p.m. | 10,000 Meters | Final | Women |
| 10:18 p.m. | 4×400-Meter Relay | Semifinal | Women |
Thursday Field Events

| Time | Event | Round | Division |
| --- | --- | --- | --- |
| 4:30 p.m. | Hammer Throw | Final | Women |
| 7:30 p.m. | Pole Vault | Final | Women |
| 8:15 p.m. | Javelin Throw | Final | Women |
| 8:30 p.m. | Long Jump | Final | Women |
| 9:10 p.m. | Shot Put | Final | Women |
Thursday Combined Events

| Time | Event | Round | Division |
| --- | --- | --- | --- |
| 1 p.m. | 110-Meter Hurdles | Decathlon | Men |
| 1:50 p.m. | Discus Throw | Decathlon | Men |
| 3 p.m. | Pole Vault | Decathlon | Men |
| 5:30 p.m. | Javelin Throw | Decathlon | Men |
| 9:26 p.m. | 1,500 Meters | Decathlon | Men |
---
Friday, June 7
Friday Track Events

| Time | Event | Round | Division |
| --- | --- | --- | --- |
| 7:32 p.m. | 4×100-Meter Relay | Final | Men |
| 7:41 p.m. | 1,500 Meters | Final | Men |
| 7:54 p.m. | 3,000-Meter Steeplechase | Final | Men |
| 8:12 p.m. | 100-Meter Hurdles | Final | Men |
| 8:22 p.m. | 100 Meters | Final | Men |
| 8:32 p.m. | 400 Meters | Final | Men |
| 8:44 p.m. | 800 Meters | Final | Men |
| 8:57 p.m. | 400-Meter Hurdles | Final | Men |
| 9:07 p.m. | 200 Meters | Final | Men |
| 9:13 p.m. | 200 Meters | Heptathlon | Women |
| 9:25 p.m. | 5,000 Meters | Final | Men |
| 9:51 p.m. | 4×400-Meter Relay | Final | Men |
Friday Field Events

| Time | Event | Round | Division |
| --- | --- | --- | --- |
| 7 p.m. | High Jump | Final | Men |
| 7:05 p.m. | Discus Throw | Final | Men |
| 7:40 p.m. | Triple Jump | Final | Men |
Friday Combined Events

| Time | Event | Round | Division |
| --- | --- | --- | --- |
| 2:30 p.m. | 100-Meter Hurdles | Heptathlon | Women |
| 3:30 p.m. | High Jump | Heptathlon | Women |
| 5:30 p.m. | Shot Put | Heptathlon | Women |
| 9:13 p.m. | 200 Meters | Heptathlon | Women |
---
Saturday, June 8
Saturday Track Events

| Time | Event | Round | Division |
| --- | --- | --- | --- |
| 5:32 p.m. | 4×100-Meter Relay | Final | Women |
| 5:41 p.m. | 1,500 Meters | Final | Women |
| 5:54 p.m. | 3,000-Meter Steeplechase | Final | Women |
| 6:12 p.m. | 100-Meter Hurdles | Final | Women |
| 6:22 p.m. | 100 Meters | Final | Women |
| 6:32 p.m. | 400 Meters | Final | Women |
| 6:44 p.m. | 800 Meters | Final | Women |
| 6:57 p.m. | 400-Meter Hurdles | Final | Women |
| 7:07 p.m. | 200 Meters | Final | Women |
| 7:13 p.m. | 800 Meters | Heptathlon | Women |
| 7:25 p.m. | 5,000 Meters | Final | Women |
| 7:51 p.m. | 4×400-Meter Relay | Final | Women |
Saturday Field Events

| Time | Event | Round | Division |
| --- | --- | --- | --- |
| 5 p.m. | High Jump | Final | Women |
| 5:05 p.m. | Discus Throw | Final | Women |
| 5:40 p.m. | Triple Jump | Final | Women |
Saturday Combined Events

| Time | Event | Round | Division |
| --- | --- | --- | --- |
| 1:30 p.m. | Long Jump | Heptathlon | Women |
| 2:45 p.m. | Javelin Throw | Heptathlon | Women |
| 7:13 p.m. | 800 Meters | Heptathlon | Women |