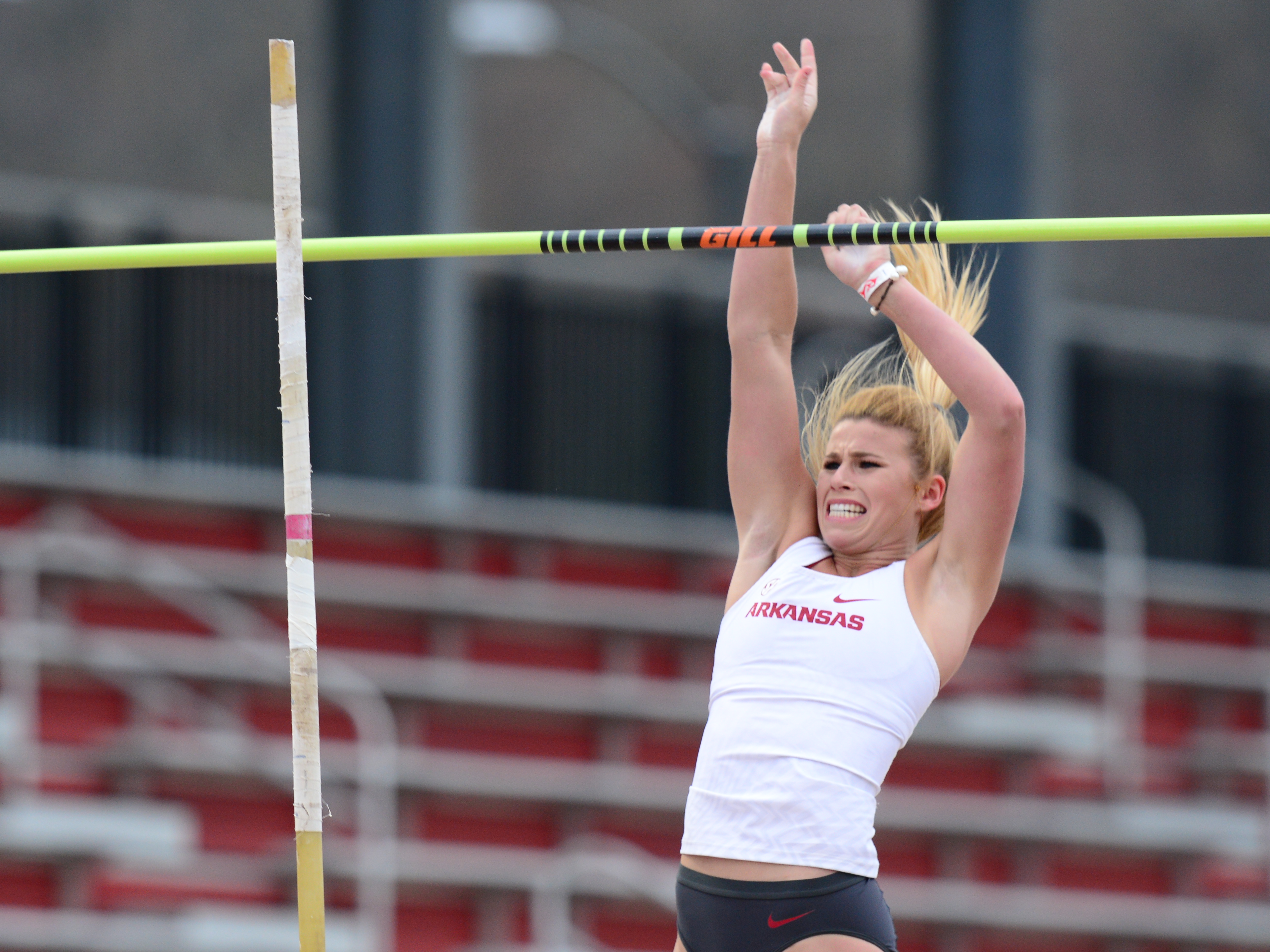 No. 1 Arkansas Sweeps Two Events On Day Two At The John McDonnell Invitational
FAYETTEVILLE, Ark. – The top-ranked women's track & field team weathered the wind and isolated rain to sweep two events on the first day on the track at the John McDonnell Invitational.
"Today was a sprint day," said head coach Lance Harter.
"With those tailwinds, you're going to be a benefactor. Obviously, they're not going to count because they all exceeded the maximum allowable wind, but the effort was there. [Jada] Baylark had a big breakthrough in the 200-meters. Being as fast of a 100-meter runner as she is, she was ready to run a good 200-meters. It's too bad it was just a hair over the allowable wind. Janeek Brown had a full day as well with the relay, the 100-meters, and the 100-meter hurdles. So all-in-all, they did a good job and we'll see what the distance runners are able to do tomorrow," Harter finished.
Arkansas posted a 1-2-3 sweep in two events Friday afternoon, the women's 100-meters and the women's pole vault.
In the 100-meters, Jada Baylark checked off step one of her sprint sweep Friday afternoon. Baylark ran a windy 11.02 (+5.8) that would've shattered the school record had it been legal.
Teammates Kiara Parker (11.14/+5.8) and Janeek Brown (11.19/+5.8) helped complete the sweep of the event for Arkansas. Tamara Kuykendall was also in the field clocking a time of 11.44 seconds in the event.
Over to the pole vault, Lexi Jacobus, Victoria Hoggard and Rylee Robinson provided the sweep with marks of 4.27m (14'-0"), 4.27m (14'-0"), and 4.17m (13'-8.25"), respectively. Arkansas had four additional athletes in the competition as Elizabeth Ramos-Mata (3.92m/12'-10.25"), Morgan Hartsell (3.77m/12'-4.50"), Madeline Telford (3.57m/11'-8.50"), and Genna Potter (3.37m/11'-0.75") finished sixth, eighth, 13th, and 17th.
Janeek Brown was the top-finisher in the 100-meter hurdles running a wind-legal 13.01 (+3.5) seconds that will count towards a regional qualifying time.
Baylark returned to the track for the 200-meters completing the sprint sweep as she blazed the track to the tune of 22.91 (+5.0) seconds. Baylark led the way for teammates Kiara Parker (23.34), Tamara Kuykendall (23.89), and Sydney Davis (24.23) who finished second, seventh, and 13th, respectively.
Riley Hoogerwerf was the lone competitor for the Razorbacks in the women's discus finishing with a best throw of 36.65m (120'-3") to finish seventh.
Tess Iler was the top finisher for the Razorbacks in the 800-meters running 2:20.53 posting a top-10 finish.
Friday Results
John McDonnell Invitational
100-meters
1. J. Baylark- 11.02
2. K. Parker- 11.14
3. J. Brown- 11.19
6. T. Kuykendall- 11.44
200-meters
1. J. Baylark- 22.91
2. K. Parker- 23.34
7. T. Kuykendall- 23.89
13. S. Davis- 24.23
100-meter hurdles
1. J. Brown- 13.01
800-meters
6. T. Iler- 2:20.53
Discus
7. R. Hoogerwerf- 36.65m (120'-3")
Pole Vault
1. Lexi Jacobus – 4.27m (14'-0")
2. Victoria Hoggard – 4.27m (14'-0")
3. Rylee Robinson – 4.17m (13'-8.25")
6. Elizabeth Ramos-Mata 3.92m (12'-10.25")
8. Morgan Hartsell – 3.77m (12'-4.50")
13. Madeline Telford – 3.57m (11'-8.50")
17. Genna Potter – 3.37m (11'-0.75")
For more information on Arkansas track and field including in-meet updates, follow @RazorbackTF on Twitter.