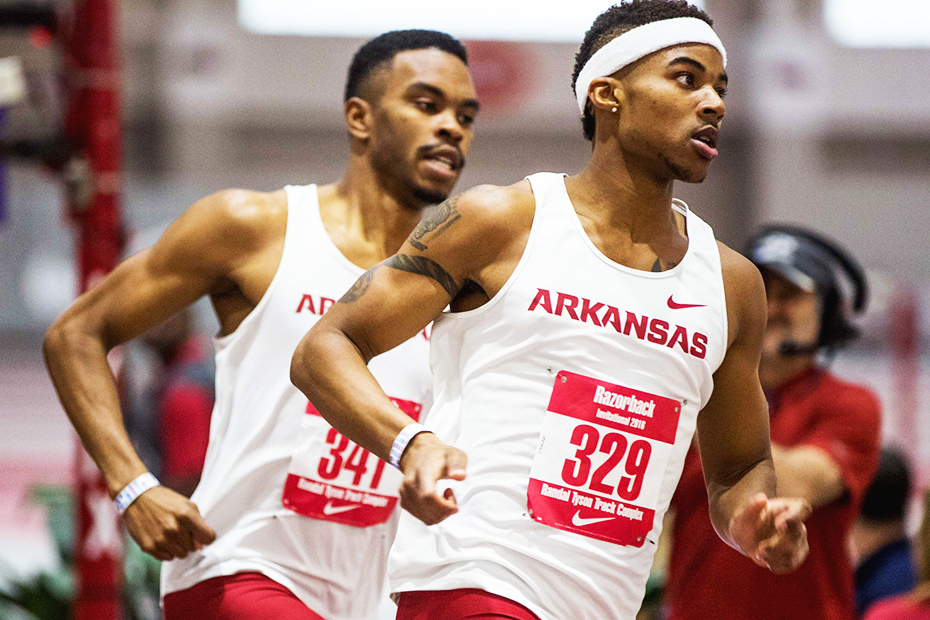 No. 11 Razorbacks Superb Showing Seals Victory
SEC Network Highlights
Razorback Invitational Results
FAYETTEVILLE, Ark. – The No. 11 Arkansas men's track and field team entered the second day of the Razorback Invitational sitting in second place behind Texas A&M. The Razorbacks began to chip away at the Aggies lead with huge underclassmen showings at 400 meters.
Jamarco Stephen kicked off day two of the Razorback Invitational in stellar fashion claiming the top spot in the 400 meter open race. The sophomore made a strong final push coming around the bend into the home stretch beating Cyril Grayson of LSU to the line in a personal best time of 46.85.
The fans at Randall Tyson Track Center saw lightning strike twice with Jarrion Lawson. After posting a world-leading mark in the long jump on day one of the Razorback Invitational he returned on day two to add a personal record in the 60-meter dash. Following close behind new NCAA leader John Teeters who crossed the line with a blazing 6.54, Lawson finished with his own electric time of 6.62.
Sophomore Kenzo Cotton returned to the mondo following his solid performance at 200 meters accompanying Lawson in the finals of the 60-meter dash. Continuing to show veteran consistency in his speed, Cotton clocked 6.68 to round the top three in the event.
On the runway junior Clive Pullen was more than pleased with his performance for the Razorbacks giving the fans a show of celebration after earning a new personal record in the triple jump. Going into his last attempt Pullen was sitting at 15.82m/51-11 until he unleashed a tremendous mark of 16.04m/52-7.50. It was Pullen's first 16 meter jump since his freshman season on the indoor circuit.
The invitational section of the 800-meter run featured USATF Junior and Pan Am Junior 800-meter Champion Carlton Orange. Off to a quick start Orange and his fellow competitors tried to push the pace and jockey for the lead. The race remained tightly contested until Orange made a move into the lead and staved off a late surge from LSU's Blair Henderson to cross the line in first place. The Memphis native collected a personal record in his 800 meter collegiate debut finishing in a time of 1:47.38.
Great Britain product Alex George personified Arkansas' day as he tracked down Jake Leingang of Oregon in dramatic fashion. With two laps remaining in the invitational section of the 3,000 meter run Leingang tried to distance himself from the pack. George kept pace with him and as the bell tolled signifying the final lap George kicked it in high gear. The sophomore burst past his competitor right before the line drawing awe from the home crowd as he posted a time of 8:09.79.
A replay of the Razorback Invitational will be available on Sunday, Jan. 31 from 10 a.m.-12 p.m. on the SEC Network and on from 8-10 p.m. on ESPN2
The Razorbacks will return to action in two weeks at the Tyson Invitational and the Iowa State Classic on Feb. 12-13.
The Tyson Invitational will host over 20 teams at the two day event featuring a multitude of talented collegians from across the country. Arkansas will also open its doors to top professional athletes looking to secure a time or mark for entry into the 2016 World Indoor Track and Field Championships.
2016 Razorback Invitational Day 2 Results
Randal Tyson Track Center
Fayetteville, Ark.
60 Meters Prelims
Jarrion Lawson – 6.74
Kenzo Cotton – 6.76
Roy Ejakuekwu – 6.81
Ryan Green – 6.85
Zach Riley – 6.91
Josh Washington – 7.06
60 Meters Finals
Jarrion Lawson (2) – 6.62
Kenzo Cotton (3) – 6.68
400 Meters
Jamarco Stephen (1) – 46.85
400 Meters Invitational
Obi Igbokwe (6) – 47.61
800 Meters
Andrew Pisechko (11) – 1:51.11
Cameron Griffith (13) – 1:51.30
Noah Findlay (28) – 1:53.56
Noah Arrindell (33) – 1:56.73
800 Meters Invitational
Carlton Orange (1) – 1:47.38
Ryan Thomas (5) – 1:57.58
Mile
Kyle Hosting (12) – 4:11.84
Aidan Swain (20) – 4:17.08
Mile Invitational
Austen Dalquist (8) – 4:05.31
Cale Wallace (10) – 4:09.05
3,000 Meters Invitational
Alex George (1) – 8:09.79
Gabe Gonzalez (4) – 8:11.31
Andrew Ronoh (9) – 8:19.49
60 Meter Hurdle Prelims
Kemar Mowatt – FS
Davon Anderson – 7.94
60 Meter Hurdle Finals
Davon Anderson (3) – 7.85
4×400 Meter Relay Invitational
Arkansas A (3) – 3:08.86
Arkansas B (8) – 3:16.61
Triple Jump
Clive Pullen (1) – 16.04m/52-07.50
Rubin Owens (10) – 15.10m/49.06.50
Shot Put
Devin Randall (13) – 16.40m/53-09.75
Sam Kempka (15) – 15.92m/52.02.75
Jeff Rogers (16) – 15.90m/52-02.00
Erich Sullins (17) – 14.99m/49-02.25
Brad Culp (19) – 12.33m/40-05.50
Heptathlon
Derek Jacobus (7) 5282 – 60m: 7.09, LJ: 6.77m/22-2.5, SP: 12.44m/40-9.75, HJ: 1.87m/6-01.50, 60mH: 8.81, PV: 4.20m/13-09.25, 1000m: 2:38.49
Lane Austell (10) 5169 – 60m: 7.20, LJ: 6.63m/21-9, SP: 11.22m/36-9.75, HJ: 1.78m/5-10, 60mH: 8.46, PV: 4.50m/14-09, 1000m: 2:43.90
Team Totals
1. Arkansas – 122.2
2. Texas A&M – 105.5
3. Oregon – 87.7
4. LSU – 65
5. Georgia – 57
6. Florida – 47
7. UCLA – 41.5
8. Oklahoma – 35.7
9. Iowa State – 32.2
10. Iowa – 24
11. Oklahoma State – 20
12. Florida State – 14.2
For more information on Arkansas track and field including in-meet updates, follow @RazorbackTF on Twitter.