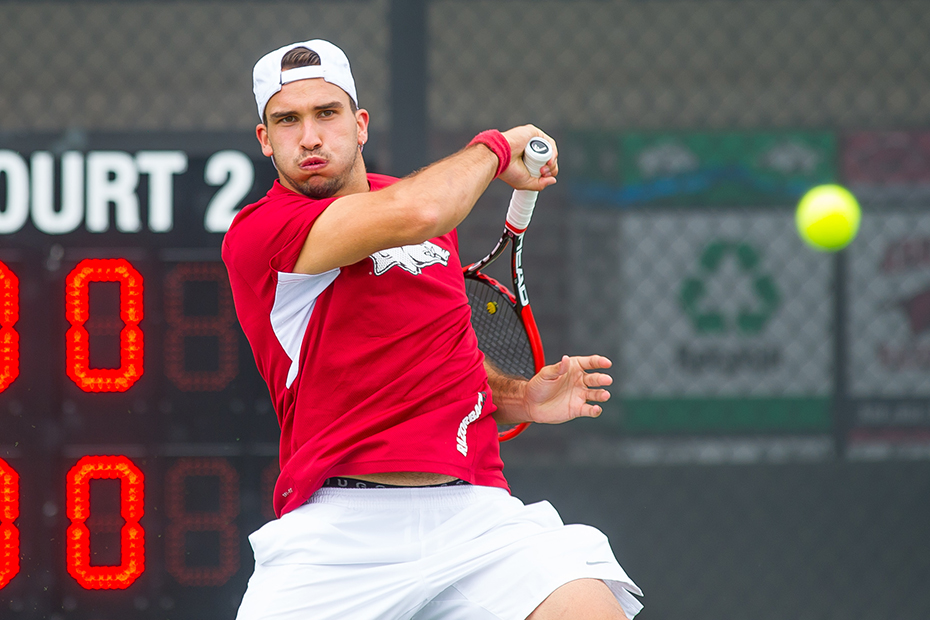 No. 19 Hogs Await Placement For NCAA Regionals
FAYETTEVILLE, Ark. — The 2016 NCAA Division I Men's Tennis Championship bracket will be announced Tuesday at 4:30 p.m. CDT and streamed live on NCAA.com.
Sixty-four teams will be selected to compete at one of 16 first and second round sites, each featuring four teams. First and second round competition is slated for May 13-15.
The No. 19 Arkansas men's tennis team finished tied for fourth in the Southeastern Conference following a 7-5 SEC mark and a 19-8 overall record. This will be the eighth-consecutive week for the Razorbacks within the top 25, as they project to be a No. 2 seed for NCAA Regionals.
Notable team victories for Arkansas this season include home wins over No. 7 Texas A&M on March 11 and Ole Miss on March 27, as well as road triumphs against No. 10 Oklahoma on Feb. 28 and No. 19 Texas on March 23.
Arkansas defeated the Aggies for the first time since 1995, the Rebels for the first time since 1988 and bounced the Longhorns for only the second time since 1989.
According to an NCAA.com press release, selections for the NCAA Singles and Doubles Championships will be released Wednesday at 5 p.m. CDT.
The Razorbacks' top two ranked players are No. 23 Mike Redlicki and No. 70 Jose Salazar. Together, the duo combined for a 29-11 record in dual matches with a 16-7 mark in SEC competition. Against ranked opponents, the two net men were 16-8, grabbing 16 of the team's 19 wins.
Along with teammate Giammarco Micolani, they were two of the 16 SEC players with eight-plus conference singles victories. The trio makes the Razorbacks one of two SEC teams (also No. 9 Florida) to boast three-plus players with eight-plus singles wins in conference play.
For more information on Razorback men's tennis, please follow @RazorbackMTEN on Twitter.