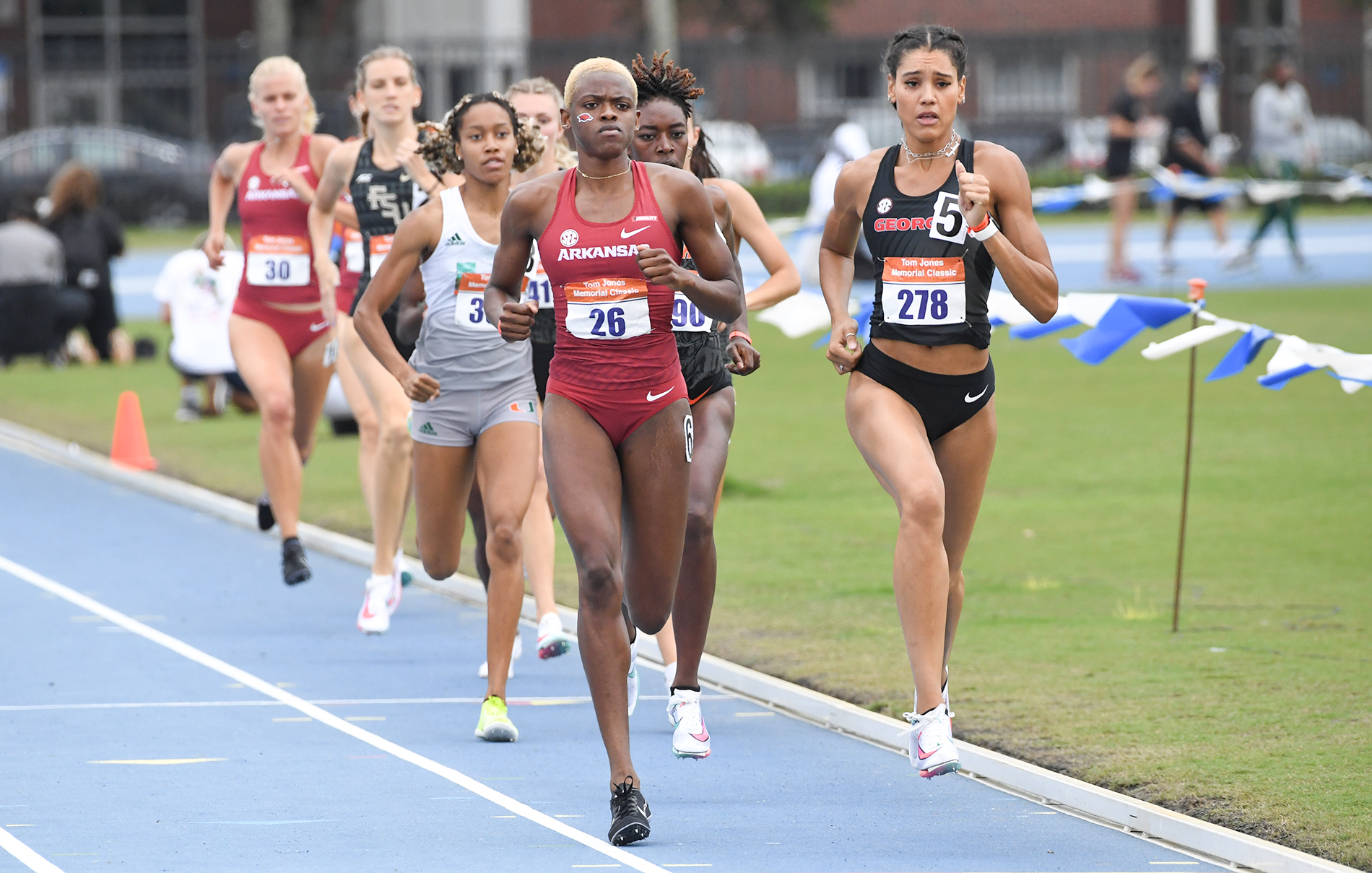 No. 2 Razorbacks host 12 teams at John McDonnell Invitational
FAYETTEVILLE, Ark. – The No. 2 Arkansas Razorbacks compete at home this weekend in the John McDonnell Invitational, which will be held Saturday and Sunday, April 24-25, at John McDonnell Field. This marks the first home meet this season in which fans are allowed.
A dozen schools are scheduled to join the Razorbacks this weekend. They include No. 7 Alabama, Arkansas-Little Rock, Arkansas-Pine Bluff, Arkansas State, Central Arkansas, Friends, Kansas, Mississippi, Oklahoma State, Oral Roberts, Tulsa, and Wichita State.
"If mother nature will cooperate, across the board we need to keep improving on some of the marks we've established already," said Arkansas women's head coach Lance Harter. "Some people are starting to switch into secondary events and try to get a good qualifier for either SECs or nationals."
This is the first home meet for Arkansas since 2019 and it will also be the first meet this season in which fans can attend after covid protocol kept them away from the series of indoor meets the Razorbacks hosted.
"The more the merrier," noted Harter. "It's nice to have fans celebrate our athletes, especially when good things happen. If we can have fans, even though it might be somewhat limited, we welcome everyone."
Action for Arkansas starts at 2:30 p.m. on Saturday with the pole vault while running events begin at 5 p.m. On Sunday, field events and running events get underway at noon.
A live stream is available on both days of the meet through SEC Network+, starting at 5 p.m. on Saturday and noon on Sunday.
Six Razorbacks are entered in the pole vault, led by outdoor collegiate leader Nastassja Campbell at 14-9 ½ (4.51) and Lauren Martinez, who currently ranks seventh in the nation with a season best of 14-2 ½ (4.33) after claiming a pair of victories the past couple of weeks at Texas A&M and Florida.
After setting an outdoor national record in the 800m last weekend, Shafiqua Maloney races in the 400m for the third time this outdoor season and will be joined by teammate Tiana Wilson.
Maloney set a career best of 51.72 as runner-up to teammate Paris Peoples in the Texas Relays to open the outdoor season in March. The national record for St. Vincent and the Grenadines in the 400m is 51.23, set in 2014 by Kineke Alexander in San Marcos, Texas.
A total of 11 Razorbacks are scheduled to race at the 800m distance this weekend. The group includes Peoples, who set an indoor best of 2:09.08 this season and previously ran 2:10.75 outdoors in 2018 while in high school, along with Krissy Gear, Quinn Owen, Kennedy Thomson, and Isabel Van Camp.
The second section of the 1,500m will feature Katie Izzo, Gracie Hyde, and Van Camp.
Arkansas moved from No. 5 to No. 2 in this week's national team merit ratings based on top end performances as well as depth in various events while competing at Florida. While LSU continues to hold onto the No. 1 position nationally, the conference ratings this week had a switch with the Razorbacks moving ahead of the Tigers.
The rest of the national top 10 following LSU and Arkansas includes USC, Texas A&M, Texas, Georgia, Alabama, Texas Tech, Florida State, and Florida.
In the SEC rankings, the Razorbacks now top the ratings over LSU, Texas A&M, Mississippi, Alabama, Auburn, Kentucky, Florida, Georgia, and Tennessee.
Sandi Morris at Drake Relays
With Arkansas hosting the John McDonnell Invitational this weekend, today's date of April 23 is when Sandi Morris established the meet and facility record with a then career best of 15-9 ¼ (4.81) in 2016.
This Saturday at 1:30 p.m. Morris is competing in the Drake Relays, where she is a four-time champion. The 2016 Olympic silver medalist and American record holder headlines a field that includes veterans Jen Suhr, Alysha Newman and Katie Nageotte along with top newcomers among elite vaulters in Olivia Gruver, Bridget Guy and Emily Grove.
The women's pole vault is one of four field events which are part of the Journey to Gold segment of the Drake Relays and will air on NBC Sports Network from 2 to 4 p.m. (CT).
Arkansas Alums in Oregon
A collection of Arkansas alums scheduled to compete in the USATF Grand Prix at Oregon Relays on Saturday, April 24, include Kiara Parker (100m), Nikki Hiltz (1,500m), Taliyah Brooks (100m hurdles), and Payton Chadwick (100m hurdles).
Coverage of the meet will be available on USATF.tv from 1 to 2 p.m. (PT), and NBC Sports Network from 2 to 4 p.m. (PT).