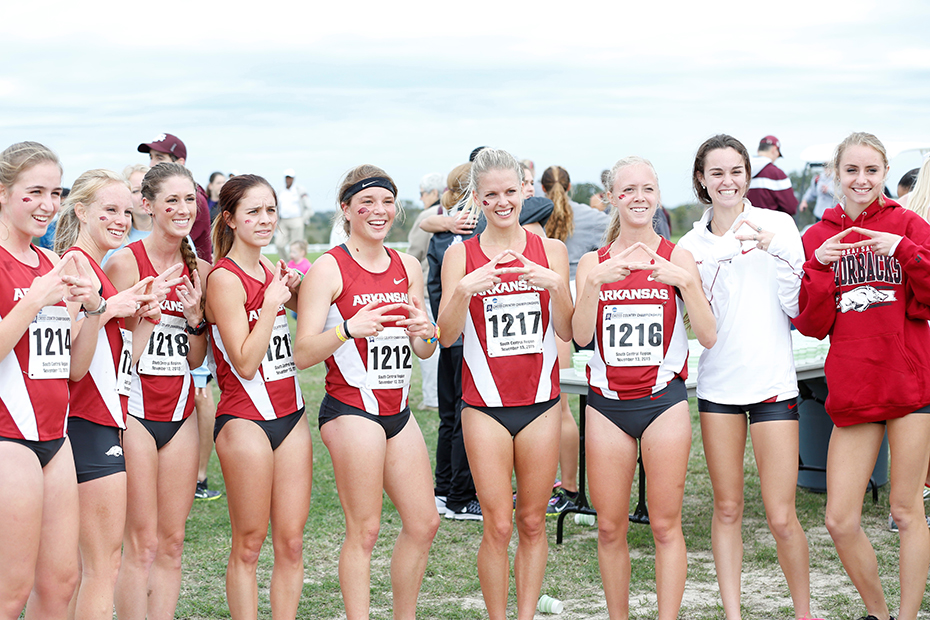 No. 3 Razorbacks Bring Home 20th Regional Crown
NCAA South Central Results – W
COLLEGE STATION, Texas – Fresh off their third-consecutive SEC victory Arkansas women's cross country team earned the program's 20th NCAA South Central Regional crown on Friday morning. Redshirt senior Dominique Scott was the top finisher in the 6K race crossing the line in 19:35.30.
Arkansas gained automatic entry into the NCAA Cross Country Championships with their regional win.
Scott became the fourth woman in Arkansas history to claim back-to-back individual regional titles, following in the footsteps of distance phenoms Deena Drossin Kastor, Megan Flowers and Lilli Kleinmann. The two-time cross country All-American has now won 10 individual titles, five coming from championship competitions.
With an entry list that included 135 runners, a swarm of Razorbacks were front and center leading the way from the start. Arkansas' top six of Scott, Kaitlin Flattmann, Regan Ward, Nikki Hiltz, Kelsey Schrader and Valerie Reina all finished in the top-15 earning All-Region honors. Lone freshman, Rachel Nichwitz put forth a solid effort placing 40th in her first regional championships.
Loaded with a roster of talented runners Arkansas now focuses its attention on next weekend's national championships in Louisville, Ky. The Razorbacks look to carry their momentum into the national meet and cap the year with a strong performance.
More information to follow.
All-Region
Dominique Scott
Kaitlin Flattmann
Regan Ward
Nikki Hiltz
Kelsey Schrader
Valerie Reina
NCAA South Central Regional Championships 6K Results
1. Dominique Scott (1) – 19:35.30
2. Kaitlin Flattmann (5) – 20:00.70
3. Regan Ward (10) – 20:21.20
4. Nikki Hiltz (11) – 20:22.10
5. Kelsey Schrader (14) – 20:25.80
6. Valerie Reina (15) – 20:25.80
7. Rachel Nichwitz (40) – 21:07.60
2015 Arkansas Cross Country Schedule
Tuesday, Sept. 1, Oklahoma State Duals | Stillwater, Okla. | 2nd of 4
Saturday, Sept. 12, UC Riverside Invitational | Riverside, Calif. | 1st of 15 – 6K, 1st of 17 – 5K
Saturday, Sept. 19, Missouri Southern Stampede | Joplin, Mo. | 1st of 25
Saturday, Oct. 3, Chile Pepper Festival | Fayetteville, Ark. | 1st of 17
Friday, Oct. 16, Wisconsin adidas Invitational | Madison, Wis. | 2nd of 36
Friday, Oct. 30, SEC Championships | College Station, Texas | 1st of 14
Friday, Nov. 13, NCAA South Central Regional | College Station, Texas | 1st of 19
Saturday, Nov. 21, NCAA Championships | Louisville, Ky.
For more information on Arkansas track and field including in-meet updates, follow @RazorbackTF on Twitter.