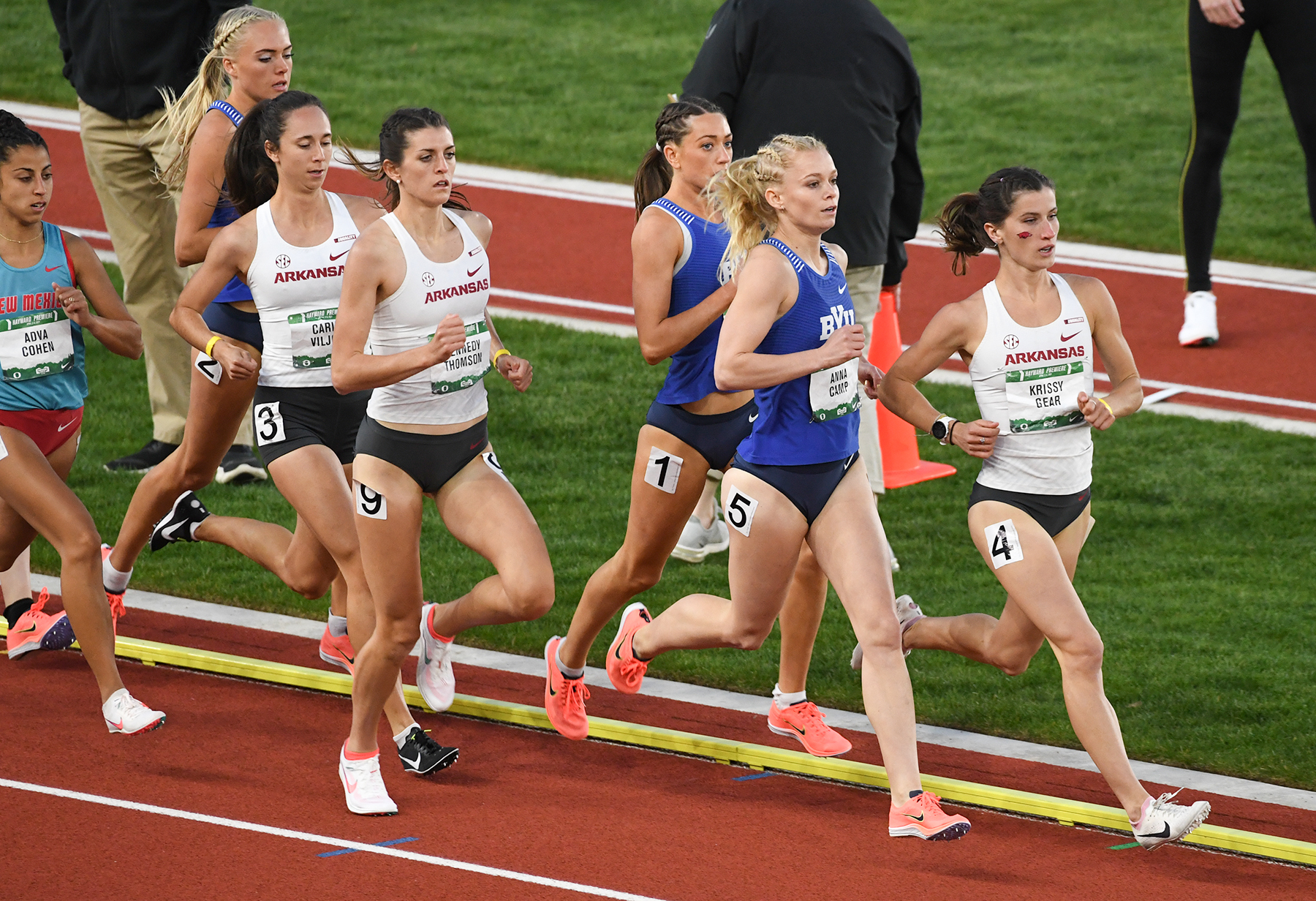 No. 5 Arkansas set for elite field in Florida
GAINESVILLE, Fla. – All facets of the No. 5 Razorbacks squad merge together for the first time this outdoor season to compete in Florida's Tom Jones Memorial Invitational on Friday and Saturday with seven of the teams competing currently ranked among the top 25.
"Even though it's still early in the outdoor season, we are only five weeks away from the conference meet," stated Arkansas women's head coach Lance Harter. "We have a few more opportunities after this weekend to try to get some things accomplished.
"Our sprints and jumps have done a great job of getting a lot of things accomplished, but some of our athletes have not been in their primary event yet and the distance crew has definitely not been yet. So, hopefully we'll have good weather on Friday and Saturday where we can start getting some good solid SEC marks and some NCAA qualifying out of the way."
Other SEC teams joining Arkansas and No. 12 Florida include No. 6 Georgia, No. 22 Kentucky, and Mississippi. Also competing in the meet are Coastal Carolina, No. 14 Florida State, Jacksonville, Louisville, No. 13 Miami, No. 23 North Carolina State, North Florida, South Florida, VCU, and UCF.
The bulk of Razorback entries are in the middle distance events with seven in the 800m and nine in the 1,500m. Doubling in those pair of races are Logan Morris, Quinn Owen, Kennedy Thomson, Isabel Van Camp, Carina Viljoen, and Meghan Underwood.
Shafiqua Maloney, who has competed in 400m in two outdoor meets, returns to the 800m this weekend for her outdoor debut in the event. She holds the indoor national record for St. Vincent and the Grenadines and seeks to add the outdoor version as well.
Maloney's career best indoors is 2:01.22 from her bronze medal performance at the 2021 NCAA Indoor Championships. The outdoor national record for St. Vincent is 2:11.93 set in 1993 by Bigna Samuel at the Angelo State Relays in San Angelo, Texas.
Also contesting the 1,500m for Arkansas are Abby Gray, Maddy Reed, and Josie Carson.
A pair of Razorbacks will compete in the 3,000m steeplechase for the first time in two seasons.
"Krissy Gear is a native of Florida, so she is supper excited to be able to get back on home turf and she wanted to make her season debut in the steeple there," noted Harter. "Gracie Hyde, who ran at UCA last year, is a steeplechaser as well. So, she will follow her roommate around the track as close as possible. Then we'll open up two more steeplechasers at our home meet next week."
In sprint events, there will be a pair of Razorbacks entered in the 100m, 200m, and 400m while the 100m hurdles include four Arkansas entries. Tiana Wilson and Jada Baylark are both entered in the 100m and 200m while the 400m includes Paris Peoples and Morgan Burks-Magee.
Scheduled to race in the 100m hurdles are Yoveinny Mota, Daszay Freeman, G'Auna Edwards, and Jayla Hollis. Edwards is also scheduled to high jump this weekend.
A trio of Razorbacks vaulting at the Florida meet include Lauren Martinez, Kaitlyn Banas and Grace Ridgeway.
In addition to Gear and Hyde in the 3,000m steeplechase, distance races will include Katie Izzo, Corie Smith and Adoette Vaughan racing at 5,000m, and Devin Clark opens in the 10,000m.