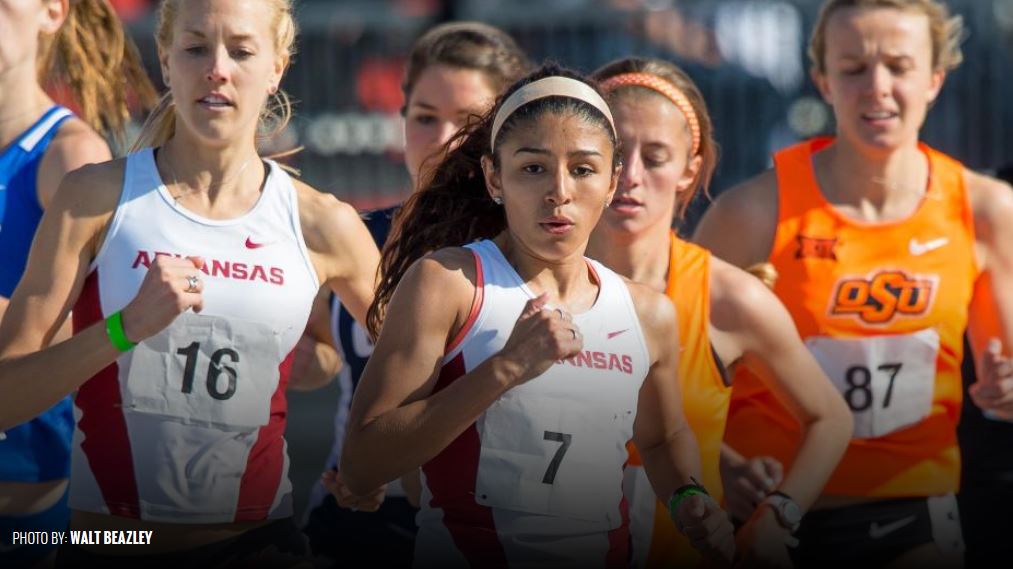 No. 7 Razorbacks Face Loaded Field at Stanford Invitational
PALO ALTO, Calif. – After a split opener last weekend, the No. 7 University of Arkansas women's track and field team is back intact for the 40th Stanford Invitational in Palo Alto, Calif. The meet begins Friday and continues through Saturday at Cobb Track and Angell Field on the Stanford campus. The large, two-day meet will feature more than 3,200 athletes with more than 100 four-year colleges represented.
Arkansas is set to face a field that includes ranked competition from No. 1 Texas A&M, host and No. 12 Stanford, No. 14 Oklahoma State, No. 15 Missouri and No. 22 Boise State. Live results from the meet can be found HERE. Coverage of the meet will also feature a web stream for purchase through Flotrack Pro.
In addition to the Razorback sprinters and jumpers who opened last weekend, indoor national champions Therese Haiss, Jessica Kamilos and Dominique Scott are scheduled to make their outdoor debuts at the Stanford Invitational. The meet schedule can be found HERE.
Based on their performances last weekend at the 88th Clyde Littlefield Texas Relays, senior Sparkle McKnight and junior Alex Gochenour were selected the SEC Runner and Field Athlete of the Week, respectively. Gochenour was also named the USTFCCCA National Athlete of the Week for her NCAA-leading performance of 6,027 points in winning the heptathlon while McKnight was recognized by the league for her SEC-leading time of 56.70 to win the 400-meter hurdles.
The Razorbacks opened their outdoor season with four titles at the Texas Relays with first-place performances from Gochenour, McKnight, Sandi Morris in the pole vault and the sprint-medley relay team of Taylor Ellis-Watson, Daina Harper, Brianna Swinton and Chrishuna Williams. Back on the home track at the Arkansas Spring Invitational, the team picked up a win from Regan Ward in the 3,000-meter steeplechase.
The Razorbacks' next home meet is scheduled for April 10-11 when they host the John McDonnell Invitational. For more information regarding purchasing tickets for home events, call 800-982-HOGS (4647), email raztk@uark.edu or visit the Razorback Ticket Center located just east of Baum Stadium. Along with the John McDonnell Invitational, the remaining home schedule also includes the Arkansas Twilight on May 1.
For more information on Arkansas track and field including in-meet updates, follow @RazorbackTF on Twitter.