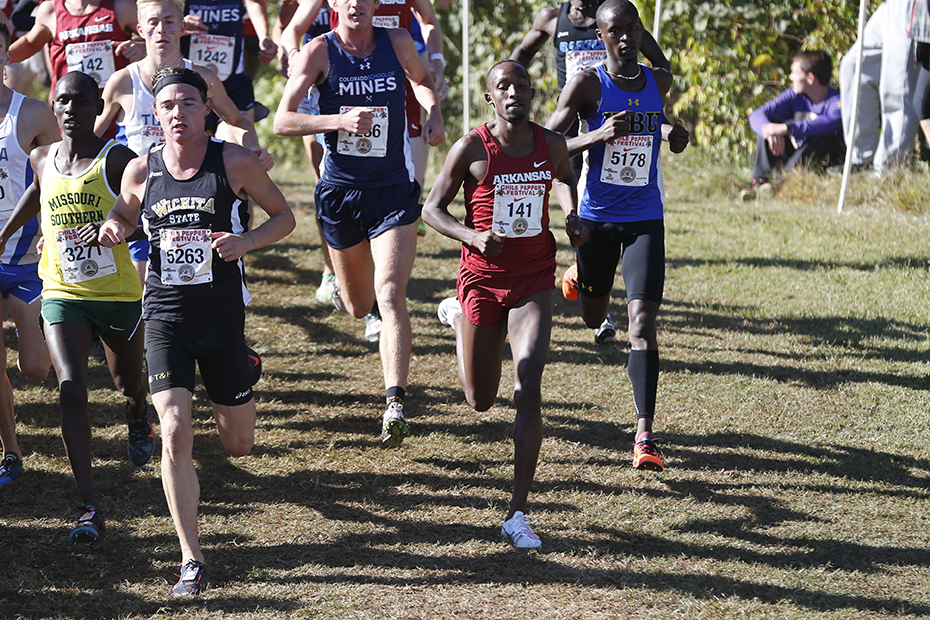 No. 8 Arkansas Pursues 35th Regional Crown
FAYETTEVILLE, Ark. – With week two of championship season underway, the Arkansas men's cross country team returns to College Station, Texas on Friday, Nov. 13 in pursuit of their 35th regional crown.
The Razorbacks have been at the top of the South Central Region since 2013 when they dethroned Texas by a three point margin on the Cottonwood Creek Golf Course in Waco, Texas. Former Arkansas standouts Stanley Kebenei, Kemoy Campbell and Solomon Haile led the team to the 2013 regional title finishing first, second and sixth respectively.
Arkansas returns five All-Region honorees from the 2014 season in Austen Dalquist, Alex George, Gabe Gonzalez, Aiden Swain and Cale Wallace. Gonzalez posted the best finish out of the group clocking 29:55.00 to finish fifth overall. In addition to Gonzalez, George and Wallace also finished inside the top-10 at last years' race placing sixth and ninth respectively.
At No. 8 in the national polls, the Razorbacks are the highest-ranked team in the region. Favored to win since the preseason, Arkansas will be challenged by Texas and Texas A&M, who are ranked second and third in regional polls respectively.
The men's 10K will kick off at 11 a.m. CST directly following the completion of the women's 6K. Awards are scheduled to follow immediately after the completion of both races.
The USTFCCCA will be providing a live stream of updates featuring pictures, results and splits on their National Results Wall. Fans can engage in the event using the hashtag #DIRegionals on social media.
MEET INFORMATION
Championship Central
Live Results
SOUTH CENTRAL REGION TEAMS (order by latest USTFCCCA rank)
1. Arkansas
2. Texas
3. Texas A&M
4. Lamar
5. Stephen F. Austin
6. North Texas
7. UT Arlington
8. Rice
9. Houston
10. McNeese State
11. Baylor
12. UTSA
13. LSU
14. Central Arkansas
15. Texas A&M-Corpus Christi
2015 Arkansas Men's Cross Country Schedule
Tuesday, Sept. 1, Cowboy Preview | Stillwater, Okla. | 4th of 4
Saturday, Sept. 19, Iona Meet of Champions | New York, N.Y. | 2nd of 10
Saturday, Oct. 3, Chile Pepper Festival | Fayetteville, Ark. | 1st of 15
Friday, Oct. 16, Pre-Nationals | Louisville Ky. | 3rd of 42
Friday, Oct. 30, SEC Championships | College Station, Texas | 1st of 13
Friday, Nov. 13, NCAA South Central Regional | College Station, Texas
Saturday, Nov. 21, NCAA Championships | Louisville, Ky.
For more information on Arkansas track and field including in-meet updates, follow @RazorbackTF