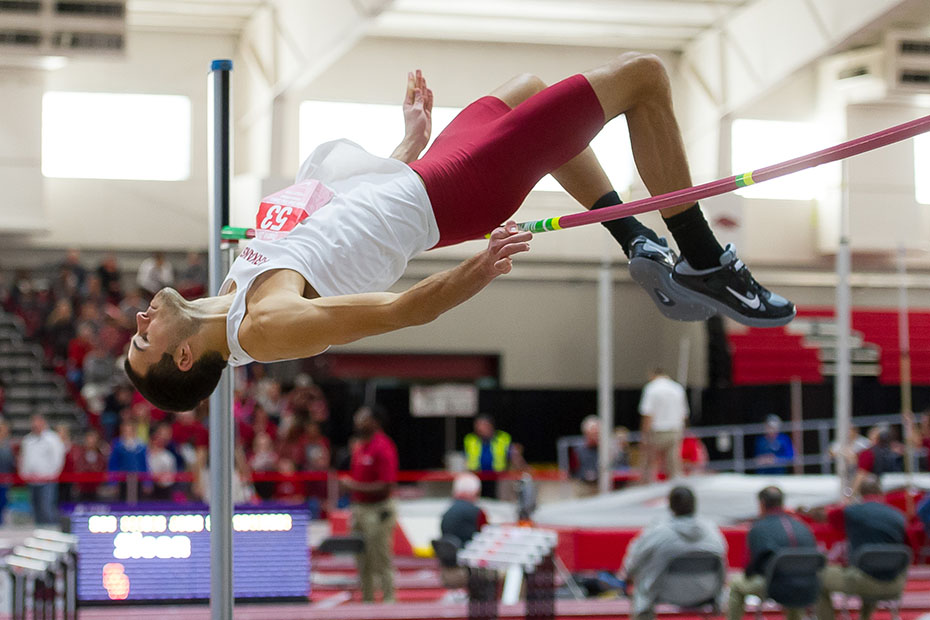 No. 8 Razorbacks Rise to the Occasion
FAYETTEVILLE, Ark. / Ames, Iowa – 'The Fastest Track Indoor Track in the World' witnessed extraordinary feats that were reached in the horizontal and vertical jumps on day two of competition at the Tyson Invitational. Arkansas upperclassmen Clive Pullen and Ken LeGassey both put forth superb performances in the triple and high jumps respectively.
Kingston, Jamaica native Clive Pullen alongside some his fellow competitors jumped their way to the best distances in the NCAA in the triple jump. The thrilling displays by the stacked field helped propel all of the competitors to distances not yet seen this year and pushed Pullen to extend his personal best out to 16.54m/54-3.25.
Ken LeGassey kicked off an exciting high jump series for the Razorbacks as he cleared 2.19m/7-02.25. The mark for LeGassey puts him solidly into the top 10 in the NCAA for the high jump and currently tied for seventh in the nation.
Arkansas capped off the Tyson Invitational with the 4×400 as the "A" team lived up to the billing in the Invitational section of the race. The team of Obi Igbokwe, Marqueze Washington, Jamarco Stephen and Jarrion Lawson battled through each leg of the race crossing the finish line to post the second best time in the SEC and fourth best in the nation with a 3:05.35 behind Texas and Texas Tech.
The distance team returned to the Lied Recreation Center for the second day of the Iowa State Classic as they competed in the 800 meter and mile races. Standouts in each event were Ryan Thomas as he raced to a notable time of 1:49.38 in the 800-meter run and Austen Dalquist in the mile as he collected a respectable 4:03.18.
Coach Geopfert on Razorbacks breaking through
"Once again our facility proves to be one of the fastest tracks in the world. There were a lot of great performances by a lot of different teams and a lot of different events. It was phenomenal. Today it really heated up. Our 4×400 rolled, we ran 3:05.35. Those guys are ready and can run faster. Clive Pullen had a big breakthrough in the triple jump. He had over a foot added to his PR. Ken LeGassey jumped 7-02.25 which is probably a nationally qualifying type of bar. Our guys stepped up when the competition stepped up. It puts us in a great position heading into championship season in two weeks."
The Randal Tyson Track Center will welcome members of the Southeastern conference to 'The Track Capital of the World' for the 2016 SEC Indoor Track and Field Championships. All-session tickets for the event are now on sale. All-session ticket prices are $35 for reserved seating and $25 for adult general admission. Youth and general admission student tickets are available for $15.
Tickets will be available online, or by calling the Razorback Athletics Ticket Center at 800-982-4647. You can also visit the Ticket Center in person at 1295 S. Razorback Road, just east of Baum Stadium.
2016 Tyson Invitational Day 2 Results
Randal Tyson Track Center
Fayetteville, Ark.
200 Meters College
Josh Washington (19) – 21.68
Ryan Green (17) – 21.65
Anthony Blakely (12) – 21.48
200 Meters Inivtational
Zach Riley (11) – 21.30
High Jump College
Alex Campbell (10) – 2.01m/6-7.00
High Jump Invitational
Ken LeGassey (6) – 2.19m/7-2.25
Triple Jump Invitational
Clive Pullen (4) – 16.54m/54-3.25
Shot Put
Devin Randall (9) – 16.93m/55-06.50
Jeff Rogers (14) – 16.26m/53.04.25
Sam Kempka (21) – 15.67m/51-05.00
Erich Sullins (23) – 15.31m/50-02.75
Brad Culp (26) – 12.46m/40-10.50
4×400 meter relay
Arkansas B (2) – 3:10.98
Arkansas C (10) – 3:17.89
4×400 meter relay Invitational
Arkansas A (3) – 3:05.35
2016 Iowa State Classic Day 2 Results
Lied Recreation Center
Ames, Iowa
800 meter
Ryan Thomas (9) – 1:49.38
Cameron Griffith (18) – 1:50.19
Cale Wallace (40) – 1:52.76
Ethan Moehn (49) – 1:53.81
Andrew Pisechko (50) – 1:53.84
Mile
Austen Dalquist (11) – 4:03.18
Kyle Hosting (47) – 4:10.72
Aidan Swain (53) – 4:13.02
Noah Findlay (59) – 4:14.80
For more information on Arkansas track and field including in-meet updates, follow @RazorbackTF on Twitter.