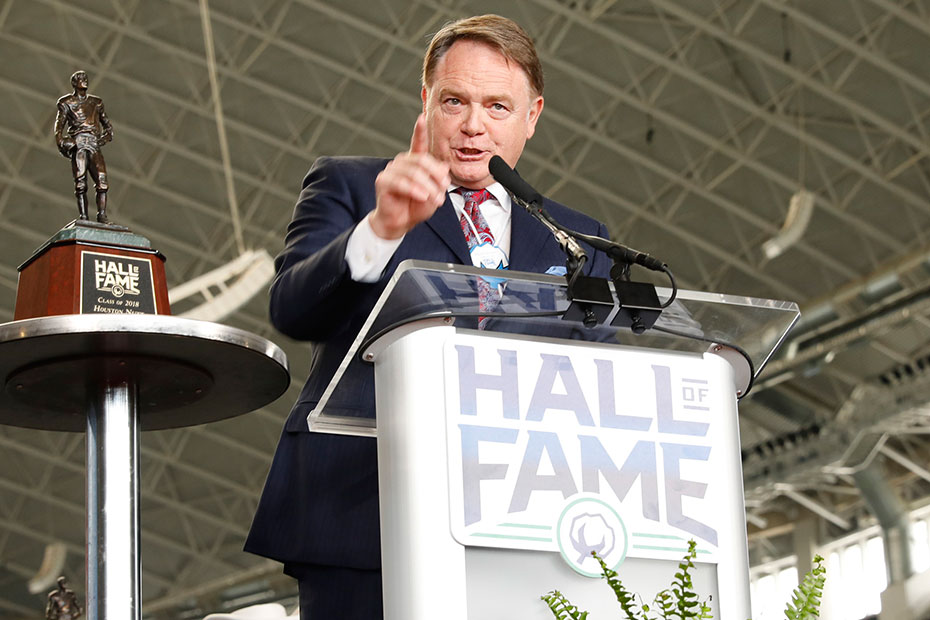 Nutt Inducted Into Cotton Bowl Hall Of Fame
ARLINGTON, Texas – Former Arkansas quarterback, receivers coach and head coach Houston Nutt was one of six individuals inducted into the Cotton Bowl Hall of Fame during enshrinement ceremonies at AT&T Stadium on Tuesday.
In addition to Nutt, the honorees in the 11th Hall of Fame Class include Texas A&M linebacker Quentin Coryatt, USC head coach John Robinson, Penn State halfback/linebacker Wallace Triplett, Texas running back Ricky Williams, and Oklahoma strong safety Roy Williams.
A judging committee comprised of media representatives and athletic administrators voted from a list of 60 nominees that included former players, coaches, bowl administrators and others who have made special contributions to the Classic.
Voting was based solely upon an individual's performance in, or contribution to, the Classic rather than on the person's overall college or professional career. An individual is eligible five years after their final Classic appearance.
Nutt coached the Razorbacks to Cotton Bowl appearances in 2000 and 2002, including a 27-6 win over Texas in 2000. HE is one of five coaches to lead more than one school to the bowl. He also took Ole Miss to back-to-back Cotton Bowls in 2009-10 against Texas Tech and Oklahoma State, winning both.
In 10 seasons as Arkansas head coach (1998-2007), Nutt compiled a 75-48 record becoming the third coach in program history to lead the Razorbacks to a bowl game in each of his first six seasons. He led Arkansas to three SEC Western Division titles (1998, 2002, 2006), eight bowl games, three final top 25 national rankings and four nine-win seasons.
Nutt ranks second in school history with 75 coaching victories and eight bowl appearances, trailing only the legendary Frank Broyles (144 wins and 10 bowl appearances). His 8-0 start in 1998 marked the best debut ever for a Razorback head coach and helped the program reach its first New Year's Day game since 1990.
In 2001 and 2006, Nutt was voted SEC Coach of the Year by the Associated Press and conference head coaches.
The last player signed to a scholarship by Broyles, Nutt was a quarterback at Arkansas in 1976 and 1977 and was a member of the team that upset No. 2 Oklahoma in the 1978 Orange Bowl.