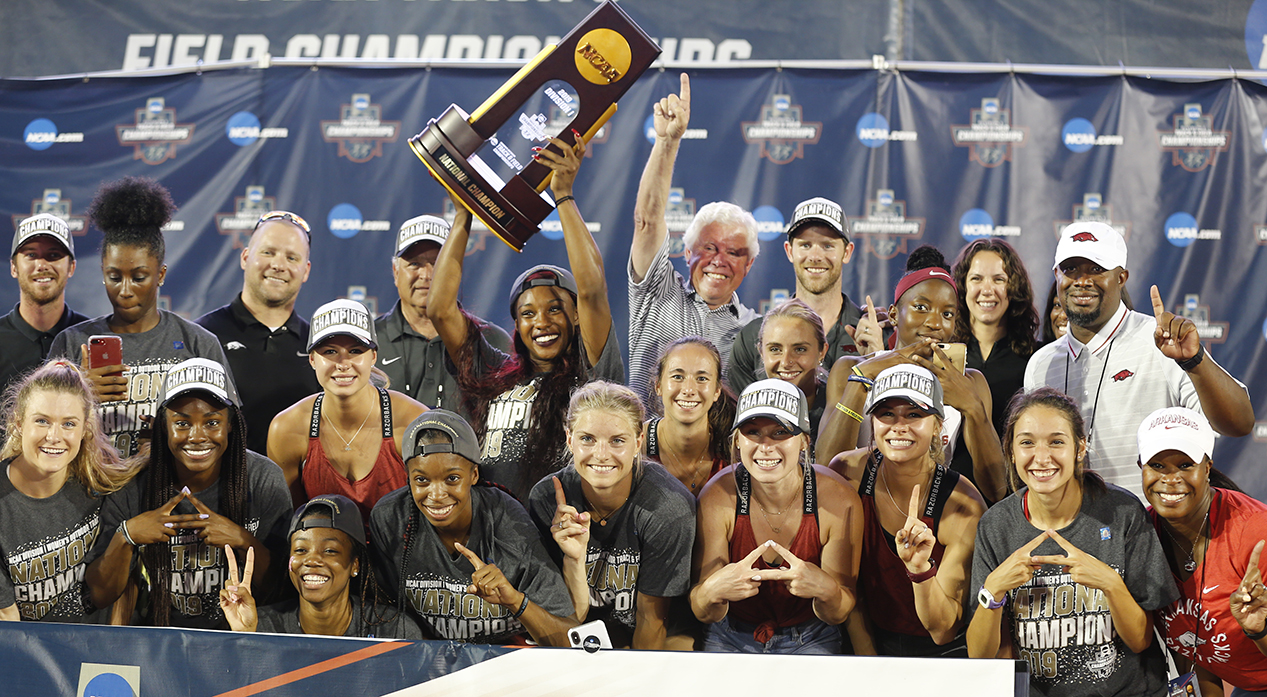 On This Day: Arkansas Wins 2019 NCAA Outdoor Championship
The Razorbacks claimed a second NCAA Outdoor team championship a year ago on this day with the outcome decided in the final event of the meet. The outdoor title was the second of three national championships in 2019 for the Arkansas women's program as the Razorbacks joined an elite status in claiming championships for the indoor, outdoor and cross country seasons.
Heading into the 4×400 relay tied with USC at 56 points apiece, Arkansas finished second in the relay while a dropped baton hampered USC, who placed eighth.
In the final team score for the NCAA Outdoor meet the outcome was a seven-point victory for the Razorbacks over the Trojans, 64 to 57.
"The shock and enthusiasm that occurred in that stadium for all Razorbacks was absolutely incredible," recalled Harter. "Unfortunately for USC they dropped the baton, and we took advantage of the opportunity.
"That may have been one of the most exciting NCAA Championships ever. I know TV said that was the perfect build up with it coming down to the last event. What I think people didn't understand, though, is that it's an accumulative affect when you have a team situation. So, even points on the previous days were obviously very important for us to stay in the battle for the team title."
Arkansas also defeated USC, 62-51, for the NCAA Indoor championship with the Razorbacks placing third in the 4×400 relay as the Trojans finished sixth. Scoring 10 points in the 3,000m and 21 from the pole vault ahead of the relay had moved Arkansas (56) into the lead over USC (48) heading into the final event.
In November, the Razorbacks defeated BYU by six points, 96-102, to capture its first national title in cross country.
Arkansas became only the second women's program to win three NCAA titles in the same year, matching what Texas accomplished in 1986, while Oregon had recently claimed a trio of titles in the 2016-17 academic year.
"When they built this outdoor track facility one of the things they wanted to make sure they recognized was the men's three triple crowns," said Harter. "A triple crown in the SEC is very difficult. In fact, we've won six of them and nobody else has ever won one in the history of the SEC. We knew that was rarified air in the conference.
"To win one in the NCAA, I never thought that was possible. After winning outdoors and having a great group of athletes returning for cross country, the idea is in the back of your mind and you always think, well there's a chance.
"We never discussed it as a team, we just thought as a goal it's realistic that we could be on the podium. Because it not only takes a great team but also a bit of luck to win a national title, especially in cross country."
Janeek Brown led the Razorbacks in scoring at the NCAA Outdoor with 16.5 points, followed by 13 from Taylor Werner while Tori Hoggard supplied 10 from her victory in the pole vault.
"We believed from the start of the semester that this was the goal we wanted to accomplish and we were going to get it done," stated Brown, who won the 100m hurdles, and also scored in 200m and 4×100 relay. "These ladies are just so persistent. They work so hard and push others to work hard too. We all knew the goal and believed in each other."
Arkansas produced points in 10 of the 21 events contested at the NCAA Outdoor Championships and competed head-to-head against USC in six of those events.
2019 NCAA Championships – Arkansas scoring timeline
Final Team Scores (top 10): 1. Arkansas 64; 2. USC 57; 3. LSU 43; 4. Texas A&M 38; 5. Oregon 34; 6. Florida 32; 7. Alabama 29; 8. New Mexico 27; 9. Colorado 24; 10. tie, Florida State, South Carolina, Stanford & Texas 20.
| | | | |
| --- | --- | --- | --- |
| Thursday |   |   |   |
| 10,000 | 4. Taylor Werner | 33:20.68 | 1. tie, California & New Mexico 10; 3. tie, Indiana State & Oregon 8 |
| Pole Vault | 1. Tori Hoggard | 14-11.5 | 1. Arkansas 15; 2. tie, Arizona State & Washington 12; 4. Ohio State 11 |
| | 9. Lexi Jacobus | 13-9.25 | |
| | 9. Desiree Freier | 13-9.25 | |
| Saturday |   |   |   |
| 4×100 | 3. Arkansas | 42.79 | 1. Arkansas 21; 2. tie, Oregon & Stanford 15; 4. Alabama 13 |
| | USC | 1st | |
| Steeplechase | 7. Devin Clark | 9:55.22 | 1. tie, Arkansas, New Mexico & Oregon 23; 4. Stanford 18 |
| 100 Hurdles | 1. Janeek Brown | 12.40 | 1. Arkansas 34; 2. tie, New Mexico & Oregon 23; 4. USC 22 |
| | 8. Payton Chadwick | 13.05 | |
| | USC | 2nd & 5th | |
| 100 | 5. Kiara Parker | 11.02 | 1. Arkansas 38; 2. USC 30; 3. LSU 24; 4. tie, NM & Oregon 23 |
| | USC | 3rd & 7th | |
| 400 | 4. Kethlin Campbell | 51.09 | 1. Arkansas 43; 2. USC 33; 3. tie, LSU & Oregon 24 |
| | USC | 6th | |
| 400H | USC | 1st | 1. Arkansas & USC 43; 3. LSU 35; 4. Oregon 34 |
| 200 | 4. Janeek Brown | 22.40 | 1. USC 56; 2. Arkansas 48; 3. LSU 35; 4. Oregon 34 |
| | USC | 1st & 6th | |
| 5,000 | 2. Taylor Werner | 15:21.24 | 1. tie, Arkansas & USC 56; 3. LSU 43; 4. Oregon 34 |
| 4×400 relay | 2. Arkansas | 3:25.89 | 1. Arkansas 64; 2. USC 57; 3. LSU 43; 4. Texas A&M 38 |
| | USC | 8th | |
Pre-meet predictions by Track & Field News had favored the defending champion Trojans in a very close finish of one point over the Razorbacks, 65-64. An updated form chart by the magazine favored USC by a much larger margin, 72-52.
However, USC's expected points didn't come to fruition and the Razorbacks kept churning out the points to challenge for the team title.
With the score tied heading into the final event, the 4×400 relay, the Trojans still held an edge as they were predicted to win with Arkansas slated for fifth place. However, season best times for each – Arkansas 3:29.22 and USC 3:29.23 – offered the opportunity of a much closer result.
"The idea was that we needed to make sure we took care of our end of the bargain," noted Harter. "Obviously, there were also other great competitors in the race. We knew we had our hands full.
"The misfortune by USC made it a little bit easier for us, but also Chris Johnson's directive to the relay team was just make sure the baton gets around the track."
At the first exchange of the baton Arkansas, with Paris Peoples running 52.0 on the opening leg, and South Carolina were even in the lead with USC fourth (52.3). Then the Trojans (50.5, 1:42.78) moved up to second behind the Gamecocks (1:42.04) at the second exchange while the Razorbacks dropped back to sixth place (1:44.48), with Kiara Parker supplying a 52.5 split.
"We led off with our freshman in Paris, and she kept us in the hunt," Harter said. "Parker, our 100m sprinter, probably ran one of the best races of her life all the way around the track."
USC's Anna Cockrell, the 400m hurdle champion, found herself boxed in with 120m left on her third-leg carry. She clipped the heel of South Carolina's Tatyana Mills, who began to slow in front of the pack, which caused Cockrell to lurch forward and bounce into another runner. The result was a dropped baton.
"It was such a cluster of athletes, Payton Chadwick was coming from behind and went wide," said Harter.
"So, she was anticipating there was going to be some physical interaction going on in that cluster and tried to stay out of it.
"You see a baton eject out of that crowd, and lo and behold, you see the USC runner stop to go back and pick it up. That's when reality becomes this is possible for us."
Chadwick completed her leg in 51.63 with the Razorbacks in second place (2:36.11) while the Trojans trailed the field by nearly five seconds (2:43.73).
"It gave me an adrenaline burst," Chadwick said. "I was behind it, and I saw the mix-up, so I quickly moved outside. I had to run extra to avoid the collision. I hit it so we could get in good position."
Kethlin Campbell, who earlier placed fourth in the 400m final, secured Arkansas' runner-up finish and the team title with a sizzling split of 49.78, the eighth-fastest split in meet history, to produce a time of 3:25.89, second-fastest in school history by just four tenths of a second.
"Kethlin just rose to the challenge to make sure we finished well," Harter said.
The Razorbacks had generated a meet-leading 15 points from two finals they contested on Thursday, with Werner placing fourth in the 10,000m as Hoggard claimed her first NCAA title in the pole vault.
An outdoor best of 14-11 ½ (4.56) for Hoggard bettered the field as the competition finished just before midnight. Her twin sister, Lexi Jacobus, winner of four NCAA pole vault titles, was dealing with an injury and finished in a four-way tie for ninth place along with another Razorback teammate, Desiree Freier.
"I just told myself to go have fun and whatever happens, happens and I think that played to my advantage," stated Hoggard. "I went in with calm nerves, and when I found out I won, it was a flow of emotions. I've been waiting for this day a long time.
"Obviously, I've seen Lexi do it four times, and I was just really excited to have my chance."
Harter added: "In the pole vault Lexi had a struggle with an injury that held her back, and her sister Tori rises to the challenge and wins the national title. They kept it within the family and still scored points for the Razorbacks."
Saturday's finals opened with a third-place finish for the Razorbacks in the 4×100 relay while USC claimed the victory. The Arkansas crew of Tamara Kuykendall, Chadwick, Brown and Kiara Parker posted a time of 42.79 after clocking a school record of 42.65 in the semifinal.
Devin Clark added two points from a seventh-place effort in the 3,000m steeplechase, creating a three-way tie in team scoring with Arkansas sharing the lead with New Mexico and Oregon at 23 points each.
Brown sped to a dominating victory of 12.40 seconds in the 100-meter hurdles, just missing the collegiate record of 12.39 while bettering a 16-year-old Jamaican national record. Chadwick finished eighth to produce 11 Razorback points. That effort countered 12 points USC picked up from a runner-up and fifth-place finish in the race.
"I knew I had to rise to the occasion," stated Brown, who defeated a very talented hurdle field. "I was a little nervous coming in because much was expected of me."
Parker clocked an Arkansas school record of 11.02 to finish fifth in the fastest-ever NCAA women's 100m final, while the Trojans closed the gap to eight points by placing third and seventh. In the 400m, Campbell's fourth-place finish in 51.09 bettered USC's sixth place and gave the Razorbacks a 10-point margin, 43 to 33, in the team score.
Momentum then swung to the Trojans, who scored 23 points in the 400m hurdles and 200m, moving into the lead by eight points, 56-48. Cockrell won the 400m hurdles and Angie Annelus claimed the 200m while a USC teammate also finished sixth.
Brown finished fourth in the 200m with a career best 22.40, which broke the Arkansas school record of 22.41 set by Veronica Campbell-Brown.
"It was amazing," Harter said of Brown's meet performance. "People like Janeek always rise up to the level of the challenge at hand. Only being a sophomore, she was mature beyond her years."
Arkansas had two entries in the 5,000m final with Werner and Clark, but given the grueling conditions the Razorbacks weren't guaranteed any points in the 24-runner field.
"Clark made the final in the steeplechase and also advanced to the final of the 5,000m, but with the NCAA schedule those two finals were really close," said Harter. "She was more than game to go out there and try to help her teammate."
An unexpected runner-up finish for Werner in the 5,000m collected eight key points and created a tied team score with only the 4×400 relay remaining.
"Taylor was already coming off a very physically challenging 10,000m, in a very difficult situation with the heat and humidity," said Harter. "She came back in the 5,000m and actually took the lead with 600m to go. She was able to hold everybody off except Dani Jones from Colorado in the last few meters."
Dealing with a lower back injury made for an unpleasant distance race for Werner, who noted: "That race hurt a lot, from the beginning. I ran a 10k two days prior and my legs hurt so bad. I knew I had to give it my best shot.
"With a mile left I heard the Weeks twins by the pole vault pit cheering for me. I heard the Razorback family that had come down cheering for me on the backstretch. I heard my coaches. I heard my teammates who were going to run the 4×4. My friend Devin, who had just run the steeplechase and couldn't finish the 5k, was cheering for me. I couldn't give up, I had to do this. It meant so much."
The effort by Werner to earn enough points to tie the score was a motivating factor for the members of the 4×400 relay.
"The whole time, coach was saying it's going to come down to the 4×400," said Chadwick. "And Taylor finished second in the 5,000m. She walked off crying because she knew she left it all out there. We were all like, 'We've got to give it our all,' and that's what we did."