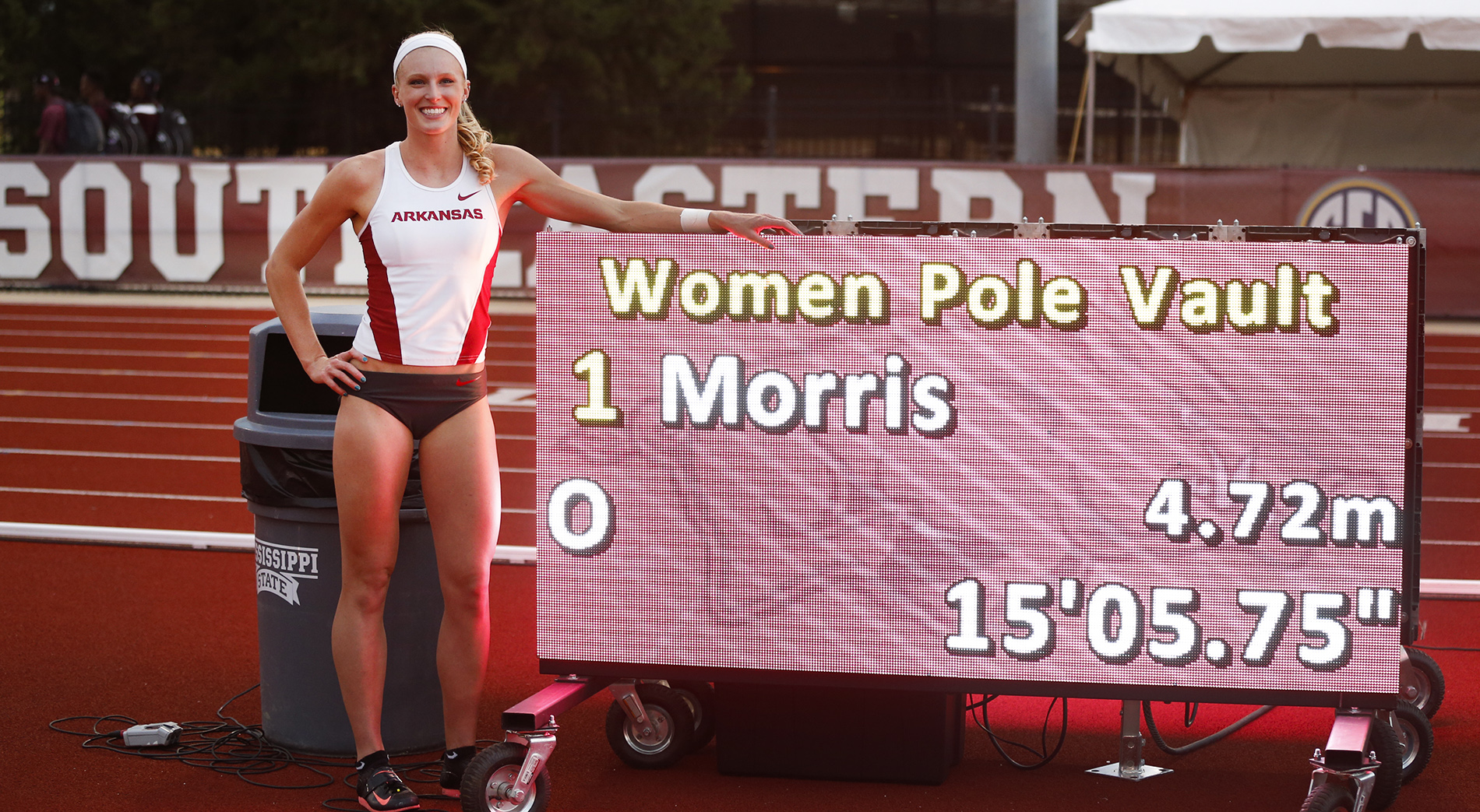 On This Day: Sandi Morris Achieves Another Collegiate Record
Amid a senior season which included multiple pole vault collegiate records for Razorback Sandi Morris, her 15-5 ¾ victory at the SEC Championships on May 15, 2015, produced a mark that maintained her hold on the collegiate outdoor record for a few years.
Morris won the competition when she cleared 14-6 (4.42) as places 2-3-4 all missed that height and finished with clearances of 14-2 ¾ (4.34).
She then passed on the next pair of scheduled heights – 14-9 (4.50) and 15-0 ¼ (4.58) – and needed two attempts to get over 15-1 ¾ (4.62), eclipsing the conference meet record of 15-1 ½ (4.61) set by Razorback Tina Sutej with her collegiate record victory in 2011.
Only one attempt was required for Morris to make 15-5 ¾ (4.72) as she improved the outdoor collegiate record of 15-5 ½ (4.71), which had just been set a few days earlier.
Morris held the collegiate outdoor record for four seasons until Olivia Gruver of Washington, who previously competed in the SEC with Kentucky, cleared 15-6 ¼ (4.73) on March 29, 2019 at the Stanford Invitational.
The SEC winning height for Morris remains the conference record. Razorback Alexis (Weeks) Jacobus attempted to better the mark with attempts at 15-6 ¼ (4.73) during her SEC victories in 2016 and 2018, when her winning heights were 15-0 and 15-3, respectively.
Arkansas' progression of holding the conference record in the women's pole vault at the SEC Outdoor Championships includes the following: April Steiner, 13-7 ¼ (2003); Katie Stripling, 14-5 ¼ (2009); Tina Sutej, 15-1 ½ (2011); and Sandi Morris, 15-5 ¾ (2015).
Four Razorback vaulters scored in the 2015 SEC Outdoor meet. Ariel Voskamp joined Morris on the podium after clearing 14-2 ¾ to finish second. Desiree Freier tied for fifth (13-11 ¾), and Megan Zimlich placed seventh (13-7 ¾).
The Razorbacks totaled 23.5 points in the event, continuing a trend of big scores in the conference meet. In 2014, Arkansas accumulated 25.5 points.
In the past six seasons, Arkansas has scored a total of 133.25 points in the women's pole vault at the SEC Outdoor, averaging just over 22 points a year in that span.
Since the SEC started contesting the event in 1998, Arkansas vaulters have won the SEC Outdoor title 11 times, which includes a pair of five-year consecutive victories from 2007-2011 and 2014-2018.
Following is an excerpt from an article in the Arkansas Democrat-Gazette on the record performance by Morris during the 2015 SEC Championships hosted by Mississippi State.
The Mike Sanders Track and Field Complex fell quiet as Morris prepared to take off on her record-setting attempt, but the Arkansas senior broke the silence as she cleared the bar on the way down.
"I just started screaming," Morris said. "A scream that I wanted to let out for so long."
The height allowed Morris to regain a record she previously held. The Greenville, S.C., native and Demi Payne of Stephen F. Austin have passed the record between each other this year. Morris set the record with a 15-1 ¾ vault April 11, but Payne cleared 15-5 ½ last week.
"Whenever I see my competitors jump really high, my fire is really lit," said Morris, who also won the SEC and NCAA Indoors pole vault title. "I want to go out there and prove to the world that I can do that too. … It's just a whole different story to step out there on that runway when the world's watching you with the bar up and to be able to clear it."
Ten of Morris' family members were on hand to watch her defend her SEC title. Between attempts, Morris' niece, Jamison Grace, could be heard yelling "Go, Aunt Sandy!" The 2-year-old ran down the back straightaway toward her record-setting aunt after the competition.
"It's really encouraging to me to look over and see my little niece, my parents and my grandparents," Morris said. "Everyone's here."