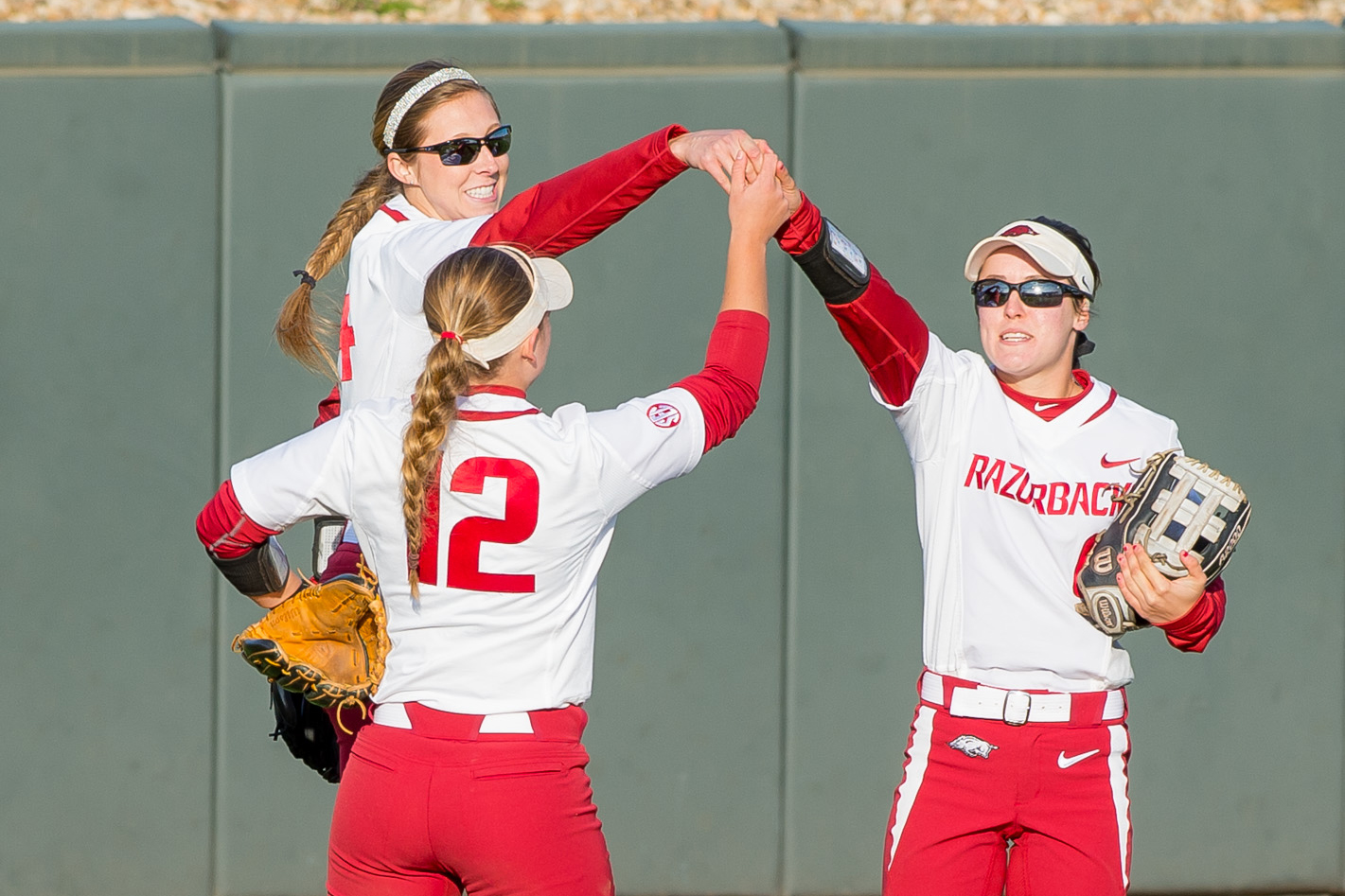 Opening Weekend Takes Razorbacks to Austin
FAYETTEVILLE, Ark. – With the countdown clock nearing zero, the University of Arkansas softball team begins its 2016 campaign Thursday afternoon with game one of the Texas Classic in Austin. In Thursday's opener, the Razorbacks are set to face host Texas at 6 p.m. (CT) at Red & Charline McCombs Field. Overall, the team is scheduled for five games during the season-opening weekend with additional contests against North Carolina and North Dakota State.
2016 Texas Classic | McCombs Field (Austin, Texas)
Feb. 11 at Texas – 6 p.m. | WatchESPN | Live Stats
Feb. 12 vs North Dakota State – 12 p.m. | WatchESPN | Live Stats
Feb. 13 vs North Dakota State – 10 a.m. | WatchESPN | Live Stats
Feb. 13 at Texas – 3:30 p.m. | WatchESPN | Live Stats
Feb. 14 vs North Carolina – 9 a.m. | WatchESPN | Live Stats
All games of the Texas Classic are scheduled to be aired on the Longhorn Network and streamed live on WatchESPN. With the five broadcasts this weekend, the Razorbacks are set to have 13 television appearances this season coupled with the previously announced ESPN and SEC broadcast schedule.
The Razorbacks return nine position players that started at least 20 games last season including the senior duo of Stephanie Canfield and Claire Clark. Canfield enters her senior year ranked in the program's career top 10 in five categories: batting average, triples, on-base percentage, slugging percentage and runs scored. In the circle, all five arms on the pitching staff also return for the upcoming season. The program welcomes seven newcomers.
Canfield begins the season 60 hits shy of the program's all-time record of 227 held by Jessica Bachkora (2007-10). Through the first three years of her Razorback career, Canfield averaged just under 55 hits per season with a high of 63 hits in 2014. With 33 hits, she would become the seventh player in program history with 200 career hits. Junior infielder Nicole Schroeder enters the season with 13 career home runs, four away from joining Arkansas' career top-10 list.
When the Razorbacks take the field, they will be under the direction of first-year head coach Courtney Deifel. She is joined by assistants Boo De Oliveira and Yolanda McRae, also in their first seasons in Fayetteville. De Oliveira previously served as the pitching coach at Arizona State while McRae was part of Deifel's coaching staff at Maryland.
"I'm really looking forward to the first few weeks of the season," Deifel said. "These (weekends) are going to challenge us right from the start and we'll get a pulse of our team on where we are and where we need to go."
In an early non-conference test, each of Arkansas' opponents this weekend advanced to last year's NCAA Tournament and are receiving votes in the ESPN.com/USA Softball Preseason Top 25. The Razorbacks hosted Texas last season in a three-game series while the program last faced North Carolina and North Dakota State in 2006 and 2007, respectively.
Following the season-opening Texas Classic, the Razorbacks play in the first weekend of the Mary Nutter Collegiate Classic (Feb. 19-21) in Palm Springs, Calif. Arkansas' home opener is Feb. 27-28 when it hosts Drake and UMKC for the Razorback Invitational at Bogle Park.
Season tickets are now on sale for $45 through the Razorback Ticket Center. For more information about purchasing season tickets, call 800-982-HOGS (4647) or 479-575-5151, email raztk@uark.edu or visit the Razorback Ticket Center located next to Baum Stadium. For more information about Arkansas softball, follow @RazorbackSB on Twitter.
For more information about Arkansas softball, follow @RazorbackSB on Twitter.