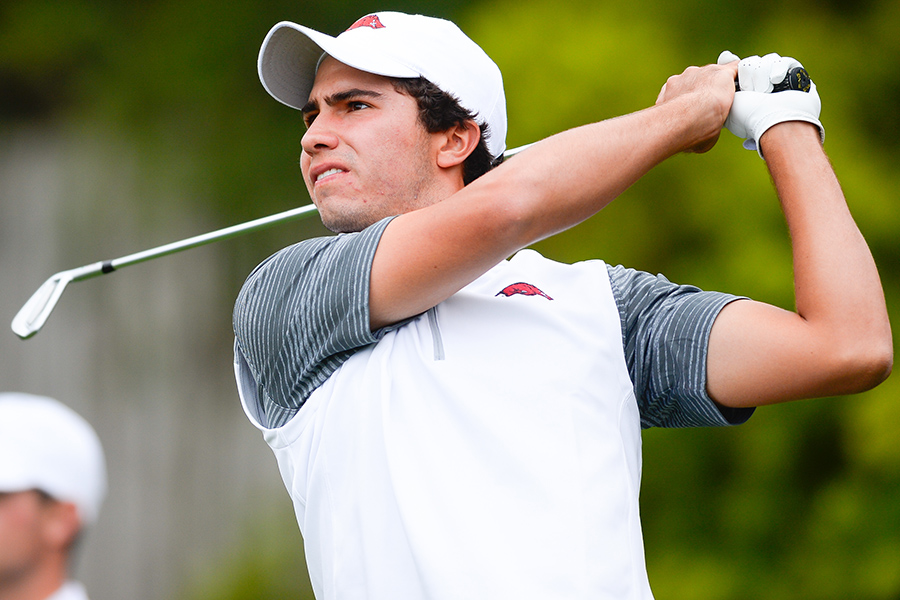 Ortiz Goes Low At NCAA Regionals
NEW HAVEN, Conn. – Freshman Alvaro Ortiz capped a solid rookie season with a final round three-under 67 to help the Arkansas men's golf team significantly improve its score for the second straight day on Saturday afternoon at the NCAA New Haven Regional held at The Course at Yale. The Razorbacks four-man score of one-over 281 was their best of the week, as they finished the regional in 11th place.
Led by Ortiz's season-low 67, which tied for the eighth-best round of the day amongst the field of 75 players, the Razorbacks' 281 was a 20-stroke improvement on their first round score. Featuring a lineup with three players making their first NCAA Regional appearance, Arkansas finished off its eighth consecutive NCAA Regional berth with a 301-289-281 scorecard.
"I'm proud of the way these guys bounced back and got better each round," said head coach Brad McMakin, who has led Arkansas to eight NCAA Regional appearances in his nine years. "The course was challenging and you had to be precise on each shot. The guys adjusted after the first day and the scores show that."
All three players making their debut at an NCAA Regional contributed to Arkansas' final round 281, including a one-over 71 by junior Gonzalo Rubio and a 72 by redshirt freshman Alec Tahy to go along with Ortiz's 67. Making his second NCAA Regional start, redshirt sophomore Zach Coats turned in the final contributing score with a 71 while redshirt junior Kolton Crawford carded a 74.
Ortiz's 67 moved him up 12 spots on the leaderboard into a tie for 34th position (77-71-67) as Arkansas' low-man. Starting on the 10th hole for the third straight day, Ortiz was four-under over a four-hole stretch (No. 13-16), highlighted by an eagle on the par 5 16th hole, during his four-under 32 on the course's back nine. His lone bogey of the day and just his third over the tournament's last 36 holes came on the 1st hole before paring the final eight.
Entering the final round in the hunt for the advancing individual spot out of the region, Crawford's 74 put him in a tie for 37th place. One of just 12 players to shoot even-par or lower in Thursday's first round, Crawford followed his 70 with a 72 and 74 to finish six-over for the tournament. The only player to start all 11 events this year for Arkansas, Crawford finished second on the team with a 72.2 scoring average and 92 birdies, but led the way with five top 5s.
Ortiz didn't card the only eagle of the day for Arkansas, as Coats was able to sink his second shot from 140 yards out on the par 4 14th hole during a three-under 33 on the course's back nine. Coats' 71 marked the fifth time in eight tournaments this year that he's performed his best in the final round, as he featured a 79-75-71 scorecard. Coats played the final round of the SEC Championships and NCAA Regional at a combined two-under par.
Playing in his first collegiate event, Tahy finished Friday's second round with 13 consecutive holes without a bogey and ran that stretch to 26 straight with 13 more to open the final round. Tahy's 72 backed up his 71 from the second round in which he shared low-round honors with Ortiz. With a 78-71-72/221 scorecard, Tahy contributed a counting score all three days and tied for 53rd place.
Like Coats and Ortiz, Rubio improved his score for the second straight day with a one-over 71. Rubio's day opened with seven straight pars before he made the turn at even-par thanks to a birdie on the par 5 18th hole. The tournament start was just the third of the year for Rubio, as his final round 71 marked a season-low.
@RazorbackMGolf Lineup
T34. Alvaro Ortiz – 77-71-67/215
T37. Kolton Crawford – 70-72-74/216
T53. Alec Tahy – 78-71-72/221
T57. Gonzalo Rubio – 76-75-71/222
T65. Zach Coats – 79-75-71/225
NCAA New Haven Regional Final Standings (Seed)
1. South Florida (3) – 281-276-269/826 (-11)
2. San Diego State (6) – 284-283-273/840 (E)
3. Oklahoma State (4) – 286-284-272/842
4. Vanderbilt (1) – 285-282-277/844
5. LSU (2) – 294-287-268/849
T6. Iowa (7) – 291-280-279/850
T6. NC State (8) – 289-277-284/850
8. Ohio State (9) – 282-291-279/852
9. North Texas (11) – 291-282-282/855
10. Troy (10) – 289-289-278/856
11. Arkansas (5) – 301-289-281/871
12. College Of Charleston (12) – 303-285-285/873
13. Robert Morris (13) – 305-292-282/879
14. St. Peter's (14) – 307-294-306/907