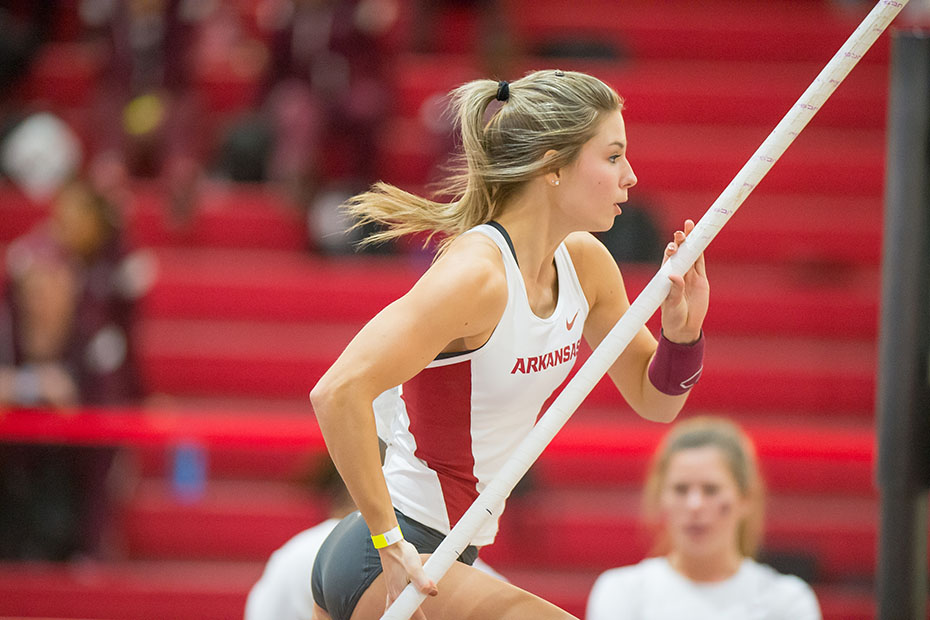 Pair of Razorbacks Collect SEC Awards
FAYETTEVILLE, Ark. – Arkansas senior Taylor Ellis-Watson picked up her second SEC Runner of the Week honor off her world class performance in the 400-meter dash at the Razorback Invitational. Along with Ellis-Watson, freshman Tori Weeks picked up SEC Weekly honors following a personal best in the pole vault at last weekend's competition.
In her third collegiate meet, Weeks was able to surpass the 14 foot mark in the pole vault marking the first clearance of that height in her early collegiate career. The Cabot, Arkansas native was then able to advance on to a final height of 4.33m/14-2.5 flying high above her previous mark of 4.20m/13-9.25.
Weeks currently holds the second place among SEC vaulters. The national high school indoor pole vault record holder is one of only two freshman, with height clearances in the top 10 of the NCAA this season.
2015 NCAA indoor 400-meter runner-up Ellis-Watson made her season debut in the 400-meter dash at the 'Fastest Indoor Track in the World.' A product of Philadelphia, Pennsylvania Ellis-Watson looked like she was in midseason form as she maintained a fast pace and pulled away from the field to secure a first place finish and a time of 52.26.
Ranked nationally in both the 200 and 400 meter dashes, Ellis-Watson's time in the latter is the best in the NCAA and world this season.
Arkansas will travel to College Station, Texas next weekend as Texas A&M hosts the Charlie Thomas Invitational on Feb. 5-6. The Razorbacks will look to collect more NCAA top 10 performances as they move closer towards championship season.
2016 INDOOR TOP 10 (POLE VAULT)
1. Lexi Weeks – Arkansas(1) 4.50m/14-9
2. Megan Clark – Duke(17) 4.40m/14-5.25
3. Annie Rhodes – Baylor(13) 4.36m/14-3.5
4. Tori Weeks – Arkansas(1) 4.33m/14-2.5
5. Kristina Owsinski – Washington 4.32m/14-2
6. Jessie Johnson – Auburn 4.31m/14-1.75
7. Alysha Newman – Miami FL(15) 4.30m/14-1.25
8. Kaitlin Petrillose – Texas(5) 4.30m/14-1.25
9. Carolina Carmichael – Memphis 4.29m/14-0.75
9. Lindsey Murray – Mississippi 4.29m/14-0.75
2016 INDOOR TOP 10 (400 METERS)
1. Taylor Ellis-Watson – Arkansas(1) 52.26
2. Daye Shon Roberson – Oklahoma 52.62
3. Claudia Francis – Florida(4) 52.88
4. Amalie Luel – USC(7) 52.94
5. Shamier Little – Texas A&M(20) 52.96
6. Shakima Wimbley – Miami FL(15) 53.08
7. Jaide Stepter – USC(7) 53.18
8. Aliyah Abrams – South Carolina 53.21
9. Tanisha Green – Hampton 53.36
10. Kendall Ellis – USC(7) 53.43
For more information on Arkansas track and field including in-meet updates, follow @RazorbackTF on Twitter.