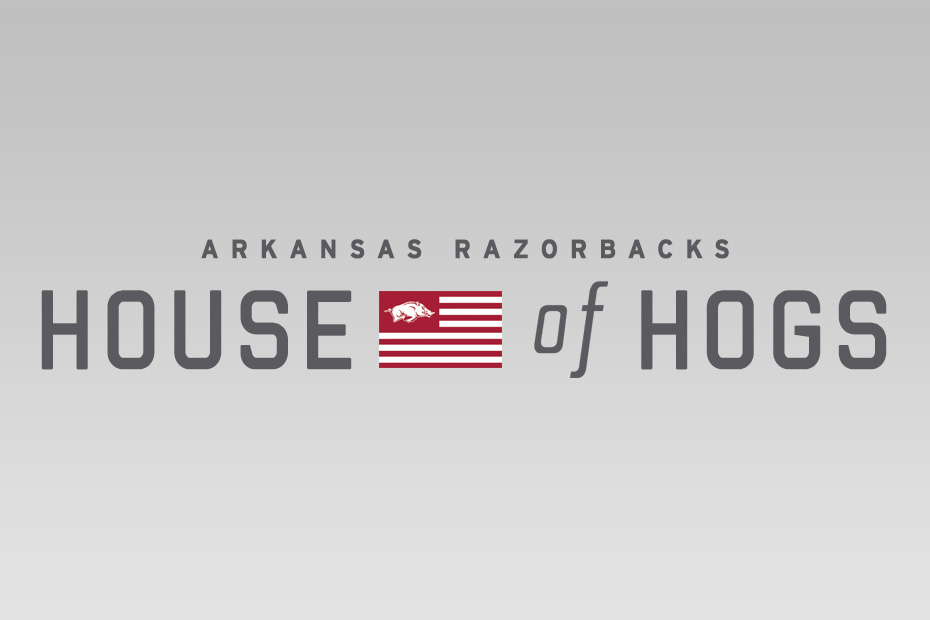 Pop Culture Meets Football
FAYETTEVILLE, Ark. – If you've attended Fan Day the past two seasons at Donald W. Reynolds Razorback Stadium, you've been privy to a budding Razorback Football tradition: The themed senior poster.
This year's poster concept, the "House of Hogs," is the second consecutive season a poster has been released that focuses on the Razorback football team's senior class in a trending pop culture setting.  "House of Hogs" is a play on the uber-popular Netflix series House of Cards and is the product of a collaboration between the football team and Razorback Athletics marketing.
The origins of a limited-run, themed senior poster began in 1992 at Iowa, which featured then-defensive lineman Bret Bielema on its senior poster in a courtroom-setting with fellow co-captain and offensive lineman Mike Devlin.
The concept would travel with Bielema from Iowa during his coaching career: Bill Snyder created themed posters at Kansas State, as well as Barry Alvarez at Wisconsin. Bielema maintained the tradition during his seven-year tenure as the Badgers' head coach.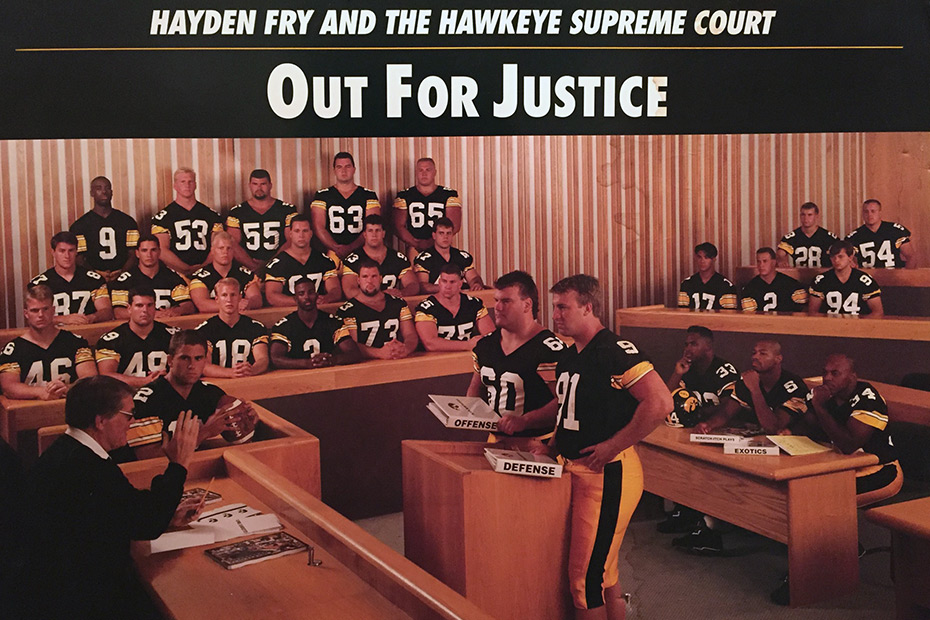 The idea followed Bielema to Fayetteville when he assumed the head coaching job at Arkansas in 2013. Two years later, the first Razorback Football senior themed poster titled, "An Entourage of Uncommon Men," made its debut at Fan Day on Aug. 16, 2015.
Featuring the 2015 Razorback seniors, the poster was a light-hearted take on the movie Entourage and portrayed players in a casual and relaxed light. The poster was a hit with fans, generated positive reviews and paved the way for future efforts.
"It's about finding a legitimate pop culture reference," Director of Marketing JT Geren said. "Last year, the Entourage movie came out and we had to parody that last summer since the show was immensely popular with young males. With House of Cards, it's a little different. It's probably not the most popular show with the football team, but it's an election year, the show is at its peak popularity and it's one of the most-watched shows in Netflix history. All of those things helped us make the decision to use the show as the theme for this year's senior poster."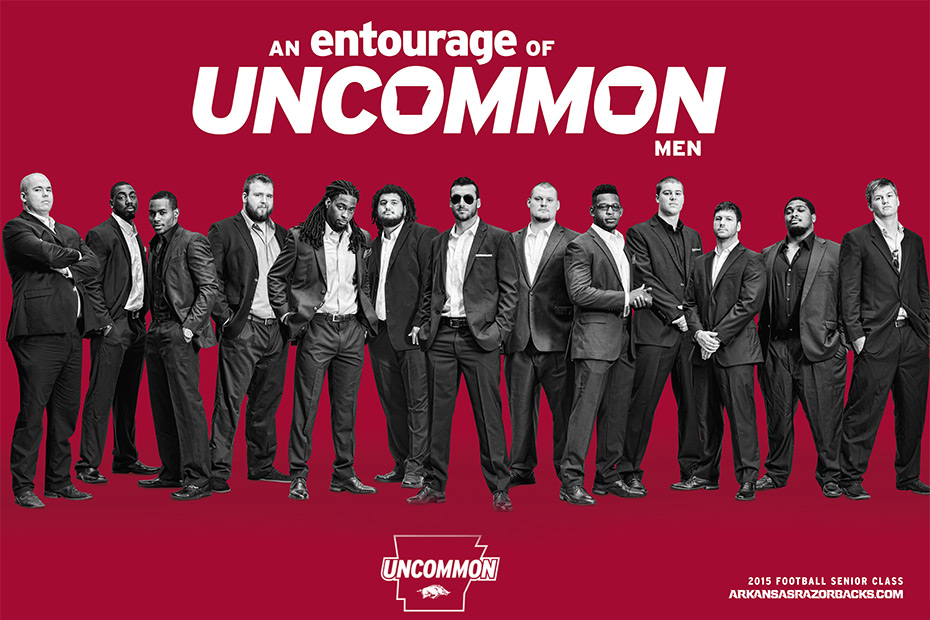 Assistant Athletic Director of Football Operations Mark Taurisani said the themed senior poster isn't a true tradition in Fayetteville just yet, but even though it's only in the "beginning stages," the idea is starting to take root with the team.
"They loved it this year," Taurisani said. "I went from table to table [at Fan Day] to take a spot poll and [the seniors] were all smiles. The best part of the poster is you get to show some personality. But when you see Deatrich Wise Jr. in the poster, his picture sums him up – he's full of life and energy. Cody Hollister looks like a movie star. You also have Kody Walker giving the 'tough guy' look. They each got to express themselves and have a little fun with it. So they absolutely loved it."

Taurisani said the team's goal in the future is to have seniors come to coaches and staff for ideas since the fun part is trying to make their concepts happen in reality.
"In Wisconsin, we did an Aliens vs. Predator-themed poster. We had dry ice, smoke machines and shot photos of the seniors in the middle of the woods. After a two-to-three-hour shoot, we finally got the perfect shot without green screening it and that was really cool. It was more real than superimposed. The photo shoot turns into a bonding moment; you do a big meal with seniors after it's done. It's their moment … their poster. We haven't gotten there yet here at Arkansas; it's only been two years. But I think we can get there – we should get there."
For Bielema, the themed senior poster is another way for fans to connect with the football team. After all, opportunities are few and far between for Razorback fans to get to know the individuals that spend a majority of their time behind face masks.
"Our players get into it because it's a different way for them to get out of their uniform," Bielema said. "As football players, they're always behind a mask so this is a way to show their face to our fans and the community. I really like this a lot because of the way our fans have embraced it the past two years."