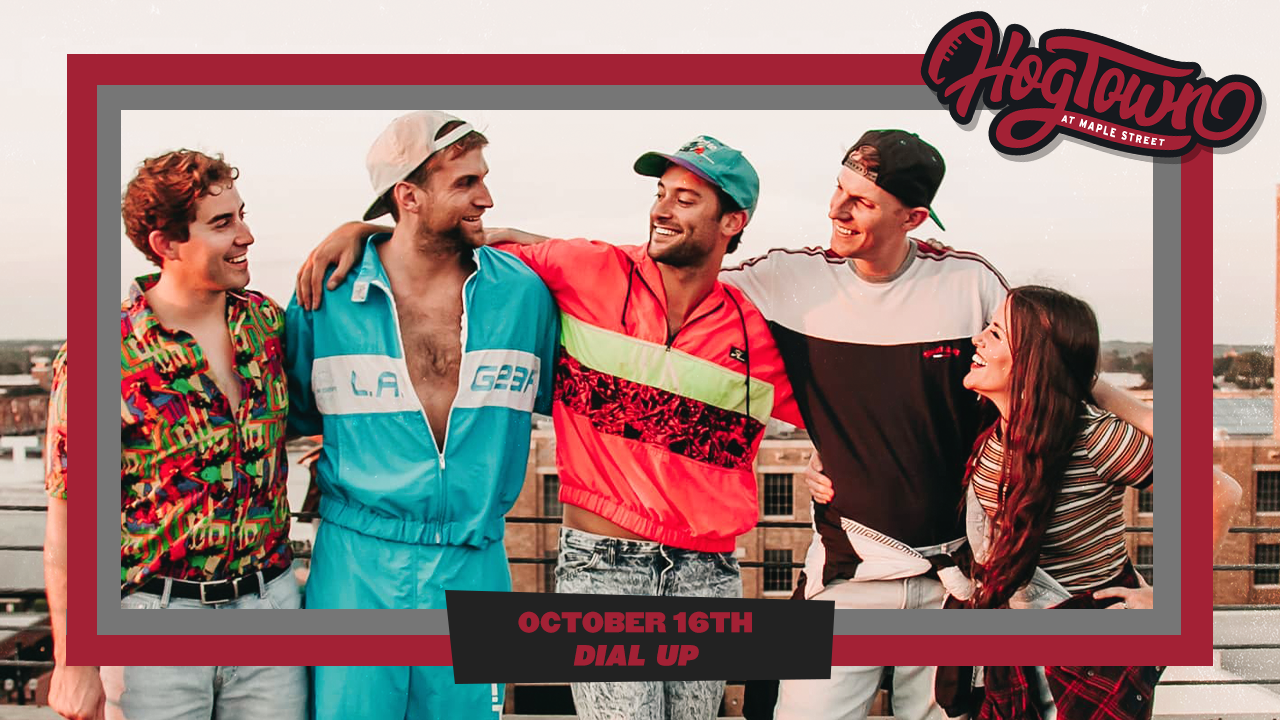 Premier 90's Tribute Band 'Dial Up' to Perform in HogTown Saturday
HogTown, the pregame destination for Razorback fans of all ages, is located on Maple Street just north of Donald W. Reynolds Razorback Stadium between Razorback Road and Stadium Drive.
This free event will begin four hours prior to Saturday's Homecoming game against Auburn and concludes 30 minutes prior to kick-off to allow fans time to enter the stadium to enjoy the 'Best in Sight and Sound' Marching Band pre-game performance along with a flyover presented by the Arkansas Army National Guard.
We're taking it back to the 90s with Arkansas' premier tribute band, Dial Up, as they take the stage for a live concert starting at 8:30 a.m. From Nate Dogg and Warren G to Foo Fighters and Alanis Morissette, Dial Up is sure to bring the party all up in your business!
THERE'S SOMETHING FOR EVERYONE
Open to fans of all ages. No game ticket required.
Beer Garden Happy Hour Special: $5 drafts *must be 21+ with a valid ID
Food truck options featuring a variety of menu items for all kinds of eaters
Interact with the greatest live mascot in college sports, Tusk V plus enjoy a pep rally featuring the Razorback Spirit Squads, Mascots and Marching Band
Entertainment options including inflatables plus a balloon twister, caricature artist and face painter
Enjoy live games across the nation on a giant jumbotron
Experience interactive corporate partner setups
RESPONSIBLE RAZORBACKS
Please be mindful of the following safety practices:
Masks are encouraged and will be available at the Fan Services table
Hand sanitizing stations will be available
Please strive to maintain 6 feet of distance between yourself and individuals not in your party
EATS AND TREATS ON THE STREET
Bud Anderson Heating, Cooling: Stop by for some free swag!
Cox: Come check out the virtual meet & greet setup!
Downtown Dawgs: The best hot dogs and food to get you ready for kickoff!
Delta Biscuit Company: Specializing in all things biscuits!
Food Therapy: Bringing home cookin' right to you!
Hyundai: Stop by and check out an official vehicle!
Jarabes Tapatios: Shaved ice served with natural fruit syrup from Mexico!
Pepsi: Refresh your world with a free drink!
Taki's: Because these are no ordinary corn chips. Oh, no. Takis Chips are only for the strong. The brave. Pick-up a free bag!
Westrock Coffee: Sip on a cup of the official Razorback coffee!
Williams Soul Food: Food not only good for the stomach but good for the soul!
Whataburger: Grab some swag plus a fresh delicious cookie!
HOGTOWN SCHEDULE OF EVENTS
7:00 a.m. — HogTown Opens
8:30 a.m. — Dial Up concert begins
8:30 a.m. — Razorback Marching Band Parade from Walker Pavilion to Lot 44
8:40 a.m. — Pep Rally in Lot 44
8:45 a.m. — Hog Walk featuring Coach Sam Pittman and Razorback Football
9:10 a.m. — Razorback Drumline performance at the Wild Band of Razorbacks statue
10:30 a.m. — HogTown closes
11:00 a.m. — Beat Auburn
3 THINGS YOU SHOULD KNOW
To accommodate the setup and operation of HogTown, Maple Street, from the intersection of Stadium Drive to Razorback Road, will close to all traffic beginning at 7:00 p.m. on Friday, October 15.
On Friday and Saturday, access to Lot 44 outside the Frank Broyles Athletic Center, will still be available via the east entrance on Stadium Drive and the west entrance on Razorback Road.
Maple Street, from the intersection of Stadium Drive to Razorback Road, will re-open to all traffic on gameday at the end of the 2nd quarter.