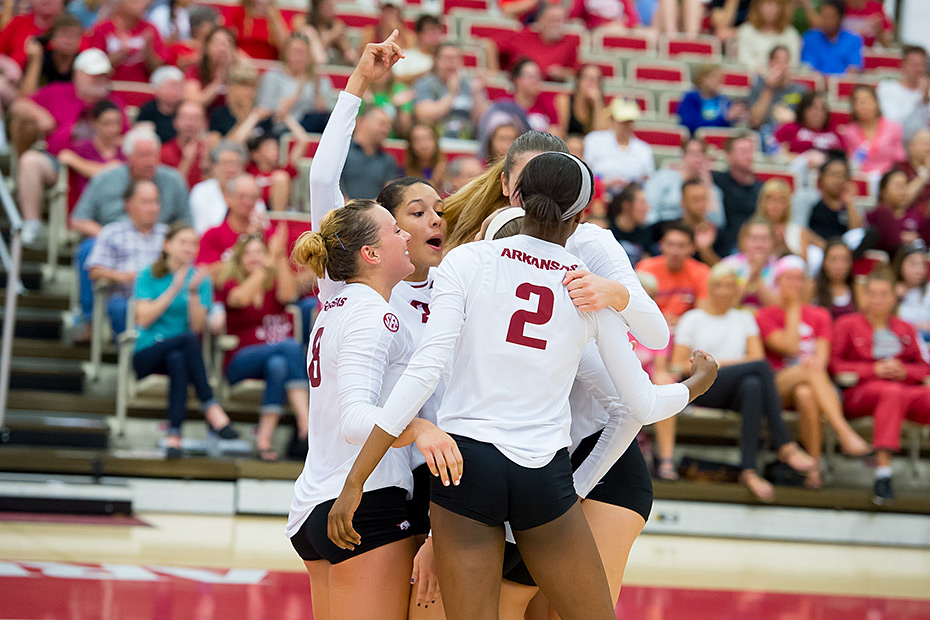 Primed For A Great 2016
FAYETTEVILLE, Ark. – Throughout the five-part Introducing: Jason Watson series, we've talked about the new volleyball head coach's background, his plans on how to build a winning culture, how he'll engage the community and his plan to lead the program back to the NCAA Tournament.
Watson's vision to lead Razorback Volleyball to unprecedented heights might seem like a fairly simple progression: Earn the team's trust, have the team buy in to the idea of embracing imperfection in order to facilitate an environment of learning and growth, and focus on technical skills while tweaking specific areas through subtle methods that produce a high rate of return.
"I think if we get a two percent improvement in this area, and another two percent improvement elsewhere, then we're going to the Tournament," Watson said. "That's certainly the goal for this group – to get back to the Tournament."
And Watson has the precedent and numbers to back up his vision and strategy: During his three-year stint as head coach at BYU from 2005-2007, the Cougars won at least 24 games per year and finished No. 12 in the nation during Watson's final year. At Arizona State, the Watson-led Sun Devils experienced a whopping 161.5 percent increase in combined attendance from 2008-2015 while earning a bid toward the NCAA Tournament four consecutive times during his tenure.
His philosophy toward leading and molding student-athletes into confident, perennial postseason playmakers can read like quotes from framed inspirational posters:
Don't demo the program, just tweak here and there.
Engage and listen to alumni.
Open up practice to the community.
Interact with student-athletes on the practice floor instead of in your office.
Trust develops improvement, and that amount of improvement leads to the NCAA Tournament.
With the season less than five months away, Watson and Razorback Volleyball are ready and primed to make a statement this season. And they're situated in the right place for a magical 2016 campaign. One lesson Watson is quickly learning is how deep the university's roots extend into Northwest Arkansas, the state and surrounding region.
"There's a wonderful baseline of fans here that support all of the Razorback teams because that's just what you do," Watson said. "I think that's unique and special. The mindset of 'It doesn't matter what sport it is, I'll go support the Razorbacks' is something I haven't seen to this degree. I feel really fortunate to be here and interact with our fans. I have a great responsibility to give them something to be proud about."
For more information about Razorback Volleyball, follow @RazorbackVB on Twitter.