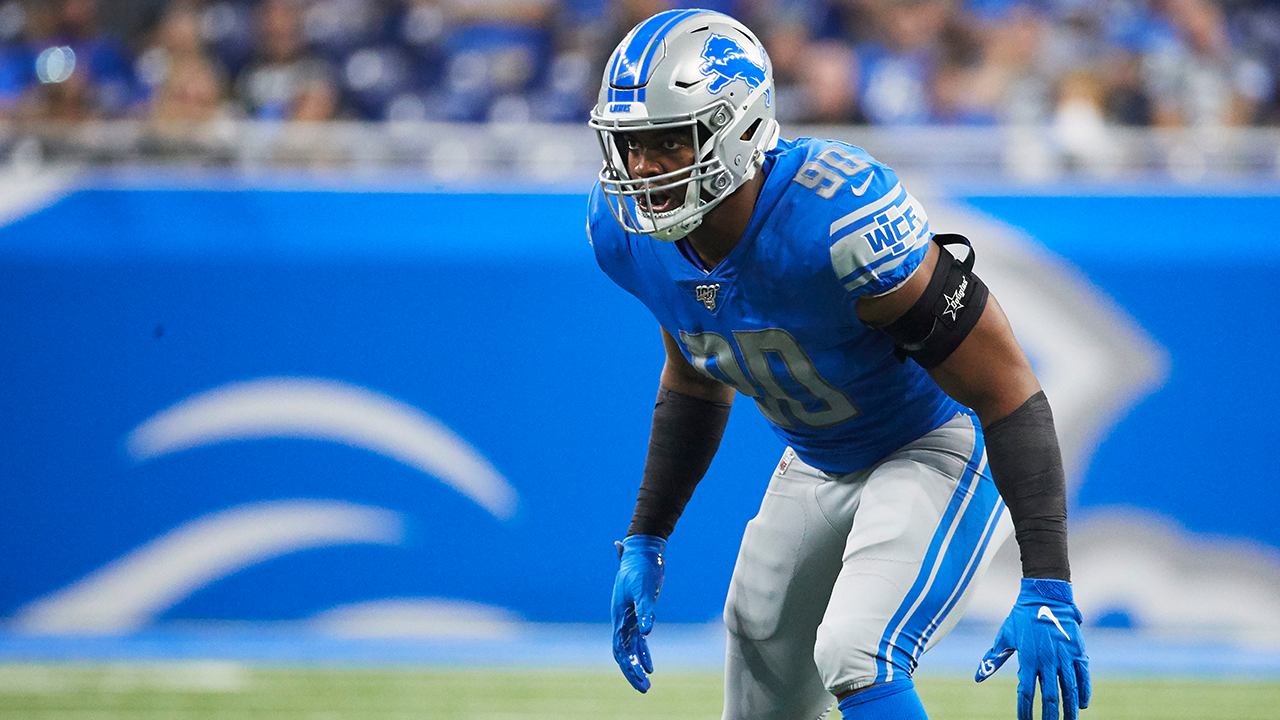 #ProHogs in the NFL – Week 1 Report
FAYETTEVILLE, Ark. – Here is a look at how the 13 former Arkansas football players active on NFL rosters fared this past weekend in Week 1 of the NFL season.
BEST OF WEEK 1
Kamren Curl, S, Washington Football Team
Curl, who was selected by Washington with the 216th pick in the seventh round of the 2020 NFL Draft, made three tackles, including two for loss, in his pro-debut as Washington came back from a 17-0 halftime deficit to defeat Philadelphia, 27-17. Curl's first career NFL tackle came inside the red zone, wrapping up Eagles WR John Hightower for a two-yard loss that set up a 3rd and 5, holding Philadelphia to a field goal. With the game tied 17-17 in the fourth quarter, Curl blew up a screen play to Eagles RB Corey Clement for a six-yard loss on second down, which later forced a punt. Washington scored a touchdown on its next possession to complete the comeback, its largest in franchise history against Philadelphia.
Trey Flowers, DE, Detroit Lions
Flowers posted six tackles, two tackles for loss, a sack and a forced fumble – while recording a team-high 82.1 defensive grade according to Pro Football Focus – but Detroit surrendered 21 unanswered points in the fourth quarter and fell to Chicago, 27-23. Flowers did his best to protect the Lions lead, registering his first sack and forced fumble of the season when Detroit held a 23-20 advantage with nine minutes to go in the game. He sacked Bears quarterback Mitch Trubisky for an 18-yard loss and punched the ball free, but it was recovered by OL Charles Leno. Flowers, who was named one of six team captains before the game, paced the Lions with four total pressures and three quarterback hurries.
Hjalte Froholdt, OL, New England Patriots
Froholdt appeared in four special teams plays for New England in its 22-11 victory over Miami. The 2019 fourth round selection saw his first NFL game action after spending last season on injured reserve.
Hunter Henry, TE, Los Angeles Chargers
Henry led the Chargers in both catches (5) and receiving yards (73) as Los Angeles thwarted 2020 No. 1 draft pick Joe Burrow's NFL debut, earning a nail-biting 16-13 road victory at Cincinnati. The Little Rock, Ark. product hauled in two receptions over 20 yards, including a 33-yard catch and run with 23 seconds remaining in the first half that helped set up a 43-yard Chargers field goal as time expired to trail by one, 7-6, at the intermission.
Jason Peters, OL, Philadelphia Eagles
In his 12th season with Philadelphia and 17th overall in the NFL, guard Jason Peters played his 141st game for the Eagles against Washington this weekend, making him 18th in franchise history for most games played. The veteran was also named one of three offensive captains and eight total team captains.
Full #ProHogs Performances List
| Name (Team) | Week 1 Stats | 2020 Season Stats |
| --- | --- | --- |
| DT McTelvin Agim (DEN) | DNP vs. Tennessee | 0 games |
| SAF Kamren Curl (WAS) | 1 game (0 start); 40 snaps vs. Philadelphia, 18 ST snaps; 3 tackles (2 solo), 2 TFL | 1 game (0 start); 3 tackles (2 solo), 2 TFL |
| DE Trey Flowers (DET) | 1 game (1 start), 46 snaps vs. Chicago, 1 ST snap; 6 tackles (5 solo), 1 sack, 3 QBH, 1 FF | 1 game (1 start); 6 tackles (5 solo), 1 sack, 3 QBH, 1 FF |
| OL Hjalte Froholdt (NE) | 1 game (0 start); 4 ST snaps vs. Miami | 1 game (0 start) |
| LB Dre Greenlaw (SF) | 1 game (0 start); 58 snaps vs. Arizona, 23 ST snaps; 4 tackles (2 solo); 1 PDEF | 1 game (1 start); 4 tackles (2 solo); 1 PDEF |
| TE Hunter Henry (LAC) | 1 game (1 start); 59 snaps at Cincinnati; 5 receptions, 73 yards | 1 game (1 start); 5 receptions, 73 yards |
| WR Cody Hollister (TEN) | 1 game (0 start); 10 snaps vs. Denver, 6 ST snaps | 1 game (0 start) |
| OL Jason Peters (PHI) | 1 game (1 start); 68 snaps vs. Washington | 1 game (1 start) |
| C Frank Ragnow (DET) | 1 game (1 start); 78 snaps vs. Chicago, 6 ST snaps | 1 game (1 start) |
| LB Randy Ramsey (GB) | DNP vs. Minnesota | 0 games |
| TE Jeremy Sprinkle (WAS) | 1 game (1 start); 28 snaps vs. Philadelphia, 18 ST snaps | 1 game (1 start) |
| DL Armon Watts (MIN) | 1 game (0 start); 37 snaps vs. Green Bay, 7 ST snaps; 1 tackle (0 solo) | 1 game (0 start); 1 tackle (0 solo) |
| DE Deatrich Wise, Jr. (NE) | 1 game (0 start), 24 snaps vs. Miami; 1 tackle, (0 solo) | 1 game (0 start); 1 tackle (0 solo) |
#ProHogs on NFL Practice Squads
| Name | Team |
| --- | --- |
| QB Brandon Allen | Cincinnati |
| TE Chase Harrell | San Francisco |
| LB De'Jon Harris | Green Bay |
| DE Jeremiah Ledbetter | Tampa Bay |
| DE Chris Smith | Las Vegas |
| DT T.J. Smith | Los Angeles Chargers |
| RB Jonathan Williams | Detroit |