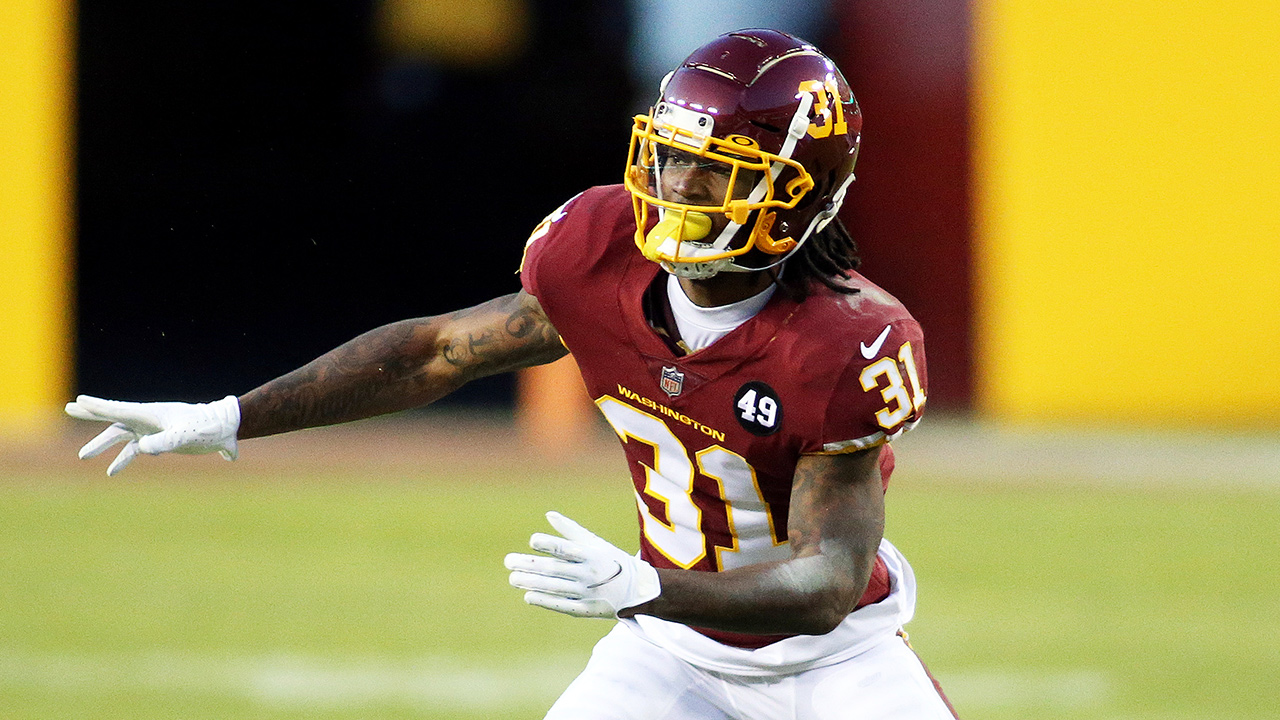 #ProHogs in the NFL – Week 17 Report
FAYETTEVILLE, Ark. – Here is a look at how the 17 former Arkansas football players active on NFL rosters fared this past weekend in Week 17 of the NFL season.
BEST OF WEEK 17
Kamren Curl, S, Washington Football Team
Curl made his third interception in four games, helping Washington grab a 20-14 win at Philadelphia on Sunday Night Football, earning an NFC East division title and playoff berth for the first time since 2015. The rookie safety picked off Eagles starting QB Jalen Hurts after jamming TE Zach Ertz at the line of scrimmage and snaring the ball at the Philadelphia 32-yard line. Washington turned the interception into three points, taking a 10-0 first quarter lead. Curl became the first Washington rookie to make a pick in back-to-back games since Carlos Rogers in 2005. His season marks of 19 run stops, 16 stops in coverage and 68.0 defensive grade were the best among rookie safeties, earning him PFF All-Rookie Team recognition. Curl and fellow #ProHog, TE Jeremy Sprinkle, will gain playoff experience as Washington hosts Tampa Bay in the NFC Wild Card Round on Saturday, Jan. 9.
Alex Collins, RB, Seattle Seahawks
Collins was elevated to the active roster for the first time since Week 10 and totaled five carries for 29 yards and a touchdown in Seattle's 26-23 win over San Francisco. He provided much-needed insurance late in the game, finding the end zone for the second time this season on an 8-yard rush with 1:49 left in the fourth quarter, pushing the Seahawks lead to 26-16. Seattle welcomes the Los Angeles Rams on Saturday, Jan. 9 in the NFC Wild Card Round.
Frank Ragnow, OL, Detroit Lions
Ragnow started his 14th game of the season and played all 58 snaps in Detroit's season-ending 37-35 setback to Minnesota. The third-year pro's 80.3 PFF offensive gFootrade was the NFL's second-best among all centers, and he allowed just one quarterback hit without a sack. He earned his first Pro Bowl selection this season and was named PFF All-Pro second team.
Full #ProHogs Performances List
| Name (Team) | Week 17 Stats | 2020 Season Stats |
| --- | --- | --- |
| DT McTelvin Agim (DEN) | 1 game (0 starts); 9 snaps vs. Las Vegas | 10 games (0 starts); 8 tackles (2 solo), 1 PDEF |
| QB Brandon Allen (CIN) | 1 game (1 start); 43 snaps at Houston; 6-for-21, 48 yards, 2 INT | 5 games (5 starts); 90-for-142 passing, 925 yards, 5 TD, 4 INT |
| RB Alex Collins (SEA) | 1 game (0 starts); 9 snaps at San Francisco, 5 carries, 29 yards, 1 TD | 3 games (1 start); 18 carries, 77 yards, 2 TD, 1 reception, 4 yards |
| S Kamren Curl (WAS) | 1 game (1 start); 70 snaps at Philadelphia, 2 ST snaps; 3 tackles (3 solo), 1 PDEF, 1 INT | 16 games (11 starts); 84 tackles (59 solo), 2 SK, 4 PDEF, 3 INT, 1 TD |
| DE Trey Flowers (DET) | DNP vs. Minnesota: Injured Reserve | 7 games (5 starts); 21 tackles (11 solo), 2 SK, 2 FF, 1 FR, 1 PDEF |
| OL Hjalte Froholdt (HOU) | DNP vs. Tennessee: COVID-19 list | 8 games (0 starts) |
| LB Dre Greenlaw (SF) | DNP vs. Seattle: Inactive (calf) | 13 games (11 starts); 81 tackles (56 solo); 1 SK, 1 PDEF |
| TE Hunter Henry (LAC) | DNP at Kansas City: COVID-19 list | 14 games (14 starts); 60 receptions, 613 yards, 4 TD |
| DL Jeremiah Ledbetter (TB) | DNP vs. Atlanta: Inactive (calf) | 3 games (0 starts); 3 tackles (2 solo) |
| OL Jason Peters (PHI) | DNP vs. Washington: Injured Reserve | 8 games (8 starts) |
| C Frank Ragnow (DET) | 1 game (1 start); 58 snaps vs. Minnesota | 14 games (14 starts) |
| LB Randy Ramsey (GB) | 1 game (0 starts); 24 snaps at Chicago, 18 ST snaps | 12 games (0 starts); 11 tackles (5 solo) |
| OL Dan Skipper (DET) | 1 game (0 starts); 21 snaps vs. Minnesota, 21 ST snaps | 5 games (0 starts) |
| DE Chris Smith (LV) | 1 game (0 starts); 23 snaps at Denver, 1 ST snap | 8 games (0 starts); 5 tackles (4 solo) 1 SK |
| TE Jeremy Sprinkle (WAS) | 1 game (0 starts); 36 snaps at Philadelphia, 13 ST snaps | 16 games (6 starts); 1 reception, 6 yards |
| DL Armon Watts (MIN) | 1 game (0 starts); 39 snaps at Detroit, 4 ST snaps | 16 games (0 starts); 31 tackles (12 solo), 0.5 SK |
| DE Deatrich Wise Jr. (NE) | 1 game (0 starts); 42 snaps vs. New York Jets, 4 ST snaps; 2 tackles (2 solo) | 16 games (7 starts); 43 tackles (21 solo), 2.5 SK, 1 FR, 1 TD |
#ProHogs on NFL Practice Squads
| Name | Team |
| --- | --- |
| TE Chase Harrell | San Francisco |
| LB De'Jon Harris | Green Bay |
| WR Cody Hollister | Tennessee |
| DT T.J. Smith | Los Angeles Chargers |
| RB Jonathan Williams | Washington Football Team |