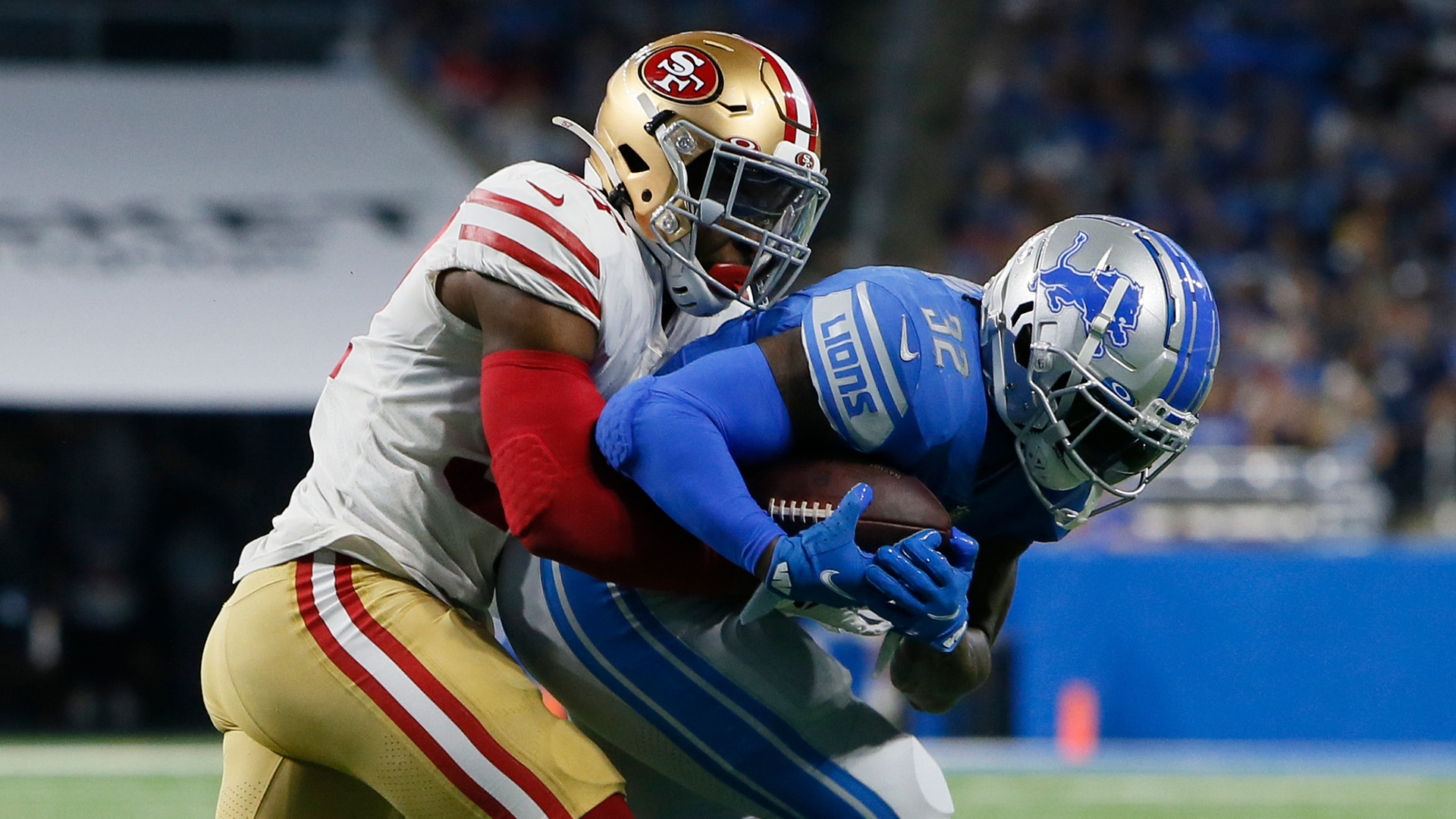 #ProHogs in the NFL – Week 18 Report
FAYETTEVILLE, Ark. – Here is a look at how the 17 former Arkansas football players active on NFL rosters fared this past weekend in Week 18 of the 2021 NFL season.
BEST OF WEEK 18
Brandon Allen, QB, Cincinnati Bengals
Making his first start of the season and filling in at quarterback for Joe Burrow, Allen completed 15-of-29 passes for 136 yards and a touchdown in Cincinnati's 21-16 loss at Cleveland. He threw his only touchdown pass of the season from four yards out to running back Chris Evans in the fourth quarter. In his second season as the Bengals backup signal caller, Allen played in six games this year throwing for 149 yards and two touchdowns. Cincinnati won the AFC North with a 10-7 record and will host Las Vegas in the Wild Card round of the playoffs.
Dre Greenlaw, LB, San Francisco 49ers
Appearing in his first game since Week 12 against Minnesota, Greenlaw logged a game-high 12 tackles as San Francisco overcame a 17-or-more point deficit for the fourth time in the last 30 years to defeat the Los Angeles Rams 27-24 in overtime. The third-year pro was one tackle off his career high of 13 set in 2019 against Seattle. Playing in three games due to a groin injury, Greenlaw made 21 tackles with an interception return for a touchdown this season. At 10-7 the 49ers qualified for the postseason and will travel to Dallas.
Hunter Henry, TE, New England Patriots
Henry hauled in five receptions for a season-high 86 yards, including a career-long 35-yard reception, in New England's 33-24 defeat at Miami. For the season, Henry totaled 50 receptions for 603 yards and a career-high nine touchdowns. Henry's nine touchdown catches tied for NFL lead among tight ends. The Patriots finished the season 10-7 and travel to Buffalo in the AFC Wild Card round.
Full #ProHogs Performances List
| Name (Team) | Week 18 Stats | 2021 Season Stats |
| --- | --- | --- |
| DT McTelvin Agim (DEN) | DNP vs. Kansas City (inactive) | 7 games (0 starts); 4 tackles (2 solo), 1.5 SKS, 1 PDEF |
| QB Brandon Allen (CIN) | 1 game (1 start); 54 snaps at Cleveland, 15-for-29, 136 yards, 1 TD, 1 carry, 3 yards, 1 fumble | 6 games (1 start); 17-of-34, 149 yards, 2 TDs, 7 carries, -1 yard, 1 fumble |
| S Kamren Curl (WAS) | 1 game (1 start); 29 snaps at New York Giants; 2 tackles, 1 PDEF | 16 games (14 starts); 94 tackles (57 solo), 1.0 SK, 5 PDEF, 1 FR |
| QB Feleipe Franks (ATL) | DNP vs. New Orleans | 9 games (0 starts); 0-for-1, 1 interception, 3 carries, 6 yards |
| OL Hjalte Froholdt (CLE) | DNP vs. Cincinnati (Inactive) | 6 games (0 starts) |
| LB Dre Greenlaw (SF) | 1 game (1 start); 63 snaps at Los Angeles Rams; 12 tackles (5 solo) | 3 games (2 starts); 20 tackles (9 solo), 1 PDEF, 1 INT, 39 yards, 1 TD |
| LB De'Jon Harris (WAS) | 1 game (0 starts); 20 snaps at New York Giants; 20 ST snaps; 1 tackle (1 solo) | 5 games (0 starts); 3 tackles (3 solo), 1 SK |
| TE Hunter Henry (NE) | 1 game (1 start); 48 snaps vs. Jacksonville, 6 ST snaps; 5 receptions, 86 yards | 17 games (10 starts); 50 receptions, 603 yards, 9 TDs |
| DL Jonathan Marshall (NYJ) | DNP at Buffalo (Inactive) | 4 games (0 starts); 2 tackles (1 solo) |
| OL Jason Peters (CHI) | 1 game (1 start); 53 snaps at Minnesota | 15 games (15 starts) |
| DL Darius Philon (LV) | 1 game (0 starts); 38 snaps vs. Los Angeles Chargers, 3 ST snaps; 3 tackles (2 solo), 1 PDEF | 11 games (2 starts); 24 tackles (17 solo), 2 SKs, 2 PDEF, 2 FRs |
| DL Chris Smith (HOU) | DNP at Tennessee (Inactive) | 4 games (0 starts); 7 tackles (3 solo), 1.5 SKs |
| TE Jeremy Sprinkle (DAL) | 1 game (1 start); 37 snaps at Philadelphia, 15 ST snaps; 1 reception, 10 yards | 17 games (4 starts); 3 receptions, 31 yards |
| DL Armon Watts (MIN) | 1 game (1 start); 69 snaps at Green Bay, 3 ST snaps; 3 tackles (1 solo) | 17 games (9 starts); 41 tackles (15 solo), 5 SKs, 2 FF |
| DE Deatrich Wise Jr. (NE) | 1 game (0 starts); 50 snaps at Miami, 5 ST snaps; 3 tackles (2 solo) | 16 games (9 starts); 34 tackles (21 solo), 3 SKs, 4 PDEF, 1 FF |
| RB Jonathan Williams (WAS) | 1 game (0 starts); 29 snaps at New York Giants; 18 ST snaps; 7 carries, 45 yards | 5 games (0 starts); 17 carries, 79 yards, 1 TD, 4 receptions, 28 yards |
#ProHogs on NFL Practice Squads or Injured Reserve

| Player | Team |
| --- | --- |
| LB Trey Flowers | Detroit |
| LB Dre Greenlaw | San Francisco |
| WR Cody Hollister | Tennessee |
| DB Jerry Jacobs | Detroit |
| DL Xavier Kelly | Baltimore |
| DL Jeremiah Ledbetter | Jacksonville |
| OL Frank Ragnow | Detroit |
| LB Randy Ramsey | Green Bay |
| OL Dan Skipper | Detroit |