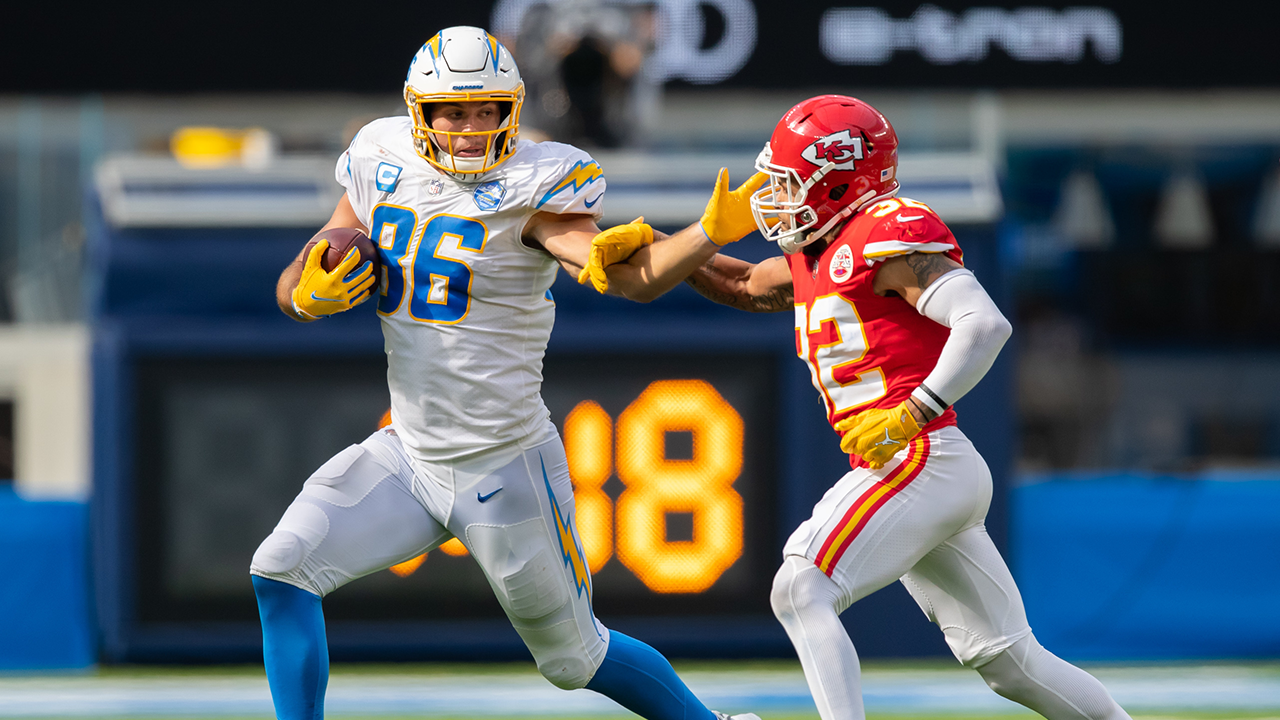 #ProHogs in the NFL – Week 2 Report
FAYETTEVILLE, Ark. – Here is a look at how the 12 former Arkansas football players on active NFL rosters fared in Week 2 of the NFL season.
BEST OF WEEK 2
Kamren Curl, S, Washington Football Team
Curl made two solo stops and recorded the team's fourth-highest PFF tackling grade (75.6), but Washington fell for the first time this season at Arizona, 30-15. After the season's first two weeks, Kurl's 70.3 coverage grade ranks third on the NFL's fourth-best pass coverage defense, according to PFF.
Frank Ragnow, C, Detroit Lions
Ragnow played all 59 snaps for the Lions and posted a team-high 86.0 PFF offensive grade in Detroit's 42-21 setback to Green Bay. He has been the anchor of the NFC's eighth-best rushing attack (113.5 ypg) through the season's first two weeks. The former first round draft choice is second league-wide among centers in PFF's offense grade (89.1) and run blocking grade (90.5).
Hunter Henry, TE, Los Angeles Chargers
Henry was second on the team in both receptions (6) and yards (82), but Los Angeles fell in overtime to defending Super Bowl champ Kansas City, 23-20, in the Chargers' first game inside brand new SoFi Stadium. On 2nd and 9 in the third quarter, the fifth-year pro made a 22-yard reception, his longest of the game. He proved import during the fourth stanza, making a pair of grabs on the same drive totaling 24 yards to set up a field goal. Henry was part of a receiving corps that helped rookie QB Justin Herbet, the No. 6 overall pick in this year's NFL Draft, to an impressive pro debut completing 22-of-33 passes for 311 yards and a touchdown. Henry's 11 catches this season are tied for the team lead, while his 156 receiving yards leads the team and ranks second among all NFL tight ends.
Jason Peters, OL, Philadelphia Eagles
Peters started his second game of the season at left tackle and played all 72 snaps in the Eagles' 37-19 loss to the Los Angeles Rams. The 17-year pro has spent the last 12 seasons with Philadelphia, appearing in 142 games for the Eagles, which is tied alongside QB Ron Jaworski (1977-86) for 17th most in franchise history.
Full #ProHogs Performances List
| Name (Team) | Week 2 Stats | 2020 Season Stats |
| --- | --- | --- |
| DT McTelvin Agim (DEN) | DNP at Pittsburgh (Inactive) | 0 games |
| SAF Kamren Curl (WAS) | 1 game (0 start); 32 snaps at Arizona; 2 tackles (2 solo) | 2 games (0 starts); 5 tackles (4 solo), 2 TFL |
| DE Trey Flowers (DET) | 1 game (1 start), 50 snaps at Green Bay; 0 tackles | 2 game (2 start); 6 tackles (5 solo), 1 sack, 3 QBH, 1 FF |
| OL Hjalte Froholdt (NE) | 1 game (0 start); 5 ST snaps vs. Seattle | 2 game (0 starts) |
| LB Dre Greenlaw (SF) | 1 game (0 start); 34 snaps at New York Jets, 17 ST snaps; 1 tackle (1 solo) | 2 games (1 start); 5 tackles (3 solo); 1 PDEF |
| TE Hunter Henry (LAC) | 1 game (1 start); 73 snaps vs. Kansas City, 2 ST snaps; 6 receptions, 83 yards | 2 games (2 starts); 11 receptions, 156 yards |
| OL Jason Peters (PHI) | 1 game (1 start); 72 snaps vs. Los Angeles Rams | 2 games (2 starts) |
| C Frank Ragnow (DET) | 1 game (1 start); 63 snaps at Green Bay, 4 ST snaps | 2 games (2 starts) |
| LB Randy Ramsey (GB) | DNP vs. Detroit (Groin) | 0 games |
| TE Jeremy Sprinkle (WAS) | 1 game (0 starts); 13 snaps at Arizona, 7 ST snaps | 2 games (1 start) |
| DL Armon Watts (MIN) | 1 game (0 starts); 44 snaps at Indianapolis, 6 ST snaps; 2 tackles (2 solo) | 2 games (0 starts); 3 tackles (2 solo) |
| DE Deatrich Wise, Jr. (NE) | 1 game (0 start), 20 snaps at Seattle; 1 tackle, (0 solo) | 2 games (0 starts); 2 tackles (0 solo) |
#ProHogs on NFL Practice Squads
| Name | Team |
| --- | --- |
| QB Brandon Allen | Cincinnati |
| TE Chase Harrell | San Francisco |
| LB De'Jon Harris | Green Bay |
| WR Cody Hollister | Tennessee |
| DE Jeremiah Ledbetter | Tampa Bay |
| DE Chris Smith | Las Vegas |
| DT T.J. Smith | Los Angeles Chargers |
| RB Jonathan Williams | Detroit |