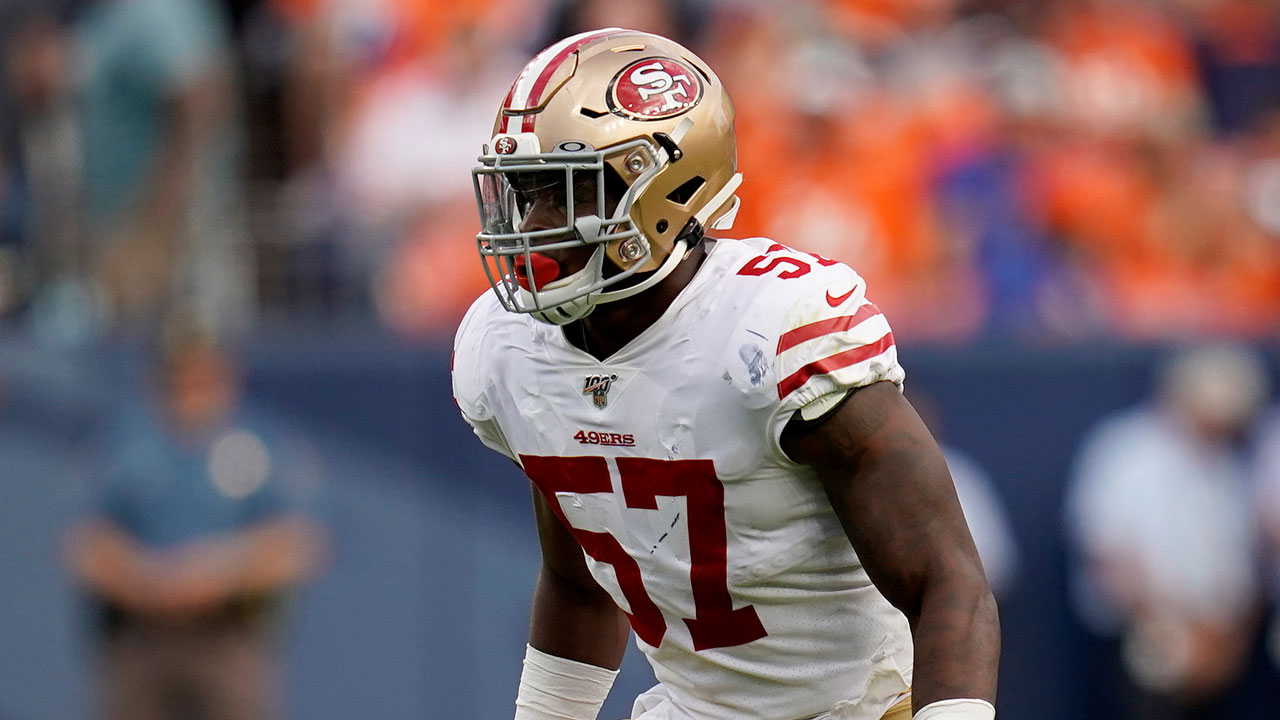 #ProHogs in the NFL – Week 3 Report
FAYETTEVILLE, Ark. – Here is a look at how the 17 former Arkansas football players active on NFL rosters fared this past weekend in Week 3 of the 2022 NFL season.
BEST OF WEEK 3
Deatrich Wise Jr., DL, New England Patriots
Wise was a spark on New England's defense Sunday despite the Patriots' 37-26 loss to Baltimore, finishing with team highs in both TFL (4) and sacks (3). Wise totaled six stops, including five solo tackles. All three of Wise's sacks took place in the first quarter with his second forcing a third-and-15 for the Ravens.
Dre Greenlaw, LB, San Francisco 49ers
Greenlaw had another standout performance for the 49ers despite their 11-10 loss to Denver Sunday night, carding a team-leading 10 tackles, including five solo stops, helping San Francisco's defense limit the Broncos to 11 points on the night.
| Name (Team) | Week 3 Stats | 2022 Season Stats |
| --- | --- | --- |
| QB/TE Feleipe Franks (ATL) | 1 game (0 starts); 3 snaps vs. Seattle | 3 games (0 starts) |
| DT Armon Watts (CHI) | 1 game (0 starts); 17 snaps vs. Houston, 2 tackles (1 solo) | 3 games (0 starts); 5 tackles (2 solo) |
| QB Brandon Allen (CIN) | DNP vs. New York Jets | 3 games (0 starts) |
| OL Hjalte Froholdt (CLE) | 1 game (0 starts); 5 snaps vs. Pittsburgh | 1 games (0 starts) |
| OL Jason Peters (DAL) | 1 game (0 starts); 14 snaps vs. New York Giants | 1 game (0 starts) |
| OL Frank Ragnow (DET) | 1 game (1 start); 78 snaps vs. Minnesota | 2 games (2 starts) |
| OL Dan Skipper (DET) | 1 game (1 start); 84 snaps vs. Minnesota | 2 games (2 starts) |
| CB Montaric Brown (JAX) | 1 game (0 starts); 4 ST snaps vs. Los Angeles Chargers | 3 games (0 starts) |
| LB Trey Flowers (MIA) | 1 game (0 starts); 40 snaps vs. Buffalo, 1 solo tackle | 2 games (0 starts); 2 tackles |
| TE Hunter Henry (NE) | 1 game (1 start); 48 snaps vs. Baltimore, 1 reception, 8 yards | 3 games (3 starts); 3 receptions, 28 yards |
| DL Deatrich Wise Jr. (NE) | 1 game (1 start); 54 snaps vs. Baltimore, 6 tackles (5 solo), 3 sacks | 3 games (3 starts); 13 tackles (9 solo), 3 sacks, 1 FF |
| LB Dre Greenlaw (SF) | 1 game (1 start); 75 snaps vs. Denver, 10 tackles (3 solo) | 3 games (3 starts); 23 tackles (12 solo) |
| WR Treylon Burks (TEN) | 1 game (0 start); 45 snaps vs. Las Vegas, 1 reception, 13 yards | 3 games (1 start); 8 receptions, 115 yards |
| WR Cody Hollister (TEN) | 1 game (0 starts); 23 snaps vs. Las Vegas | 3 games (0 starts); 1 reception, 22 yards |
| S Kamren Curl (WAS) | 1 game (1 start); 61 snaps vs. Philadelphia, 8 tackles (4 solo) | 1 game (1 start); 8 tackles (4 solo) |
| DL John Ridgeway (WAS) | 1 game (0 starts); 26 snaps vs. Philadelphia | 1 game (0 starts) |
| RB Jonathan Williams (WAS) | 1 game (0 starts); 16 snaps vs. Philadelphia, 1 carry, 6 yards | 3 games (0 starts); 1 carry, 6 yards |
| Player | Team |
| --- | --- |
| DL McTelvin Agim | Denver |
| CB Jerry Jacobs | Detroit |
| DL Jonathan Marshall | New York Jets |