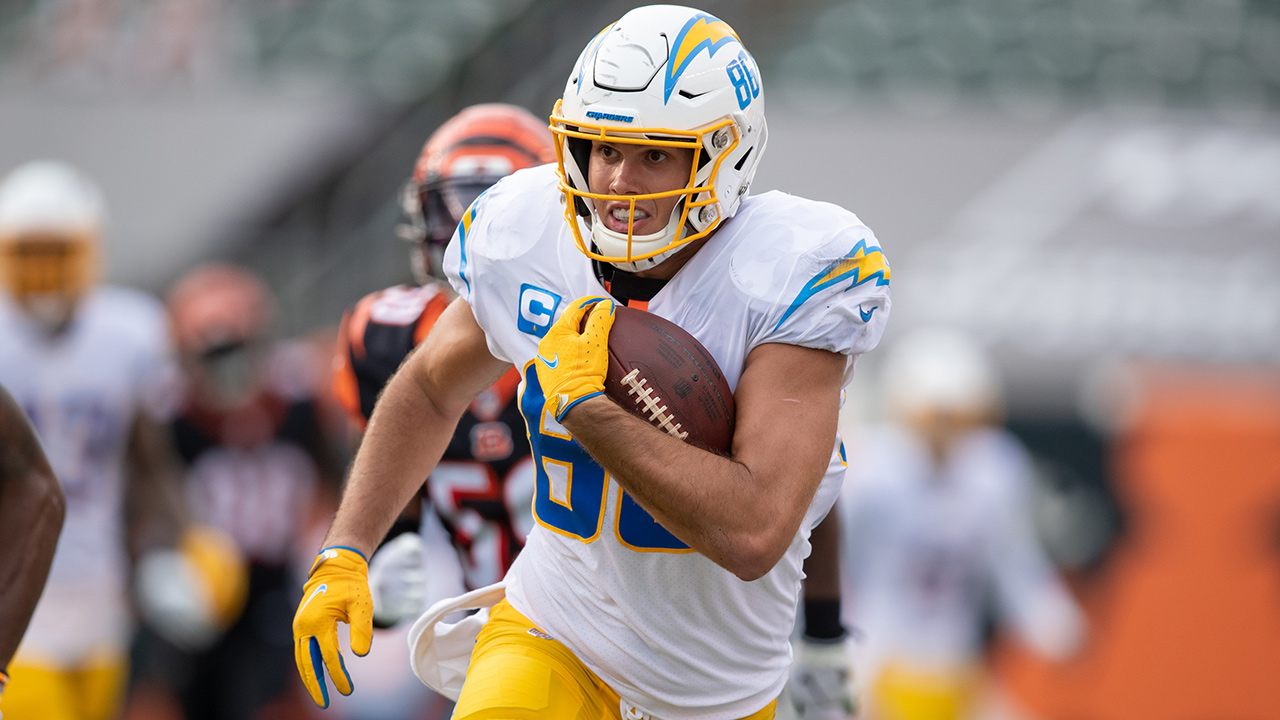 #ProHogs in the NFL – Week 5 Report
FAYETTEVILLE, Ark. – Here is a look at how the 13 former Arkansas football players active on NFL rosters fared this past weekend in Week 5 of the NFL season. There were seven former Hogs on a bye week.
BEST OF WEEK 5
Kamren Curl, CB, Washington Football Team
Curl played a career-high 46 snaps, but Washington suffered its fourth consecutive defeat, falling to the Los Angeles Rams at home, 30-10. He has made multiple tackles in all five games this season and registered three stops against Los Angeles last weekend.
Dre Greenlaw, LB, San Francisco 49ers
Greenlaw made a return to game action after missing the last two weeks with an injury and made a season-high seven tackles as San Francisco fell to Miami, 43-17. The second-year pro earned a 79.4 game tackle grade from PFF, the third-highest among all 49ers.
Hunter Henry, TE, Los Angeles Chargers
Henry made his first touchdown catch of the season, but the Los Angeles Chargers fell in overtime to New Orleans, 30-27, on Monday Night Football. The fourth-year pro made his 18th career touchdown reception in the back-right corner of the end zone during the second quarter from three yards out on 3rd and goal. He was part of a receiving corps that helped QB Justin Herbert become the first rookie to throw four touchdowns on Monday Night Football. Henry finished the game with four catches for 23 yards (5.8 ypc) and a long reception of eight yards. His season totals of 18 receptions and 245 yards both rank second on the Chargers.
Full #ProHogs Performances List
| Name (Team) | Week 5 Stats | 2020 Season Stats |
| --- | --- | --- |
| DT McTelvin Agim (DEN) | DNP: Bye Week | 2 games (0 starts); 1 tackle |
| CB Kamren Curl (WAS) | 1 game (1 start); 46 snaps vs. Los Angeles Rams, 10 ST snaps ; 3 tackles (1 solo) | 5 games (2 starts); 13 tackles (8 solo), 2 TFL |
| DE Trey Flowers (DET) | DNP: Bye Week | 4 games (4 starts); 11 tackles (7 solo), 2 TFL, 1 Sack, 1 FF |
| OL Hjalte Froholdt (NE) | DNP: Bye Week | 4 games (0 starts) |
| LB Dre Greenlaw (SF) | 1 game (0 starts); 47 snaps vs. Miami, 12 ST snaps; 7 tackles (5 solo) | 3 games (1 start); 12 tackles (8 solo); 1 PDEF |
| LB De'Jon Harris (GB) | DNP: Bye Week | 1 game (0 starts) |
| TE Hunter Henry (LAC) | 1 game (1 start); 67 snaps at New Orleans; 4 receptions, 23 yards, 1 touchdown | 5 games (5 starts); 22 receptions, 268 yards, 1 touchdown |
| WR Cody Hollister (TEN) | 1 game (0 starts); 27 snaps vs. Buffalo, 6 ST snaps; 1 reception, 12 yards | 2 games (0 starts); 1 reception, 12 yards |
| OL Jason Peters (PHI) | DNP vs. Pittsburgh (Injured Reserve) | 3 games (3 starts) |
| C Frank Ragnow (DET) | DNP: Bye Week | 4 games (4 starts) |
| LB Randy Ramsey (GB) | DNP: Bye Week | 1 game (0 starts) |
| TE Jeremy Sprinkle (WAS) | 1 game (1 start); 27 snaps vs. Los Angeles Rams, 18 ST snaps | 5 games (2 starts) |
| DL Armon Watts (MIN) | 1 game (0 starts); 14 snaps at Seattle, 3 ST snaps; 1 tackle | 4 games (0 starts); 5 tackles (2 solo) |
| DE Deatrich Wise Jr. (NE) | DNP: Bye Week | 4 games (0 starts); 11 tackles (6 solo), 0.5 TFL, 0.5 SK, 1 FR, 1 TD |
#ProHogs on NFL Practice Squads
| Name | Team |
| --- | --- |
| QB Brandon Allen | Cincinnati |
| TE Chase Harrell | San Francisco |
| DE Jeremiah Ledbetter | Tampa Bay |
| DE Chris Smith | Las Vegas |
| DT T.J. Smith | Los Angeles Chargers |