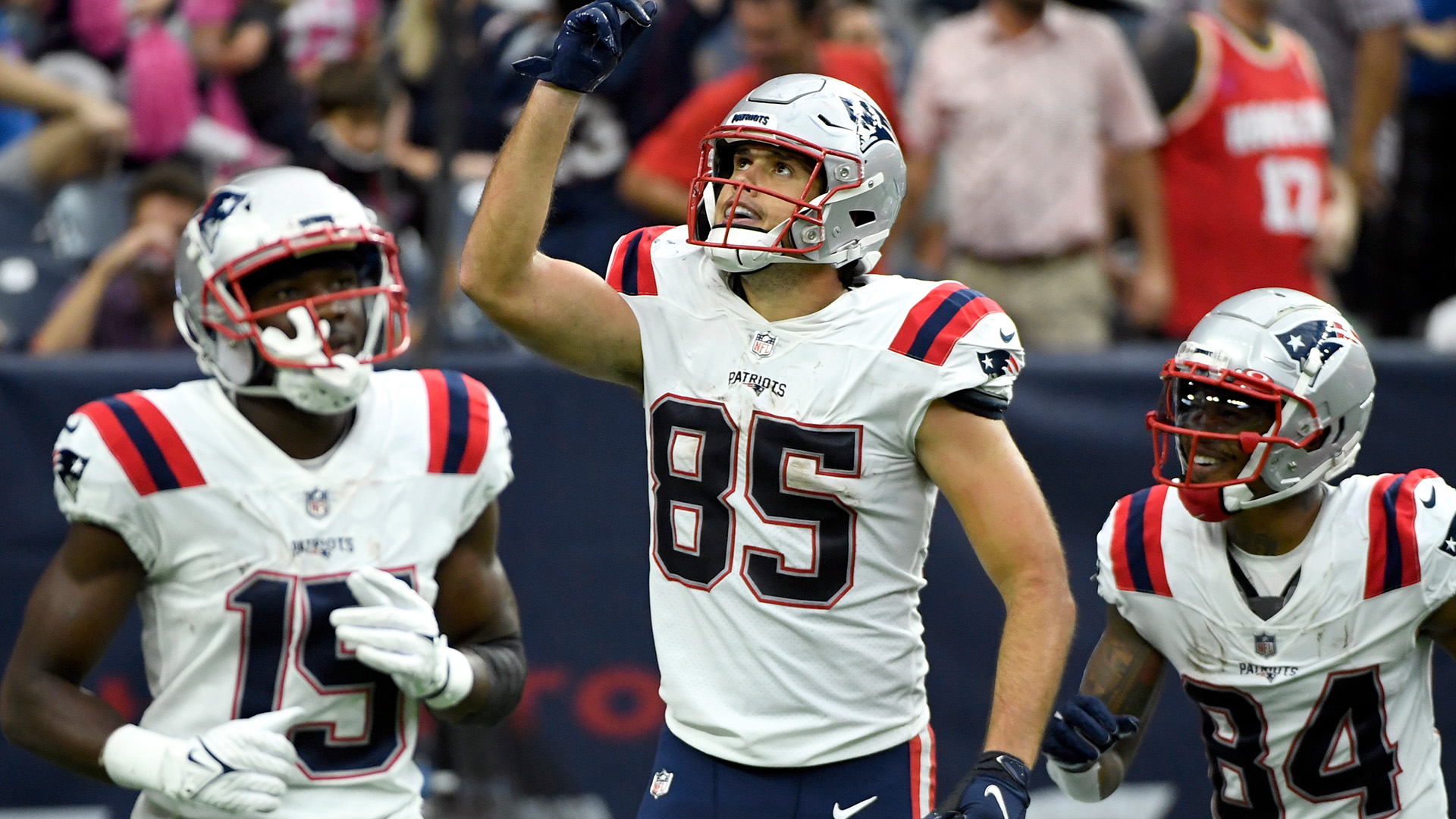 #ProHogs in the NFL – Week 5 Report
FAYETTEVILLE, Ark. – Here is a look at how the 15 former Arkansas football players active on NFL rosters fared this past weekend in Week 5 of the 2021 NFL season.
BEST OF WEEK 5
Alex Collins, RB, Seattle Seahawks
Collins made his first start of the season in Seattle's 26-17 setback to the Los Angeles Rams. He totaled season-highs of 15 carries for 47 yards and also made two catches for 25 yards. The 47-yard rushing performance is the sixth-year pro's most in a game since 2018. For the season, Collins has produced 124 rushing yards and 59 receiving yards in four games played.
Hunter Henry, TE, New England Patriots
For the second week in a row, Henry hauled in a touchdown reception, which helped New England to a 25-22 win at Houston. Making a 13-yard touchdown catch that tied the game at 22 with 9:31 left to play, Henry's grab allowed K Nick Folk to drill a 21-yard game-winning field goal with 15 seconds on the clock. He totaled season-highs of six receptions for 75 yards, posting his first 75-yard receiving game since Oct. 20, 2019, against Tennessee (97 yards). Henry's 216 receiving yards this season ranked tied for 11th in the NFL.
Full #ProHogs Performances List
| Name (Team) | Week 5 Stats | 2021 Season Stats |
| --- | --- | --- |
| DT McTelvin Agim (DEN) | DNP at Pittsburgh (Inactive) | 1 game (0 starts); 1 tackle, 0.5 SKS, 1 PDEF |
| QB Brandon Allen (CIN) | DNP vs. Green Bay | 0 games |
| RB Alex Collins (SEA) | 1 game (1 start); 46 snaps vs. Los Angeles Rams; 15 rushes, 47 yards, 2 recptions, 25 yards | 4 games (1 start); 28 rushes, 124 yards, 1 TD, 4 receptions, 59 yards |
| S Kamren Curl (WAS) | 1 game (0 starts); 65 snaps vs. New Orleans, 5 ST snaps; 2 tackles, 1 PDEF | 5 games (4 starts); 22 tackles (12 solo), 2 PDEF |
| LB Trey Flowers (DET) | 1 game (1 start); 52 snaps at Minnesota; 3 tackles (2 solo), 1 sack | 3 games (3 starts); 11 tackles (8 solo), 1.5 SKs, 1 FF |
| QB Feleipe Franks (ATL) | DNP vs. New York Jets (Inactive) | 2 games |
| OL Hjalte Froholdt (CLE) | 1 game (0 starts); 6 snaps at Los Angeles Chargers, 6 ST snaps | 1 game (0 starts) |
| TE Hunter Henry (NE) | 1 game (1 start); 45 snaps at Houston, 5 ST snaps; 6 receptions, 75 yards, 1 TD | 5 games (4 starts); 20 receptions, 216 yards, 2 TDs |
| DB Jerry Jacobs (DET) | 1 game (1 start); 64 snaps at Minnesota, 1 ST snap; 3 tackles (3 solo), 1 PDEF | 5 games (1 start); 6 tackles (6 solo), 1 PDEF |
| DL Jonathan Marshall (NYJ) | DNP vs. Atlanta (Inactive) | 1 game |
| OL Jason Peters (CHI) | 1 game (1 start); 64 snaps at Las Vegas | 4 games (4 starts) |
| DL Darius Philon (LV) | 1 game (0 starts); 32 snaps vs. Chicago, 2 ST snaps; 2 tackles (2 solo) | 5 games (0 starts); 11 tackles (7 solo), 1 FR |
| TE Jeremy Sprinkle (DAL) | 1 game (0 starts); 26 snaps vs. New York Giants, 13 ST snaps | 5 games (0 starts) |
| DL Armon Watts (MIN) | 1 game (1 start); 36 snaps vs. Detroit; 2 tackles (1 solo) | 5 games (1 start); 9 tackles, (4 solo) |
| DE Deatrich Wise Jr. (NE) | 1 game (1 start); 46 snaps at Houston, 6 ST snaps; 3 tackles | 5 games (5 starts); 14 tackles (9 solo), 0.5 SKs, 1 PDEF |
#ProHogs on NFL Practice Squads or Injured Reserve
| Player | Team |
| --- | --- |
| LB Dre Greenlaw | San Francisco |
| DL Xavier Kelly | Baltimore |
| DL Jeremiah Ledbetter | Arizona |
| OL Frank Ragnow | Detroit |
| LB Randy Ramsey | Green Bay |
| DE Chris Smith | Baltimore |
| RB Jonathan Williams | Washington |