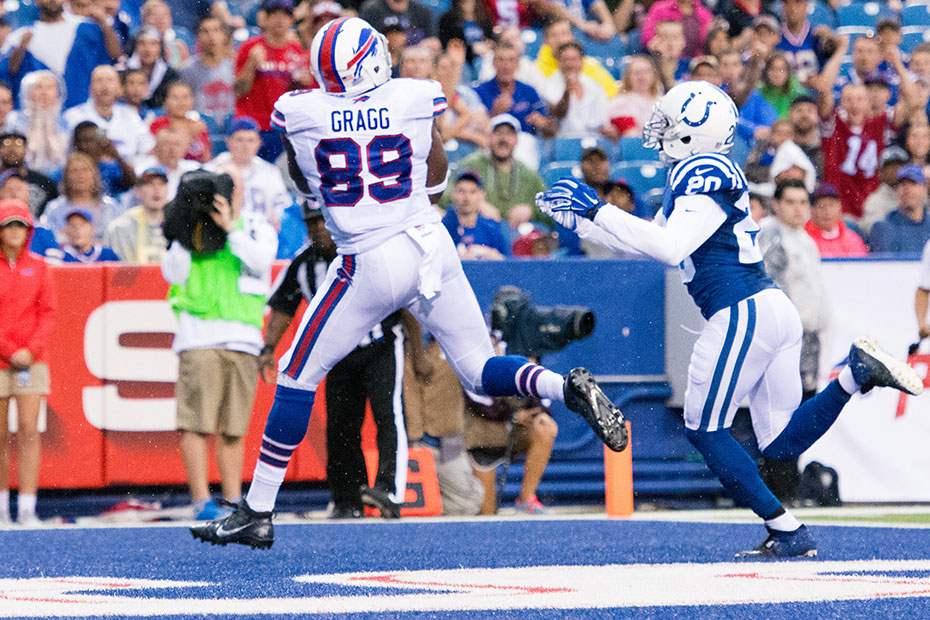 #ProHogs Update: NFL Preseason Week 1
FAYETTEVILLE, Ark. – NFL football is officially back. Even though it is just preseason, NFL teams and fans alike have been clamoring for games as we inch closer to opening weekend. Last week was the first week of the preseason and 25 former Razorbacks were on official rosters looking to make an impression.
Below is an update on how each of those former Hogs did during Week 1 of the preseason:
Atlanta 23, Washington 17 | Game Recap
Linebacker Martrell Spaight of the Washington Redskins led all players with five tackles against the Falcons, three coming in the first half, all solo.
Philadelphia 17, Tampa Bay 9 | Game Recap
Tackle Jason Peters  of the Philadelphia Eagles did not play in the first preseason game as he has been hampered with a quad injury. However, he did return to practice on Saturday.
Baltimore 22, Carolina 19 | Game Recap
Defensive tackle Robert Thomas did not start for Carolina on Thursday, but did record three tackles, tying for third-best on the team.
On the other side of the ball, quarterback Ryan Mallett started for the Ravens and played the entire first half. He was 11 for 15 through the air for 91 yards and one touchdown, connecting with Javorius Allen late in the second quarter for the score.
New England 34, New Orleans 22 | Game Recap
Defensive lineman Trey Flowers and tight end A.J. Derby both did not start in Thursday's contest for the Patriots, however, both had performances that had media and fans talking. Derby caught three passes for 47 yards, good for second on the team, and also had one tackle on special teams. With his three catches, Derby was one of 12 tight ends with three or more catches.
Flowers finished his game with five tackles and showed his athleticism when he sacked New Orleans quarterback Luke McCown late in the fourth quarter. The tackle caused a fumble which he then returned for a 17-yard touchdown. It was one of New England's two sacks in the game.
New York Jets 17, Jacksonville 13 | Game Recap
Quarterback Brandon Allen got his first NFL game under his belt Thursday, completing 10 of 19 passes for a game-high 138 yards, all in the second half for the Jacksonville Jaguars.
Defensive end Chris Smith made two tackles for the Jaguars, both in the fourth quarter.
Denver 22, Chicago 0 | Game Recap
Tackle Cameron Jefferson saw some action for the defending Super Bowl champion Denver Broncos on Thursday, but did not record any stats.
Detroit 30, Pittsburgh 17 | Game Recap
Travis Swanson started at center for the Lions and was on the field for 21 plays, while also recording a tackle after a fumble by the quarterback.
For the Steelers, wide receiver Cobi Hamilton hauled in two catches for 22 yards, the second-most yards by a Pittsburgh receiver in the game.
Minnesota 17, Cincinnati 16 | Game Recap
Both wide receiver Jarius Wright and kicker Zach Hocker did not play in Friday's game. Wright is entering his fifth year with the Vikings after being drafted in the 4th round in 2012.
Hocker is entering his second season with the Bengals, but has been sidelined with an undisclosed injury since Aug. 8.
Green Bay 17, Cleveland 11 | Game Recap
Alvin Bailey played the majority of the game for the Browns on the offensive line, but did not start.
Oakland 31, Arizona 10 | Game Recap
Guard Denver Kirkland was in the game for 31 plays for the Raiders, the most of anyone on the offensive line, but did not start.
Seattle 17, Kansas City 16 | Game Recap
A pair of great Razorback running backs faced off Saturday as Alex Collins suited up for the Seahawks, while Knile Davis embarked on his fourth season with the Chiefs.
Collins had three carries for five yards in his NFL preseason debut. He also caught one pass for four yards, playing most of the second quarter.
Davis carried the ball seven times and picked up 30 yards for Kansas City, all in the first half. He also returned one kickoff for 34 yards.
Indianapolis 19, Buffalo 18 | Game Recap
Tight end Chris Gragg started for the Bills and had one of the biggest plays of the game when he blocked a punt midway through the first quarter deep in Colts territory. The ball eventually was pushed out of the back of the end zone for a safety.
Gragg ended up with only two catches in the game for 26 yards, but did score one touchdown on a 19-yard pass from E.J. Manuel becoming one of only six tight ends to catch a touchdown pass in last week's preseason action.
Running back Jonathan Williams didn't start for the Bills, but led all rushers with 44 yards on eight carries. Playing sporadically throughout the entire game, the former Hog picked up nearly half of his yards in the first half.
Cornerback Tevin Mitchel did not play for the Colts in their first preseason game.
Los Angeles 28, Dallas 24 | Game Recap
Defensive back Rohan Gaines was in for 12 plays for the Rams, but did not record any statistics.
Tennessee 27, San Diego 10 | Game Recap
Tight end Hunter Henry made his first preseason start for the Chargers at tight end Saturday night, leading all receivers with 43 yards on three catches, all in the first half.
Defensive end Darius Philon also started on the defensive side of the ball for the Chargers, totaling two tackles, one being for a loss.
Offensive lineman Sebastian Tretola did sub in for the Titans late in the game, but did not record any stats.