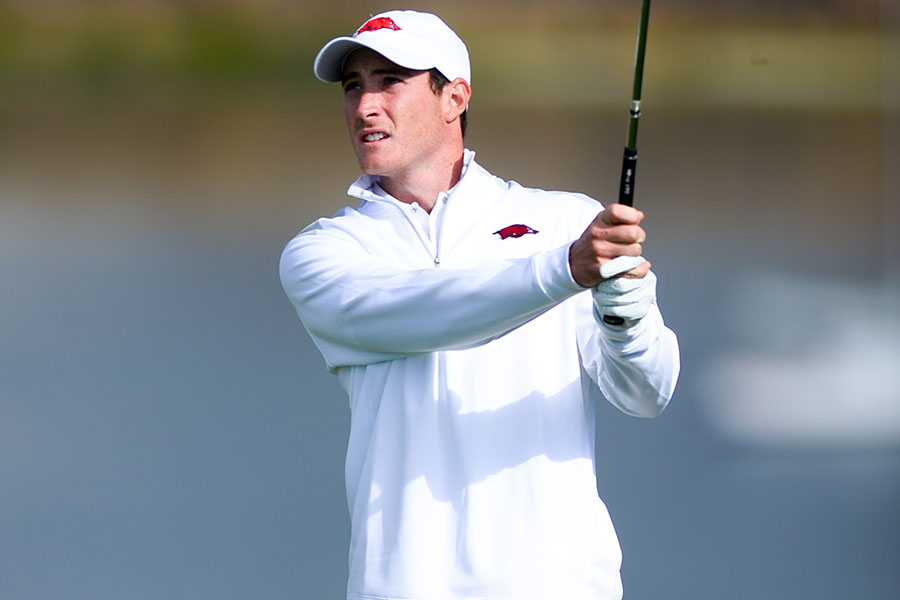 Quick Turnaround Takes Razorbacks To Bayou City
FAYETTEVILLE, Ark. – Fresh off a second place finish at the SunTrust Gator Invitational less than a week ago, the Arkansas men's golf team will open play at the Bayou City Collegiate Championships on Friday held at the Golf Club of Houston.
The Razorbacks are part of a 15-team field, including a pair of top 10 programs, that will take on the par 72, 6,982-yard layout over the three-day event. Arkansas will go off the 10th tee for Friday's first round starting at 9 a.m. CT playing alongside New Mexico State and Troy. Live scoring is available for all three rounds at www.GolfStat.com or via the GolfStat Live app.
Led by juniors Taylor Moore and Kolton Crawford who posted top five finishes at the SunTrust Gator Invitational, Arkansas will roll out the same starting lineup for the second straight event. Moore was the team's low-man for the second straight tournament, finishing in a tie for second place that earned him Co-SEC Golfer of the Week honors on Tuesday. Moore's team-low 71.8 stroke average ranks eighth in the SEC.
Crawford was the 36-hole leader last weekend before tying for fourth place at two-under par. The top five finish was Crawford's team-leading second of the year. Freshman Alvaro Ortiz and junior Nicolas Echavarria are tied for second behind Moore with stroke averages of 72.3. Echavarria has finished in the top 20 in three of four events this year.
Arkansas shot nine-under par at the 2014 Bayou City Collegiate Championships to finish fourth in the 15-team field.
@RazorbackMGolf Lineup (Stroke Average)
Taylor Moore, Jr. (71.8)
Kolton Crawford, R-Jr. (72.8)
Alvaro Ortiz, Fr. (72.3)
Nicolas Echavarria, Jr. (72.3)
Zach Coats, R-So. (75.7)
Emil Soegaard, Fr. (75.4) – Individual
@RazorbackMGolf Lineup Quick Nine 
• Arkansas moved up to No. 38 in Tuesday's latest Golfstat rankings.
• Arkansas produced its two lowest rounds of the year last weekend at the Gator Invitational.
• Same lineup that finished second at the SunTrust Gator Invitational.
• Four of five players in the lineup have a stroke average under 73.
• Moore earned his second career SEC Golfer of the Week honor on Tuesday.
• Moore leads the team in stroke average (71.8), par or lower rounds (8) and top 20s (4).
• Crawford's top five at the Gator Invitational was his second in five events this year.
• Ortiz has shot even-par or lower in half (6) of his career collegiate rounds.
• Echavarria leads the team with two eagles.
Bayou City Collegiate Championships (Golfstat Ranking) 
Houston (30)
Rice Owls (158)
Arkansas (38)
Baylor (8)
Charlotte (61)
Lamar(136)
Louisiana (130)
McNeese State (88)
New Mexico State (62)
Northern Illinois (170)
Sam Houston State (70)
South Carolina (9)
Southeastern Louisiana (58)
Troy (51)
UTSA (83)