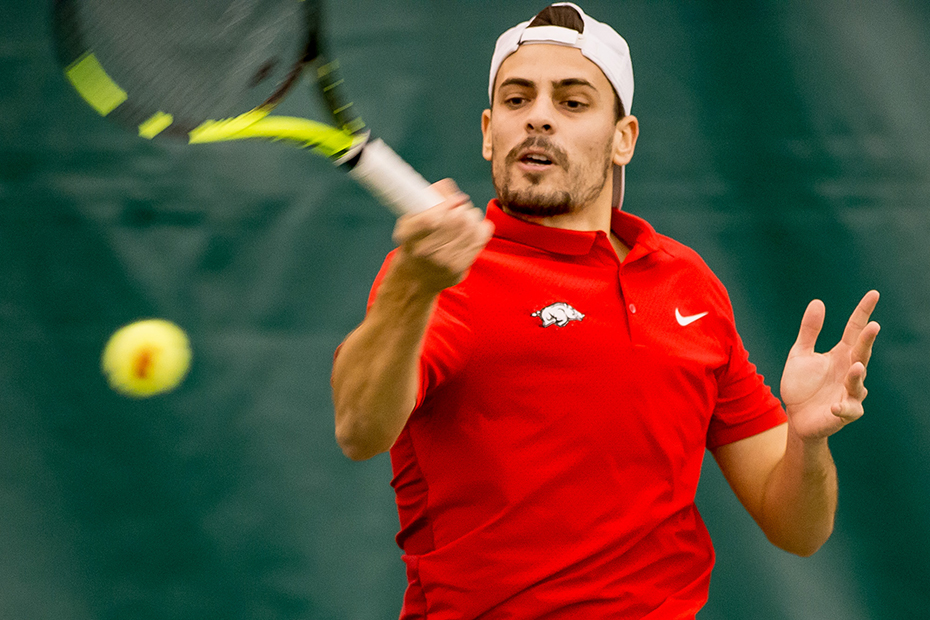 Ranked Opponents Await Razorbacks
FAYETTEVILLE, Ark. — Coming off its first test against a ranked opponent, the Arkansas men's tennis team has two more such matches on the schedule this weekend. First, the Razorbacks will travel to Tulsa on Friday, Feb. 12 at 6 p.m. to face to No. 31 Golden Hurricane, then they face off against No. 51 SMU in Dallas on Sunday, Feb. 14 at 2 p.m.
"Both Tulsa and SMU are NCAA Tournament teams," head coach Andy Jackson said. "Both programs have large crowd support and state-of-the-art facilities. They have experience, and successful coaches and players that have been successful on the national level. We want to be at that level and are eager for the challenge."
Between Tulsa and SMU, Arkansas will have its hands full with four singles players ranked in the top 100, as well as three doubles teams among the top 60. The Golden Hurricane is 4-2 on the season, with four of its six matched being decided by a 4-3 team score. The Mustangs are 4-2, but own an 0-2 record against Power Five opponents; losing to UCLA and Texas earlier this season.
Going into Super Bowl Sunday's match against No. 17 Oklahoma State, Arkansas stood at 2-0 with victories over UT Arlington and Michigan State. The Cowboys downed the Razorbacks by a score of 5-2, and even though they had to put that first tally in the loss column, Jackson was pleased that his squad showed they could duke it out with the best.
Mike Redlicki impressed with a 6-3, 3-6, 7-5 victory over OSU's Temur Ismailov to improve to 3-0 at the No. 1 singles position. In addition, Adam Sanjurjo beat Tristan Meraut at No. 5 by a score of 6-4, 6-4. Those would be the lone team points earned by Arkansas, but coupled with two three-set losses meant the match could have gone either way.
On the road this weekend for the Razorbacks' first matches away from Fayetteville, Jackson says the team must make fewer mistakes late in matches in order to pull out some victories.
For more information on Razorback men's tennis, please follow @RazorbackMTEN on Twitter.