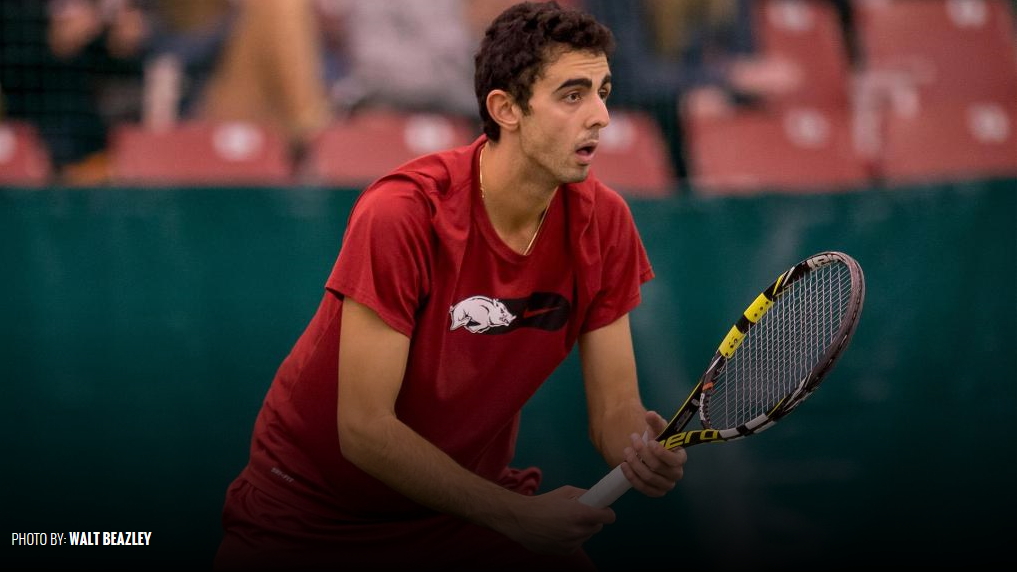 @RazorbackMTEN Hits The Road For ITA Kickoff Weekend
FAYETTEVILLE, Ark. – The University of Arkansas men's tennis team (4-1) will travel to Norman, Oklahoma to compete in the ITA Kickoff Weekend hosted by the University of Oklahoma at the Headington Family Tennis Center Jan. 24-25.
The Razorbacks will first face Northwestern (1-1) at 10 a.m., CT on Saturday and then either No. 2 Oklahoma (1-0) or New Mexico (4-2) on Sunday.
The ITA Kick-Off Weekend sends three visiting schools to a host site for a four-team tournament. The host school faces the No. 4 seed and the No. 2 seed plays the No. 3 seed. The winners of those matches will come back the following day with a ticket to the 2015 ITA National Team Indoor Championships at stake, and the losers compete in a consolation match. A total of 22 universities will host this year's ITA Kick-Off Weekend, with eight schools hosting both men's and women's events. For more information on the ITA Kickoff Weekend, click HERE.
LAST TIME OUT:
Arkansas swept a doubleheader against Omaha 5-0, 5-0 in Fayetteville on Monday. With the wins, the Razorbacks collected their third and fourth dual victories in four days. Playing four doubles matches at once, Arkansas claimed both doubles points quickly. The Razorbacks dominated singles versus the Mavericks as well, taking all eight matches in straight sets. Monday's doubleheader concluded Arkansas' January home play.
DEN TOOM NAMED SEC MEN'S TENNIS PLAYER OF THE WEEK:
Sophomore Johan den Toom was named the Southeastern Conference's Men's Tennis Player of the Week for the period of Jan. 13-20 conference officials announced on Wednesday. den Toom collected his first career honor after going 4-0 in singles and 2-0 in doubles over the course of Jan. 16-19. The Rotterdam, Netherlands native played in the No. 2 and 3 singles position and No.3 doubles spot with sophomore Juan Marino and junior William Albanese, helping the Razorbacks to a 4-1 record over the weekend.
A LOOK AT NORTHWESTERN (1-1):
The Wildcats opened their dual season with a tight 4-3 loss to North Carolina State on Jan. 16. Claiming three-of-six singles matches, Northwestern fought to come back from losing the doubles point, but ultimately could not better the Wolfpack. Seemingly undaunted by the loss, the Wildcats defeated No. 19 Vanderbilt 4-3 on Sunday in Nashville, Tennessee. Sophomore Strong Kirchheimer's successful opening weekend earned him this week's Big Ten Athlete of the Week award. Ranked No. 108 in singles, Kirchheimer went undefeated in both singles and doubles this past weekend.
ITA KICKOFF WEEKEND HUB:
For live scoring, video, schedules and more information on this weekend's events, visit Oklahoma's ITA Kickoff Weekend Hub.
For more information on Arkansas men's tennis, follow @RazorbackMTEN on Twitter.